06.22.10
Gemini version available ♊︎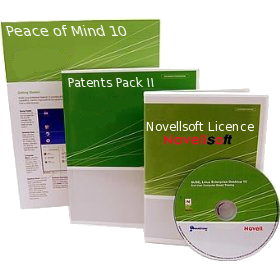 Summary: Microsoft issued and spread another wave of propaganda yesterday, calling for more companies to sign patent deals like Novell's
THE ON-LINE PRESS has some new discussions about the VMware-Novell relationship which we covered earlier this month [1, 2, 3]. There is nothing new there but an argument over who exploits Novell and puts more pressure on Red Hat Enterprise Linux (and other distributions of GNU/Linux, as opposed to Ballnux).
Then comes the latest propaganda from the 'Microsoft press'. It is a poor article that promotes Microsoft's case (PR) and disregards objective facts. It also speaks about the VMware affair (VMware is full of Microsoft executives, for those don't remember).
Microsoft Cites Success of Novell Linux Interop Deal

[...]

Microsoft touted its operating system interoperability partnership with Novell on Monday, saying that more than 500 customers have signed up since the program began more than three years ago.

The program does more than just ensure that Windows and Novell SuSE Linux Enterprise play well together in heterogeneous computing environments. It also ensures that users of SuSE Linux Enterprise don't violate Microsoft's patents, providing users with so-called intellectual property (IP) "peace of mind."

[...]

In June, Novell announced a partnership with VMware in which VMware will bundle its vSphere cloud-computing platform with Novell's SuSE Linux Enterprise. The announcement that VMware planned to "standardize its virtual appliance-based product offerings on SUSE Linux Enterprise Server" drew swift reaction from Microsoft. In a blog post, Patrick O'Rourke, director of communications for Microsoft's Server and Tools Business, claimed that VMware was offering "a bad deal for customers" by locking them into using vSphere to do patching. In response, VMware said the bundling offer actually streamlines the agreements vSphere customers have to sign.

Lyman dismissed this Microsoft-VMware spat as just part of broader competitive trends.
Notice the use of the term "peace of mind" — a phrase that we often hear from Novell. They are both in it for the scare and for the software patents. Both Novell and Microsoft benefit from them.
The "Open Source Insider" at Computer Weekly is smart enough to know that Microsoft is only pretending when it comes to statements it makes about "Open Source". Many other journalists don't know the truth and that includes the magazine above, which is tied to Microsoft and thus it's propaganda. People who print out such articles (or pass these quotes without scrutiny) need a reality check. Microsoft already uses racketeering [1, 2, 3, 4, 5, 6, 7] against "Open Source" and Novell is not an "Open Source" company. That's why it signed the deal with Microsoft without any threats being issued. It is Novell that came to Microsoft for the deal. █
Permalink
Send this to a friend