07.05.10
Gemini version available ♊︎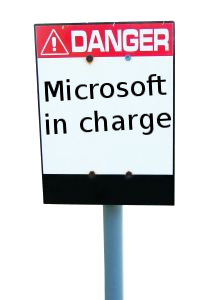 Summary: The company which cost Microsoft half a billion dollars to acquire produces nothing but products that increase Microsoft's losses; we take a look at the past week's news about these
LAST WEEK we wrote about the end of "KIN", which was soon accompanied by a major blow to Sidekick. It was only days beforehand that Verizon quietly cut the prices of "KIN" (probably to clear the inventory) and another publication spoke about a next-generation "KIN" or a new offer.
Anyway, here is the troubling news coming from a Microsoft proponents and claims that Microsoft is "taking stock of redundancies":
At the recent D8 conference, Microsoft CEO Steve Ballmer questioned Google's dual strategy of building Android and Chrome OS. Two operating systems doesn't make sense, he said.

Microsoft is apparently listening to Ballmer's advice, killing off its 2-month-old Kin line of social-networking phones. The company recently confirmed to Cnet that it is not going forward with a European release of Kin and is instead folding the Kin team into its Windows Phone 7 unit.
Zune might die next. There were no headlines about "Zune" last week. "Microsoft Fails to Impress," argues one blogger who takes stock of Microsoft's latest failures:
Once again, Microsoft has a product that failed miserably. The Microsoft phone "KIN" has already been pulled from the US market, and will not be making its European launch as had been planned. The reality here is that Microsoft's only money maker is Office. Windows sells well only because of its being pre-installed on most PCs. Linux would likely do just as well were MS Office available for it. Likewise, if people did some research and found out that iWork and MS Office were available on Macintosh machines, I am willing to bet that Mac sales would escalate even higher. This isn't the first Microsoft product to fall flat on its face (the KIN sold, by some reports, only 500 devices).

KIN, Vista, ME, Bob, Zune, CE (never garnered more than 5% of the market), XP Tablet Edition
One caption reads "Microsoft's Robbie Bach showed off the Kin phone on launch day"; he left in disgrace along with Allard [1, 2, 3]. Here is some news coverage:
Here are 10 Reasons Why "Microsoft's Mobile Strategy Is a Mess" and a call for more focus, not fragmentation [1, 2, 3, 4, 5, 6].
The news about Sidekick gets covered in:
T-Mobile has announced that it will stop offering its youth-oriented Sidekick phone from Microsoft. The news comes as Microsoft and Verizon Wireless discontinued the Kin social phones. Microsoft says it is moving resources from Kin and presumably Sidekick to focus on the Windows Phone 7 series. T-Mobile promised "exciting updates" to come.
Joe Wilcox asks rhetorically, "What does it mean that KIN, Sidekick and Symbian-Guru went R.I.P. within about 24 hours?"
After just 48 days "KIN" was called off. It speaks volumes about Microsoft's situation, which Microsoft boosters sometimes attempt to embellish:
That last one is part of a pattern we've noticed. Microsoft boosters/sympathisers divert attention to something else. How about Nokia?
Mary Jo Foley blames Verizon and her friend/colleague Gavin shifts the subject to Vista [sic] Phone 7. Shane O'Neill does the same thing:
Other boosters of Microsoft publish an analysis of Danger assets:
The now-dead KIN was not a bad idea (read our hands-on with the platform). Microsoft's ambitions with the KIN were sound. As much as the iPhone and, lately, Android handsets garner all the press attention, smartphones represent only a minority of phone sales—a growing minority, but a minority all the same. There are many, many people who don't have a smartphone, and don't even particularly want one, and they easily outnumber smartphone users.
Adrian, despite his pro-Microsoft bias, is being rude about it and he also takes shots at the hypePhone:
"What if Microsoft bought out a product where you had to spend $30 on an accessory to make it work right and stop is from breaking?"

That's a question I received from a reader earlier today.

My reply: "I think people would go stark raving ballistic on Microsoft – and rightly so."
"Let the Kin comedy begin," says TechFlash and The Inquirer is being very funny about it. Microsoft sympathisers may treat it as just a lesson/experiment, as if it wasn't all just work in vain. As usual, Microsoft partners get burned [1, 2].
Finnish electronics company Elcoteq (ELQAV.HE) said it expected its operating profit to turn positive in the second half despite Microsoft's decision to scrap the sale of "Kin" smartphones in Europe.

Shares in Elcoteq fell sharply on Thursday and closed 14.6 percent down at 1.40 euros, compared with a 1.9 percent weaker Helsinki bourse general index .
One writer explains "Why Microsoft's Kin Phones Were Destined to Fail" and in Twitter someone of authority says "I've seen Microsoft abandon a lot of products (including some that were pretty good). I'm floored by this Kin killing."
Here is a new article titled "Microsoft Flops: A Look Back"; it comes from a financial news site:
The Kin is gone. Add it to a long list of less-than-stellar product launches from Microsoft (MSFT).

The tech giant's two-month-old phone was discontinued this week, and the team responsible for developing it has been dispatched to work on Windows Phone 7, the company says. While the Kin was never expected to be a major contributor to Microsoft's bottom line, the failure of the device in the market is more about "hurting their pride," says Carolina Milanesi, vice president of research in mobile devices at Gartner. (A Microsoft spokesman says it will incorporate "ideas and technologies" from Kin into future Windows Phone releases.)
Another financial news site posts "Microsoft Needs Wake-Up Call: Outrage":
Courier, your tablet idea, died on the drawing board while Apple's(AAPL) iPad rocketed. Your mobile phones don't stack up to Apple's iPhone or Google's(GOOG) Androids. And now your stalled travel business just got rear-ended.
As we showed last night, hypePhone too is having growing pains. Android, which is based on Linux, is going to take advantage of that. MeeGo is also a very strong contender. █
Permalink
Send this to a friend