08.29.10
Gemini version available ♊︎
Summary: As Kyocera decided to buy Sanyo's mobile phones unit, the Microsoft extortion passes on to yet another brand which makes Android phones
ON a couple of occasions in the past we wrote about Sanyo's Linux situation [1, 2]. As far as phones are concerned, it's in Kyocera's hands now and Kyocera Mita sold out to Microsoft. According to this new article, the "Zio M6000″ Android phone shares an identity with both Kyocera and Sanyo, whose mobile business Kyocera bought.
Kyocera's first Android phone was announced in March under the name Zio M6000. The phone is now available under the company's venerable Sanyo brand from no-contract mobile provider Cricket Communications, a wholly-owned subsidiary of Leap Wireless International.
This phone is taxed by Microsoft and should therefore be avoided. There are Android phones whose makers do not pay Microsoft for Linux, so their makers should be rewarded.
"M.A.D. is already hitting the market, at least in the new and lucrative smartphones business."It is clear that software patents have gone the wrong way (not advancing innovation, just taxation), especially in mobile phones. Vivek Wadhwa wrote about this subject recently [1, 2, 3] (he cites hypePhone patents) and in his personal blog he caries on ranting about software patents. What gives his rants credibility is that he actually got some software patents in the past and he now regrets this.
M.A.D. is already hitting the market, at least in the new and lucrative smartphones business. Apple is one of the aggressors (suing Linux/Android) and Groklaw has just published this excellent overview of the HTC/Nokia/Apple lawsuits situation, in isolation (there are more patents and parties involved in this 'nuclear war' of patent monopolies). Pamela Jones writes:
I don't know about you, but I've found it hard to follow the various patent lawsuits involving Apple, Nokia and HTC. First there are so many cases filed all over the place, it's hard to understand the big picture. And I kept asking myself what it was all about. I mean, what's it all about really? Because some exhibits filed by HTC have just been unsealed, we get to read Apple admitting in one of the documents that the HTC litigation is indeed about Google and Android and the Open Handset Alliance. Or as Apple puts it, "HTC's products implicate the Android operating system developed by Google and the Open Handset Alliance."
This article may easily give the impression that Microsoft is not part of the problem, but Microsoft is already extorting a high number of handset makers, including Kyocera/Sanyo. How big and thus destructive does this 'nuclear war' of patent monopolies have to get before some large monopoly like Microsoft, Apple or Nokia calls for the end of software patents? █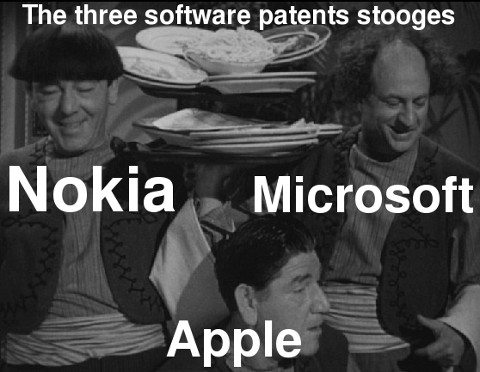 Permalink
Send this to a friend