10.13.10
Gemini version available ♊︎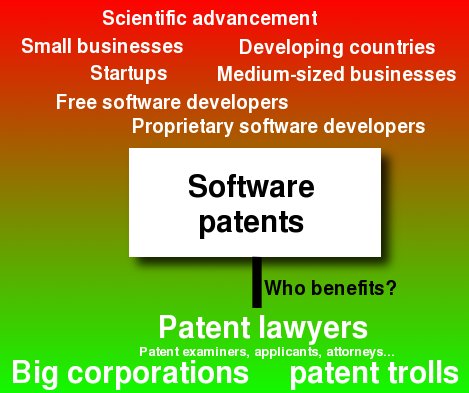 Summary: Today's proof that software patents are the enabler of the monopolist, the troll, the patent attorney who serves them (Gene Quinn being awfully abrasive in this case), and that's about it
AN aggressive patent strategy is what's left at Microsoft because, according to a new survey shared here last night and this morning, "businesses are moving to Linux far faster than they are to Windows or Unix." Some years ago Microsoft funded a copyright lawsuit against Linux — a challenge that fell flat on its face but bought Microsoft some more time. Well, time's up and as Microsoft takes on debt it is also building a patent portfolio rather than decent products. Microsoft has just been awarded a patent for graphics chip video encoding, according to a new report:
Companies ranging from Microsoft, Apple, AMD, and Nvidia have all worked for years to tap into graphics cards for certain kinds of non-gaming processing tasks, an approach typically referred to as GPU computing. Growing ever more prevalent, GPU computing has made its way to Web browsers, Photoshop, as well as both recent versions of Apple's and Microsoft's operating systems. That's why we were so surprised by ConceivablyTech's report today that Microsoft has been awarded a patent for GPU-Accelerated video encoding.
This new press release from Acacia — like other new ones of its kind — indicates an expansion of a counter-productive agenda. It only helps create a landscape where original lines of code are said to be "infringing".
Well, Patent WatchTroll currently scares and warns fellow software patents proponents (probably patent lawyers who act as middlemen in this system) that "open source" does not like such patents. Microsoft knows this too, which is precisely why it promotes them (while pretending to have embraced "open source").
Oracle is another reason for concern because it uses software patents for control. According to this article, Oracle's CEO has said: "we are interested in buying IP of all kinds"
Ellison made the comments in response to a shareholder question about his remarks last month during Oracle's financial analyst meeting. At that time, Ellison said, "You could see us buy a chip company."

"My point really was that we are interested in buying intellectual property of all kinds," Ellison said at the Wednesday meeting at Oracle's headquarters in Redwood Shores, Calif., indicating that his remarks had set off a lot of speculation.
Oracle opposed software patents many years ago. Has anything changed since then? Well, in any event, let's keep on eye on those who promote and use (e.g. sue or sell) software patents, which seem like the last barrier stopping Free software from spreading to a state of ubiquity everywhere (Linux and Apache, for example, already succeed in their respective areas). █
Permalink
Send this to a friend