02.17.11
Gemini version available ♊︎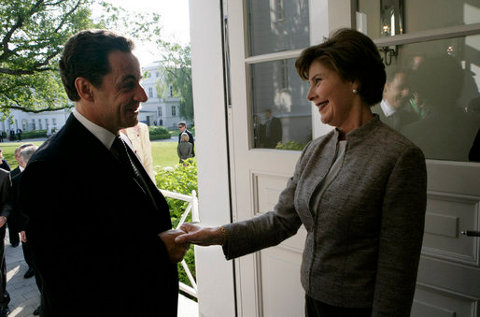 Nicolas Sarkozy with Laura Bush
Summary: French president Sarkozy associates himself with a Microsoft thug by giving him a medal
"PULLING a Kissinger" is giving someone an award rather than a deserved jail sentence. This is not a political site, but just to give people a taste of what's happening here, the wording is about giving respect to war criminals such as Henry Kissinger (foreign policy person), who once said: "Military men are dumb, stupid animals to be used as pawns for foreign policy." In the World Affairs Council Press Conference (Regent Beverly Wilshire Hotel, April 19th 1994) he said: "The illegal we do immediately. The unconstitutional takes a little longer. [...] cannot happen without U.S. participation, as we are the most significant single component. Yes, there will be a New World Order, and it will force the United States to change its perceptions."
On another occasion he said: "Today, America would be outraged if UN troops entered Los Angeles to restore order. Tomorrow they will be grateful! This is especially true if they were told that there was an outside threat from beyond, whether real or promulgated, that threatened our very existence. It is then that all people of the world will plead to deliver them from this evil. The one thing every man fears is the unknown. When presented with this scenario, individual rights will be willingly relinquished for the guarantee of their well-being granted to them by the world government." Kissinger is probably better known for his role alongside Nixon and all the carpet-bombing of innocent civilians.
But anyway, for the uninitiated we have this wiki page about Nicolas Sarkozy. As a quick recap, Mr. Sarkozy was vacationing in the houses of Microsoft executives, recently posing to the cameras with Bill Gates (the article is about François Fillon and Microsoft), and also helping OOXML. He seems to be very deep inside the pockets of the 'Microsoft family', which leads him to causing damage to many French companies such as Archos (e.g. with Android copyright tax, the infamous "you're definitely a pirate" tax). One reader passed us the following message from Microsoft Europe, which says: "French President Nicolas Sarkozy has awarded Steve Ballmer for Microsoft's impact on French economy" (the accompanying link is to a French page).
France has recently done a lot of things that are jaw-dropping and at the same time directly beneficial to Microsoft. The remarks from François Fillon are telling. "French prez sticks pin in Steve Ballmer," says this new article from The Register:
French president Nicholas Sarkozy delivered a profound judgement on Microsoft yesterday, declaring that the company personifies the values of France and Europe.

While such a declaration would quicken the heart of US artists and filmmakers, it might not be the sort of endorsement that a nakedly capitalist, (sometimes) bleeding edge US firm would welcome.

Sarkozy made his declaration as he adorned Microsoft CEO Steve Ballmer with the Legion D'Honneur, a knightly order originated by Napoleon.
Glyn Moody said they are "made for each other" and tagged it "authoritarianism". The Napoleonic origin is fitting. Just like Kissinger, here we have merciless imperialists to whom huge numbers of casualties don't mean a thing (Microsoft harmed a lot of French companies). Sarkozy is associating himself with some bad neighbourhood. █
"I think he [Bill Gates] has a Napoleonic concept of himself and his company, an arrogance that derives from power and unalloyed success, with no leavening hard experience, no reverses [...] They don't act like grown-ups!"
–Judge Thomas Penfield Jackson
Permalink
Send this to a friend