11.03.11
Gemini version available ♊︎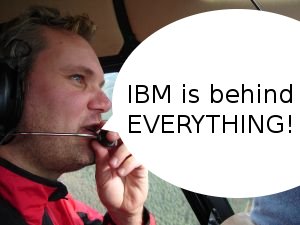 Summary: How friends and external staff of Microsoft help the company's extortion racket against Linux and Android
Microsoft's booster Ed Hansberry promotes the company's extortion of Linux (all the boosters do this, even if it's borderline criminal, as we explained before). The following disgusting apologism portrays extortion as "deals", just as Microsoft is trying to do (part of the PR campaign and embellishment of racketeering). Read this with a grain of salt:
I am assuming this is a scroll bar or some sort of percentage indicator that displays while a page is loading in the browser and then disappears once it is done. Now, I know Microsoft has a lot of patents that are truly worthy of defending, but this is a bit much. Is there a browser on any platform that doesn't have this feature? For its part, B&N doesn't appear ready to settle on this feature at all, instead preferring to hash it out before a judge.

I wouldn't look for the suits to stop anytime soon. At least Microsoft is ready to make licensing deals–for a price of course. Apple's Steve Jobs wanted no part of licensing, instead preferring to give Android a premature death. The biography "Steve Jobs" quotes Jobs as saying "I'm going to destroy Android, because it's a stolen product. I'm willing to go thermonuclear war on this."
For those who miss some context, Microsoft claims to 'own' something like a progress bar and then extorts Linux-selling companies with it. The burden of litigation costs (deterrence) is what lets Microsoft essentially extort competitors and Apple's patents have been equally ludicrous. Apple is said to be targeting Linux tablet sellers directly now. Shame on Apple and shame on Jobs for being of a pivotal role in this strategy. Microsoft and Apple are very much together in this. And their expert liar/spinner/spammer Florian Müller keeps posting pro-software patents links and other links to Microsoft boosters who attack Android/Linux (like this one), using any piece of muck he can rake to attack Android/Linux. He is not even hiding his agenda anymore, having been essentially forced to disclosure that Microsoft was paying him (when we found out about it through private sources). His new buddy Enderle is also getting links. Why pretend when everyone already knows you are funded by Microsoft?
Linux-hostile Microsoft Lobbyists Lie and Deceive
This one Microsoft lobbyist promotes other Microsoft-funded lobbyists, calling them "Industry body" in his ridiculous blog. He was there was there in 2005 when the infamous directive was being pushed by Microsoft, so he is being deliberately disingenuous. As the FFII's president puts it:
Florian Muller names ACT an "industry body", while he knows perfectly this is a Microsoft front shop
He also quotes pile of nonsense from the lobbyist: "Non-ideological analysts all agree that open source is thriving under the current legal framework"
Nonsense.
There is a new Ubersoft cartoon on Microsoft's patent extortion against Android/Linux. It says it all really. People are getting it, Microsoft lobbyists are spinning it. Truth does not matter to them and they pretend to be something they are not. █
Permalink
Send this to a friend