08.07.12
Gemini version available ♊︎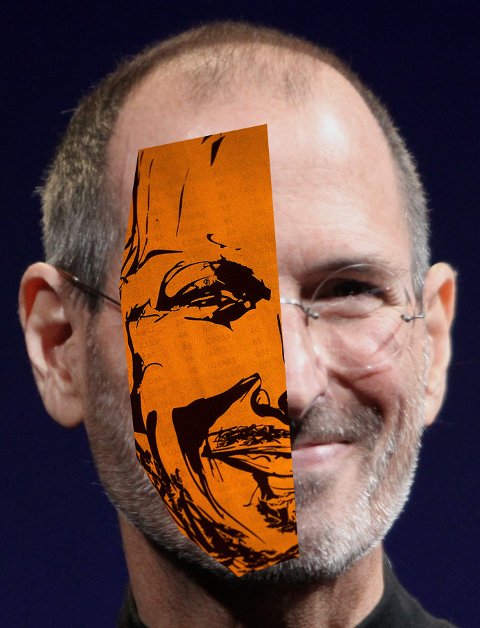 Jobs image licensed under the GNU Free Documentation License (version 1.2 or any later versions); Ellison patch By Thomas Hawk
Summary: News update about the US patent system and the largest lawsuits against Android
THE Android platform is soon being recognised by all and quickly becoming the centre of development, alongside iOS and Windows for the most part. Linux is no longer a marginal and marginalised kernel; it cannot be marginalised. Android is said to be heading towards desktops, but it is all quite speculative although Google once said that it would try to sort of merge Android and ChromeOS, leveraging acquired dominance of one to ensure another. So Android might be poised to destroy Windows, on the desktop too.
"So Android might be poised to destroy Windows, on the desktop too."Android is being attacked by Apple and Microsoft, primarily through patent litigation. There is legislation in the pipeline that can bring change, but until it does, we expect the duopoly to attack Android, sometimes by proxy (patent trolls).
We count not on the suggested reform (the bill can be shot down) because although the US public would overwhelmingly support it, parliament is funded by and run by corporations. Unless members of Congress have their career jeopardised (like in the case of ACTA or SOPA), they are likely to silently vote against public interests. Patent lawyers too remain the well-funded parasites with their nonsensical propaganda, producing the usual nonsense and claiming that "growth" comes from monopolies (patents). Here is a new example of this type of propaganda. The government is now giving more money to patent lawyers in Ireland, based on this new report titled "Tax break for patents a vital step in stimulus". Oh, really?
To quote a part of the article: "Coulter, who is the managing partner of Tughans, one of the North's largest commercial law firms, says there are five key aspects to the patent box that Northern Ireland companies should bear in mind…"
Why should we take the word of lawyers? They are not the producers of anything, they are merely the leech here (no offence to leeches intended).
While some are somewhat reformed in their views, others show their real zealotry for software patents. We named some of them before.
So anyway, Oracle lost the biggest case against Android and it will retry, as expected. "Oracle has now filed its Opposition," writes Pamela Jones, "to Google's motion for a Rule 50(b) judgment as a matter of law or, in the alternative, for a new trial. This is all about rangeCheck, those 9 lines of code. Is rangeCheck, as Google argues, de minimis as a matter of law? Oracle argues not, and in fact, up to now, Oracle's arguments prevailed."
"Unless members of Congress have their career jeopardised (like in the case of ACTA or SOPA), they are likely to silently vote against public interests."In Apple's case against Samsung there are parasites too. The only major winner here is the patents profession, which mostly comprises lawyers. Jones, a paralegal, writes: "I want to show you a little trick that will help you understand trial testimony. I'll use Apple's Trial Brief [PDF], which we have now as text, in the Apple v. Samsung litigation, just because it's current, but this works with any civil trial. Then I want to show you, again using Apple's trial brief, why Samsung may have felt it needed to stir things up a bit last week.
"You have probably seen articles in the media about the testimony of Phil Schiller and other recent Apple witnesses, where some seemed to wonder why the lawyer wasn't asking questions with more punch. Why go on and on about ad campaigns and how much money they spend on it? It may be interesting. But what does it prove? Why should the jury hear about that? Why does the lawyer ask about ad campaigns in a trial about patents, design patents, and trade dress? I'd like to show you."
As Mr.Pogson puts it, Apple got caught lying and to quote his points:
* Joswiak's declaration to the court in Apple v Samsung:"The surveys reveal, country-by-country, what is driving our customers to buy Apple's iPhone products versus other products such as the Android products that Samsung sells, what features they most use, our customers' demographics and their level of satisfaction with different aspects of iPhone."
* Apple looked at rounded corners produced by Sony years before iThingies had them…"The Walkman digital-music player recently got a makeover. Its corners have been rounded out, "
* Samsung developed rounded corners before iPhone was released despite Apple telling the world that Samsung copied Apple.
* There's plenty of evidence Apple also recycled others designs… I remember Braun. They had lots of rounded corners.
Well, Apple, Samsung both claim innovator status in opening of patent trial, but what about other companies that inspired both? As Wired puts it, "Samsung's attorney Kevin Johnson eventually got his turn to question Forstall. Johnson focused on internal Apple documents to illustrate how Apple looked to competitors, particularly Samsung, for inspiration."
Of course. Apple's spiritual leader (and the man behind the patent aggression) admitted that Apple had been shameless about such behaviour. To quote: "We've always been shameless about stealing great ideas."
"But Apple erected more walls around its garden."Recently, Apple was seen deviating from UNIX after it had imitated it and took away (one must say "stole) it. Here is the latest: "OS X Mountain Lion not only ships without X11, but actually removes X11 from your computer when you upgrade. If you're not familiar with X11, it's a networked graphical user interface that geeks and systems administrators alike use all the time, every day to connect to and run various UNIX applications. It might not sound like a mainstream feature, and it isn't, but it's something that let me and people like me do our jobs using the Mac. It let me connect to work via ssh and use X11 forwarding to view terminal applications, use tsclient, vnc etc… It let me be an Apple customer. And now it's gone.
"My roots in UNIX and Linux, and I've always enjoyed using and tweaking them to my hearts content, from Gentoo, to FreeBSD to Ubuntu. A couple of years ago, I got tired of the tweaking and just wanted a beautiful Unix experience out of the box, where I could use Terminals, ssh connections, and X11 to keep getting work done, but have all the bells and whistles of a commercial operating system as well. I went with Mac OS X due to it's BSD lineage and because it looked nice too. I could stay in Terminal all day, and enjoy the experience."
But Apple erected more walls around its garden. It no longer feels like it needs to play nice. It took the code of volunteer developers; now that it's big Apple is essentially suing the work of some of these developers. █
Permalink
Send this to a friend