11.06.12
Gemini version available ♊︎
Breeding the world's largest surveillance engine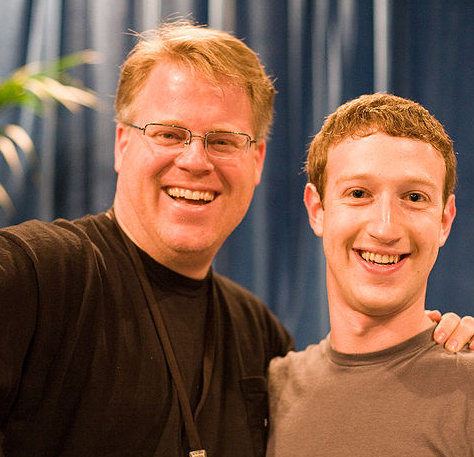 Facebook co-founder Mark Zuckerberg
with former Microsoft evangelist (source: Robert Scoble)
Summary: Surveillance by American corporations utilises Microsoft's slack privacy guidance (and Facebook's too, for its founder nearly worked directly for Microsoft)
THE wiki in this site has a page dedicated to notable harms of Skype and we now see the effects of Microsoft running things, with its notorious attitude towards privacy. The Dutch press says:
Skype illegally distributed a user's personal information to a private company during a police investigation into Anonymous-sanctioned cyberattacks on PayPal.
For those who quickly slam the accused, recall that PayPal used sanctions against Wikileaks, which had exposed crimes such as the above handover of data. As Slashdot put it:
According to the article, Skype voluntarily disclosed the information to the third party firm without any kind of police order, possibly violating a few privacy laws and their own policies.
Laws exist for a reason, especially privacy laws that can protect people from corporations. This is the latest example of terrible privacy policy at Microsoft, which also gets heaps of data from Facebook (as covered before).
According to news sent to us by a reader, Microsoft is also looking to data-mine people's date with help from Israel, which is not known for a civilised privacy policy (see what Amdocs, an Israeli company, does to spy on American citizens).
For those who think that they are safe from Facebook (and by inference Microsoft) surveillance, think again. Another reader of ours says: "A few weeks ago I added the following blacklist to my router, all Facebook: 69.63.176.0/20 69.171.224.0/19 66.220.144.0/20 31.13.64.0/18
"It's amazing how many web sites feature callbacks to Facebook. By blocking Facebook, these become visible by the small errors in the web pages."
The FSF has a campaign going against this. Facebook shares its data with Microsoft and others. Reportedly, Canonical will also give users' data to Facebook, so just connect the dots. "So in practice," says our reader, "these blocked links were callbacks to Microsoft."
Canonical will need to explain why it promotes Skype in its front page and what data on Ubuntu users it will hand over to Facebook. Facebook happens to promote a fair deal of Skype, among other tools and services that facilitate Microsoft surveillance. Facebook is partly owned by Microsoft and its founder had been groomed by Microsoft for a long time. █
Permalink
Send this to a friend