07.30.13
Gemini version available ♊︎
Apple's bubble is bursting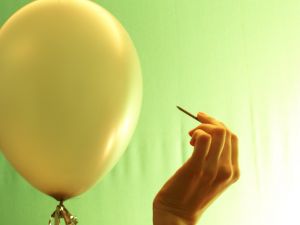 Summary: The defence of Android against Apple's aggression is proving to be fruitful again, with invalidation of another patent and intent from or opportunity for the government to address spurious litigation
Two smartphones giants, Apple and Samsung, have reached another interesting point as an Apple patent got invalidated.
Samsung has just notified [PDF] the US District Court in Northern California that, according to another USPTO Final Office Action, Apple's '915 patent has been found invalid on reexamination. All 21 claims of the '915 patent bit the dust, as you can see in Exhibit A [PDF], the USPTO documents The issue is prior art and obviousness. So, the jury in Apple v. Samsung got another thing wrong, I see. Apple didn't invent gestures.
As a pro-Apple site put it, "The United States Patent and Trademark Office (USPTO) has rejected claims by Apple that Samsung Electronics infringed on its "pinch-to-zoom" patent – one of the decisive claims in the ongoing litigations between the two tech giants. The patent, No. 7,844,915, was first filed back in November 2010 and described, "an environment with user interface software interacting with a software application"."
Here is a pro-Linux site's take on this decision from the USPTO, which continues to grant software patents. There is more to it though. As the Murdoch press put it the other day, this major case plays a role in national policy now. To quote: "Smartphone rivals Apple Inc. and Samsung Electronics Co. have dueled over patents in courts around the globe. Now they are sparring in front of the Obama administration, which faces a looming decision on whether to veto a trade body's order blocking the U.S. sale of some Apple devices."
Sanctions like embargo never benefit the buyers, so the government should consider the possibility that patents themselves — not just patent trolls — are a problem and some reform should address real systemic flaws, not symptoms of these serious flaws [1, 2, 3, 4, 5, 6, 7, 8, 9].
Apple recently got chastised for using a patent on rounded corners, which relates to desperate Microsoft/Apple moves that the ITC, USPTO, and US Customs don't quite agree on (there are conflicts of interest). The same person who chastised Apple for it has this update about the Motorola settlement. Yes, Matt Levy, referring to the problem as "Bad Software Patents" (not the best way to put it), then says "Congressional support for patent reform continues to grow. On Monday, Rep. Issa and Rep. Chu introduced the Stopping the Offense Use of Patents (STOP Act). That bill prompted Matt Levy to release Patent Progress's Guide to Patent Reform Legislation, which has summaries of the six pending bills: SHIELD Act (H.R. 845), Patent Quality Improvement Act (S. 866), Stopping the Offensive Use of Patents Act (STOP Act) (H.R. 2766), End Anonymous Patents Act (H.R. 2024), Patent Abuse Reduction Act (S. 1013), Patent Litigation and Innovation Act (H.R. 2639)."
According to his blog, the FTC study on patent trolls may kick off soon. To quote: "As we've noted, the FTC Chairwoman Edith Ramirez recently proposed doing a 6(b) study on the patent assertion entity business model. The proposed study has the potential to get us information about how patent trolls operate that would be nearly impossible to get without litigation.
"MLex is reporting (subscription required) that FTC Commissioner Maureen Ohlhausen indicated last week after a speech at the Chamber of Commerce that she believes that a 6(b) study to examine the patent troll industry would be "appropriate." It takes three votes to initiate the study, though."
The FTC should study CPTN and now just trolls. The problem is much broader than trolls. Apple, for example, is doing more damage to Android than all trolls combined and the same can be said about Oracle and Microsoft (other CPTN members, preying on Novell's patents among others like Sun's). █
Permalink
Send this to a friend