11.21.13
Gemini version available ♊︎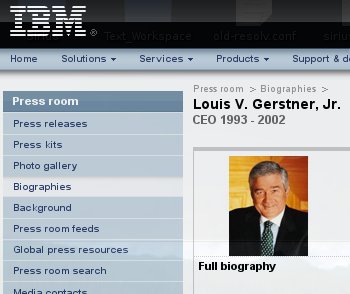 Summary: Microsoft is AstroTurfing and IBM has learned no lessons from mistakes like going along with Microsoft
THE OTHER day we showed that a longtime Microsoft AstroTurfing group, ACT, had morphed again and lobbied for software patents under the pretence that it represented small businesses and developers (to whom software patents are really horrific).
Well, two of the biggest software patentors, IBM and Microsoft, are still at it. As TechDirt put it, "Microsoft's Intense Lobbying Works: Goodlatte To Drop Plan To Allow For Faster Review Of Bad Software Patents" (software patents).
To quote: "Last week, we wrote about Microsoft's intense, and somewhat dishonest, lobbying to try to remove one aspect of proposed patent reform: the covered business methods program, which would have allowed approved technology patents to get reviewed by the Patent Office much more quickly. It was based on Senator Chuck Schumer's plan, which enabled the same feature for patents related to financial services. Many have seen that Schumer's effort was somewhat successful in stopping bad financial services patents, and so it makes sense to do the same thing for software as well. In fact, it makes more sense, since so many patent lawsuits and patent troll shakedowns involve software-related patents."
AstroTurfing gets called PR now: "Oh, and to the PR guy from Microsoft who sent me a laughable email trying to argue that Microsoft is supportive of patent reform and that my post was unfair because I didn't mention that: next time stay on topic. Yes, Microsoft supports some forms of patent reform. Just the kind that stops trolls from hitting it directly. What it doesn't support is the kind of patent reform that would stop Microsoft's all too common practice of shaking down all sorts of innovators and entrepreneurs with crazy patent licensing demands from its bundle of patents. No, Microsoft isn't a patent troll, but it is a patent bully with a lot of bad patents, which apparently it's scared that real innovators might invalidate a lot of those patents under a covered business method review."
Here is more on what happened [via] and a reminder that they are "pretending that the problem is "bad" patents rather than software patents in and of themselves," as iophk put it.
"On Wednesday," says the article, "the House Judiciary Committee is scheduled to consider legislation aimed at reining in abusive patent litigation. But one of the bill's most important provisions, designed to make it easier to nix low-quality software patents, will be left on the cutting room floor. That provision was the victim of an aggressive lobbying campaign by patent-rich software companies such as IBM and Microsoft."
It's just like what happened in NZ. Those two proprietary software giants and software patents hoarders just can't help harming society. They do this quietly or by proxy to reduce public backlash. █
Permalink
Send this to a friend