10.13.14
Gemini version available ♊︎
The "genius" behind the infamous "one-click shopping" software patent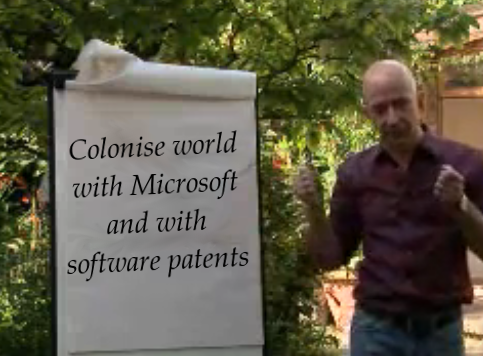 Summary: The barrier for acceptance of software patent applications is raised in the United States and patent lawsuits, many of which involve software these days, are down very sharply, based on new figures from Lex Machina
While some software patents survive the SCOTUS ruling in the Alice v. CLS Bank case (notably in banking), many software patents are being invalidated and applications fail (not many software patents are being granted, despite 92% of all patent applications ending up being granted as rubber-stamped patents). Existing holders of software patents may be reluctant to sue, knowing that any lawsuit may deem these patents invalid and hence incapable of imposing the signing of patent deals or serve as deterrents. As Timothy B. Lee put it the other day:
The patent office is rejecting a lot more software patents

A June Supreme Court decision on the legality of software patents has been sending shockwaves through the legal system. The case, called Alice v. CLS Bank, has led to a bunch of lower court decisions invalidating software patents. It may also have been responsible for September's sharp decline in patent lawsuits.

The decision appears to be having another effect that could be even more important in the long run: it's causing the patent office to reject a lot more patents on "business methods," a category of software patent that is notorious for its high litigation rate. While that might be bad news for the people seeking these types of patents, it means that there could be a lot fewer patent troll lawsuits over the next two decades.
Here are some new figures that indicate massive decline in patent lawsuits after the Alice case:
Plaintiffs filed 329 new federal patent cases in September 2014, a 40% decrease from the 549 cases filed in September 2013.

After reaching a record high of 675 new cases filed in April 2014, filings over the last five months have tailed off significantly (see Figure 1).

Month-over-month comparisons of 2014 and 2013 reveals lower 2014 monthly totals since May (see Figure 2).
Here is the former author, Timothy B. Lee, addressing this matter:
In a June decision called CLS Bank v. Alice, the Supreme Court called into question the validity of many software patents. Since then, there have been over a dozen lower-court decisions invalidating software patents.

New data from the legal analytics firm Lex Machina suggests that the newfound judicial hostility toward software patents is making plaintiffs gunshy:

Patent lawsuits in September were down 40% from last year
Here is the trolls expert writing about it.
"Months after Alice v. CLS Bank, patent litigation has hit a near-record low," explains Joe Mullin. "The drop comes shortly after new patent rules came down from the Supreme Court. Most notably, the Alice v. CLS Bank decision made it clear that courts shouldn't accept "do it on a computer"-type patents as valid. That's resulted in nearly a dozen patents being tossed out in a short period of time, and some patent trolls with dubious patents aren't bothering to fight it out anymore."
One other site, a front group for corporations, focuses on patent quality when slamming an Apple patent that was used against Android (and Linux by extension). Levy asks, "remember that "pinch to zoom" patent that Apple tried using against Samsung? That was filed on January 7, 2007."
He shows a video about it and he adds: "The Jeff Han video clearly discloses pinch to zoom, nearly a year before Apple filed its patent application. While it's true that the patent was eventually invalidated, it should never have issued. (And I'm sure there are many more "gesture" patents that are disclosed in this video, too.)"
Finally, Levy says: "If we're serious about patent quality, examiners need to be able to find everything that's out there. There are software tools to screenshot videos, and people could be hired to transcribe them. But examiners don't have that help, and, in fact, many patent examiners are using outdated, inefficient equipment and software. It's no wonder patents like "pinch to zoom" get issued."
It sure looks like things are changing when it comes to patent bar (not barristers but bar for quality), though apparently only in the area of software. █
Permalink
Send this to a friend