04.29.16
Gemini version available ♊︎
Publicado en Europe, Law, Patentes at 8:11 am por el Dr. Roy Schestowitz
Siegfried Broß (abajo) previamente defendió al difamado juez que fue suspendido por Battistelli o Despedido a pesar de la supuesta independencia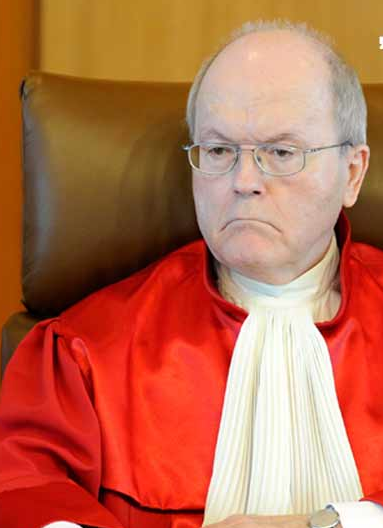 Image courtesy: campact.de
Summary: La EPO está todavía bajo fuego, pero mucho de ello pasa detrás de las cortinas y envuelve abogados y/o burócratas
La "EPO está silenciosa por el momento," una persona nos dijo ayer, "¿Cuál será su próximo movimiento? Esten preparados!" Bueno, basados en lo que sabemos, com pocos reportajes de prensa ya están revelando gradualmente, hay muchos juicios en camino. El difamado juez también parece estar con aquellos que combaten al Cesar Battistelli, quien obviamente piensa que está arriba de la ley y abiértamente se enorgullece de ello.
"Ni siquiera la policía o las fuerzas especiales en Alemania o en los Países Bajos pueden entra a las premisas de la — tan extraño como pueda sonar."
No mucho es conocido públicamente acerca de estos juicios. No sabemos ¿cuántas personas estan envueltas?, ¿cuántas personas serán acusadas?, ¿cuántos pertinentes juicios hay y lo demás?, pero asumimos que la preparación de todo esto es lo que tiene a los oficiales de la SUEPO ocupados y pueda ser que pronto sepamos más acerca de las causas de estas quejas y quiénes son el objetivo legal, ya que la EPO misma es casi inmune a juicios (me lo dijo mi abogado despues de que la EPO me CACHETeó y algunos aplicante de la EPO me dijeron que quisieran demandarla pero no supieron como por su vergonzósa inmunidad). Por instancia, hacer una búsqueda en la EPO (subpoena) requiere previo permiso de la gerencia. Ni siquiera la policía o las fuerzas especiales en Alemania o en los Países Bajos pueden entra a las premisas de la — tan extraño como pueda sonar. Ni siquierea las embajadas disfrutan de las mismas protecciónes que el equipo de Battistelli abusa flagrantemente. La EPO es como Camp X-Ray y los suicidios no deben ser causa de sorpresa. Hay un parecido en la manera como la UN or WIPO es conectada con la UN, mayormente porque es un caos en el sentido legal (no hay protecciónes legales para los trabajadores).
As this new article from IP Watch puts it this week (yesterday): "To date, there is no consolidated reference text on WIPO's governance" (and in the EPO there are special rules that are kept secret as they override national/international laws).
"Aquí vamos de nuevo, como fue el caso hace dos meses, Siegfried Broß comparándo al status legal de laEPO al de Guantánamo Bay."
En su último blog post, Battistelli, quien trató de trabajar por la WIPO (perdió con Gurry), cita a la WIPO en un esfuérzo para ganar legitibilidad. Viene en medio de una calma relative, aunque la prensa Bavara/Alemana evidentemente continúa cubriendo la situacion en la EPO (link directa al video). Más aún, la SUEPO ha preparado una traducción de "Patentamtsstreit beschäftigt auch Audi", que dice que fue publicada "sólo en versión de papel." Aquí vamos de nuevo, como fue el caso hace dos meses, Siegfried Broß comparándo al status legal de laEPO al de Guantánamo Bay. Alude a algunos de los puntos menciónados.
DONAUKURIER 20 APRIL 2016
SIEGFRIED BROSS ANTERIOR JUEZ CONSTITUCIONAL SOBRE EL EPO
El Sr. Bross, durante los últimos meses, la OEP ha estado golpeando los titulares con un gran número de controversias de derecho laboral. Que son vistos como un importante crítico de la organización. ¿Porqué es eso?
Siegfried Bross: La EPO es la autoridad central para la protección de patentes en Europa. Sin embargo, adolece de un defecto subyacente en su estructura, que se coló en el momento de su creación. Es una creación de una combinación de estados, y se reconoció su inmunidad. Eso en sí mismo es, en principio, no es un problema, pero dentro de la una EPO
Se ha creado en su totalidad del sistema jurídico autónomo, que no se basa en ningún sistema efectivo de pesos y contrapesos.
¿Qué significa eso?
Bross: La Oficina de Patentes se separa de los sistemas nacionales de Derecho. Esto tiene dos consecuencias que no son aceptables en el contexto de un estado de derecho: Por un lado, como puede verse en la actualidad, no existe protección legal de la fuerza de trabajo. Por otro lado, no hay protección legal ya sea para los solicitantes de patentes. Hay sólo las salas de recurso en la OEP, que son los dos funcionarios y jueces en una, y que, además, están subordinados al Presidente. Cualquiera que venga a padecimiento no tiene ningún otro recurso. Tampoco es la Oficina sujetos a ningún control o el control parlamentario.
¿Cómo podrían las disposiciones constitucionales estar estructuradas de manera que se evite este tipo de problemas?
Bross: Ya sea un nuevo tribunal tendría que ser establecida dentro de la Organización de Patentes, que sería independiente del Presidente, o la protección jurídica tendría que ser asignado a uno de los estados en los que tiene un domicilio, como Alemania.
En su opinión, a continuación, la estructura, tal como existe hasta ahora no es conciliable con la legislación aplicable?
Bross: Se contraviene la Convención Europea de Derechos Humanos, ya que los 38 Estados miembros no pueden garantizar el estado de un estado de derecho. Es un principio básico de los derechos humanos que los Estados no pueden rescindir su responsabilidad de respetar los derechos humanos. Esto significa que la organización nunca debería haber sido establecida ende la forma que era. La combinación del poder administrativo y legislativo en una sola entidad es inaceptable. La posición del Presidente contradice todos los principios básicos del Estado democrático de derecho, y la OEP tiene por ahora esencialmente la autonomía adquirida. He dicho en repetidas ocasiones, si esta forma de pensar se siguiera, Guantánamo en suelo alemán sería posible.En el intento de hacer que la Oficina sea más eficiente, tienen los estados perdieron de vista de los clientes y el personal?
Bross: El enfoque en la reducción de costes y un mayor rendimiento de las tasas no tienen nada que ver con la tarea de la OEP. Los procedimientos de patentes emisoras, cuyo objetivo es la protección de la propiedad intelectual, son un derecho absolutamente inviolables para la economía. Es una tarea fundamental de la autoridad de patentes para garantizar que hay suficiente personal disponible para el examen a fondo de las patentes.
Siegfried Bross fue un juez del Tribunal Constitucional Federal de 1998 a 2010. La entrevista fue realizada por Daniel Wenisch.
Como notamos en cerca de una docena de links en Techrights, juicios por torturas en Guantánamo Bay han sido dado el visto bueno (en un evento sin precedente). La gente detrás de las técnica de torturas people podrán ser arrastrádos a corte. Esperemos que lo mismo pase con la gerencia de la EPO.
"Sólo vean lo que monstruos Raimund Lutz, por ejemplo, ha venido a servir."
Trabajar por la EPO como personalidad legal (en cualquier capacidad) no legitimíza la carrera de uno o mejora su credibilidad a este punto (a menos que uno pase a la edad del retiro, en cuyo caso rarámente importa como es el caso de Battistelli y Minnoye). Sólo vean lo que monstruos Raimund Lutz, por ejemplo, ha venido a servir. Ne se preoucupen el es bien pagado por esto. De acuerdo a esta actualización de noticias, Juez Arnold también se une al equip (probablemente tentado por el dinero y el poder), aunque el serviría al engrandecido Jurado de Apelaciónes, que no es amigo de Battistelli (recuerden esta carta). Como lo puso IP Kat ayer: "Primero, IPKat se enteró de CIPA que el Sr Justice Arnold ha sido nombrado al engrandecido Jurado de Apelaciones de la Oficina Europea de Patentes. IPKat entiende que remplazará a Lord Justice Floyd, quien ha sido el miembro externo del Reino Unido del mismo por algunos años. Uno o dos miembros del Enlargecido Jurado son incluídos en el panel por caso donde hay una referenica a este poe el Jurado de Apelaciónes de la EPO o el Presidente de la EPO, y la esfera de la materia se extiénde más allá de la administración interna de la EPO. Tales casos son relativamente raros (simples números por años) y hay por lo menos 20 miembros externos, IPKat no se imagina que el Sr. Justice Arnold tendrá que usar un jet a Munich frecuéntemente."
"Las próximas semanas pueden ser interesantes en lo que se trate de la EPO." En otras noticias, MIP continúa escribiéndo como si la UPC definitivamente se concretará, irrespectivamente de todas las barreras. Para citar al sumario: "¿Como procedería a aclararse un caso una vez que la UPC este establecida? En el último artículo de nuestras series, David Rose, Nina O'Sullivan y Axel Walz consideran las opciónes para alguién que desafíé una patente para lanzar un producto competitivo" (ya hay escenarios para esto en el sistema existente, así que la UPC resolvería un problema que no existe de ninguna manera, a menos que tu seas una compañía multinacional que incluso no es Europea).
Las próximas semanas pueden ser interesantes en lo que se trate de la EPO. Hemos omitido toda propaganda de "Inventor" que proviene de la EPO estos dias, incluso urgiendo a las personas para votar dos veces y contactar "sus socios en los medios" como los periódicos Franceses (lo mismo de nuevo) y esperando que no se den cuenta de el pobre record de la selección de finalistas.
Permalink
Send this to a friend