05.21.16
Gemini version available ♊︎
Publicado en Europe, Patentes at 6:02 am by Dr. Roy Schestowitz
Este es el tipo de gente con la que Benoît Battistelli se asocia:
Las acusaciones de corrupción
participación real en los negocios es un tema importante en Marruecos, pero la discusión pública de que es sensible. La embajada de Estados Unidos en Rabat informó a Washington en un cable filtrado que "la corrupción es frecuente en todos los niveles de la sociedad marroquí". [11] La corrupción supuestamente alcanza los niveles más altos en Marruecos, donde los intereses comerciales de Mohammed VI y algunos de su influencia asesores "cada gran proyecto de vivienda", según los documentos de WikiLeaks citadas por el diario británico Guardian. [34] los documentos dados a conocer por el sitio web denunciante también citan el caso de un hombre de negocios que trabaja para un consorcio de Estados Unidos, cuyos planes de Marruecos estaban paralizadas durante meses después de que él negado a unir fuerzas con una empresa vinculada con el palacio real. Las decisiones sobre grandes inversiones en el reino fueron tomadas por sólo tres personas, los documentos citan a un ejecutivo de la empresa ligada a la familia real por el diario. Los tres son el rey, su secretaria Mounir Majidi, y amigo cercano del monarca, asesor y ex compañero de Fouad Ali Himma, dijo el ejecutivo en una reunión con inversores potenciales en un país del Golfo. Esto afecta especialmente a la corrupción del sector de la vivienda, los documentos de WikiLeaks muestran. [35]
En abril de 2016, Mounir Majidi, secretario personal de Mohamed VI, ha sido nombrado en los documentos de Panamá. [36]
Controversia
Artículo principal: 2011-12 protestas de Marruecos
Movimiento 20 de febrero
La legitimidad del rey Mohammed VI fue disputada en 2011 con el Movimiento 20 de Febrero que intentó minar el funcionamiento del sistema monárquico.
Real escándalo perdón
Artículo principal: Daniel Galván escándalo
Las protestas estallaron en Rabat, capital de Marruecos, el 2 de agosto de 2013, después de Mohammed VI indultó a 48 españoles encarcelados, incluyendo un pedófilo que había estado cumpliendo una condena de 30 años por violar a 11 niños de edades comprendidas entre 4 y 15. Desde entonces, ha revocado el perdón, después de la indignación popular. [37]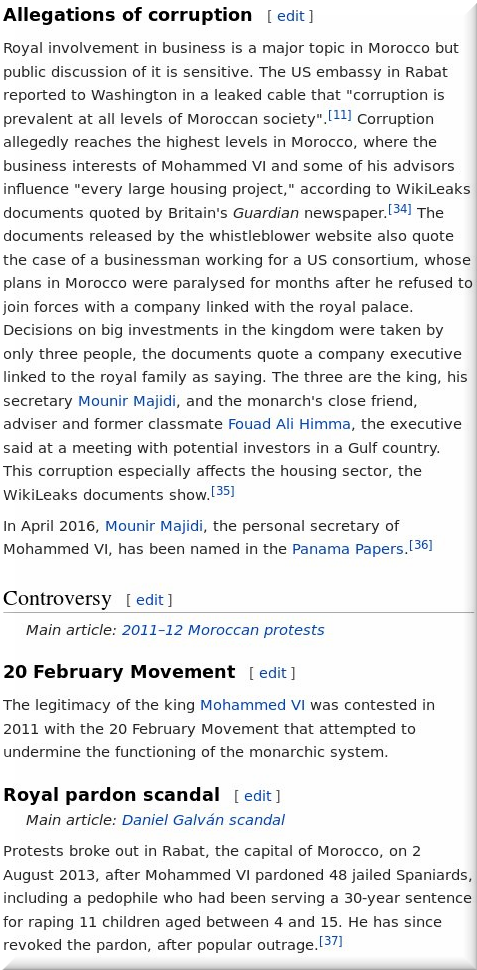 Referencia: Mohammed VI of Morocco
Sumario: El régimen de Battistelli, talvez la fuente de verguénza más grande, alegadamente está "cortejándo países pequeños/corruptos para asegurárse de que los delegados que votarón contra él serán remplazados"
DE acuérdo a nuevo post de Benoît Battistelli (warning: epo.org link), el viaje a Marruécos estaba previsto. El Rey Sol (Battistelli) se reunió con el Rey Mohammed VI, cuyo record puede ser visto arriba. Ayer bromeamos acerca de Tunez (con el imperialismo Frances en mente) de acuerdo a Battistelli, "Moldova implementó un acuerdo similar el pasado Noviembre y se espera que Tunez lo haga este año."
Vigílen cuando Battistelli vaya a otros – corruptos – países (otros que los Latino América -recuérden su viaje a Cuba -) y de dónde él contrata gente (como el VicePresidente de Croatia, donde enfrénta cargos críminales). Si esto no es el síntoma de que la EPO es otra FIFA (o peor), ¿Qué es lo que es? Esta clase de tiranía no sólo es tiranía corpórativa pero también una carrera al fondo, en lo concerniénte a derechos humanos y de trabajo (no sorprende los muchos suicidios). Ayer menciónamos su viaje a Marruécos y los ataques de Battistelli a los básicos derechos de los trabajadores. Hace dos meses mostramos como Battistelli firmó un tratado con Lithuania al mismo tiempo de una reunión del Consejo Administraivo, presuntamenete para comprar un voto a su favor. Ahora mismo estámos viéndo alegaciónes símilares en este comentario. ¿Llenando el panel (Consejo Administrativo), Sr. Battistelli?
La imposición de restricciones en un futuro empleo no requiere el consentimiento de los empleados a someterse a estas restricciones. Eso es lo que la gente no entiende cuando se inscriban: piensan que la EPO está obligado por sus reglamentos. Sin embargo, las regulaciones se pueden cambiar a voluntad y que ya estaban: el personal se impusieron nuevas normas de la carrera, las nuevas regulaciones de enfermedad, y su seguro de invalidez (pagado por años) fue simplemente cancelados. No son las condiciones de empleo que acordaron más y de hecho cada vez menos personas están dispuestas a firmar (la OEP no encontró candidatos adecuados para más de la mitad del mensaje que querían para llenar). Sin embargo, las personas que han firmado tienen una sola opción: aceptar las nuevas regulaciones o encontrar otro trabajo. Es un contrato de un solo sentido: el personal tiene que respetar, la EPO puede cambiar las reglas a su antojo.

También: Battistelli fue informado por el Consejo para revertir la sentencia relativa a 3 personas, que labios restableció el recorte de pensiones 20%. No hay razones legales estaban en juego. Por el momento, él está ocupado cortejando a los países más pequeños para asegurarse de que los delegados que votaron contra él seán reemplazados. El consejo de junio será masivamente a su favor, por lo menos desde los países pequeños y países como Alemania, NL, Reino Unido y Francia se dará cuenta de que sólo tienen un voto. Battistelli controlará entonces el consejo de administración.
Si esto es verdad, la gente necésita contactar a sus políticos y delegados, a quiénes Battistelli también está amenazando. Este tipo está tán loco como Mohammed VI of Morocco, mucho peor que Blatter (de lejos), juzgando por sus propias acciónes.
Otro nuevo comentario dice:
"Con todo esto en mente, ¿cómo podría el AC incluso contemplar el estampillado en la imposición unilateral de tales restricciones en concepto de" nuevas reglas "que no han recibido el consentimiento de los trabajadores a los que afecta?"

Muy fácil. De la misma manera que el caucho estampadas-CA / D 18/15 en diciembre.

http://www.epo.org/modules/epoweb/acdocument/epoweb2/194/en/CA-D_18-15_en.pdf

¿Había alguna consulta sobre eso?

Sin no la hubo, eso no impidió que el AC- lo selle.

Eso responde tu pregunta?

FIFA allá vamos …
Recuérden que Battistelli alardeó "un terremoto será necesario para que el Consejo Administrativo no apoye mis decisiónes." Este tipo no sólo cree que es un rey, se comporta como tal. Si algo político lo afecta, asalta el sistema: journalistas, bloggers, abogados, políticos y lo demás. El incluso me amenazó, como si fuese un rey (no le interésa sí desafía la ley).
De acuredo a este comentario mañanero en otra hebra, Battistelli esta en el proceso de prepara otra 'encuesta' auto-gratificante, otra más que su llamado 'estudio social' el cual menciónamos a principios de semana. Para citar:
En cuanto a la situación social, la oficina está organizando una encuesta de salud en el trabajo, llevado a cabo por una empresa externa (Wellkom). cuestionarios en línea acaban de ser enviado a personal seleccionado de forma aleatoria. Sorprendentemente (?) El número de preguntas relativas a cuestiones laborales son de baja proporción. Una proporción muy baja. Por otra parte, la gran mayoría parecen estar relacionadas con factores personales o domésticas de una alimentación sana, beber, etc. Tal vez esto es normal.
Mientras que un maleánte como Battistelli permanezca en el poder, Europa tiene un problema de legitimidad y credibilidad. Este tipo es peor que Blatter y comparándolo con él es un insulto a Blatter. Comparándo Battistelli a Mohammed VI de Marruécos es más realista y análogo.
Permalink
Send this to a friend