01.17.17
Gemini version available ♊︎
Donald Trump's friend Bill Gates as President is likely good news for Bill's close friend, Nathan Myhrvold from Intellectual Ventures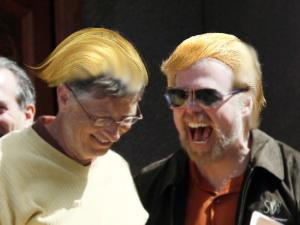 Summary: Pessimism about the prospects of patent progress or patent reform in an age of staunchly pro-business Conservatives and glorification of protectionism
With President (starting Friday) Donald Trump rumoured to be putting a corrupt man in charge of the USPTO (a man who also promotes software patents and defends patent trolls) we have some legitimate reasons for concern. United for Patent Reform said: "The best thing the administration and Congress can do is to let USPTO continue on this course" (citing an article we mentioned here a few days ago). But the Director of the USPTO is said to be on her way out and Trump is likely to nominate/appoint some pro-business Conservatives to SCOTUS Justice positions. Not too promising…
As Patently-O has just put it in its SCOTUS 2017 patent review:
A new Supreme Court justice will likely be in place by the end of April, although the Trump edition is unlikely to substantially shake-up patent law doctrine in the short term.
Patent trolls are a symptom of the patent maximalism syndrome. When even basic algorithms are considered patentable a whole lot of companies become easy litigation targets and some opportunistic non-producing firms exploit that.
Pieter Hintjens died a few months ago and he knows the cost of being a target of patent trolls. "If you have not read it yet," Benjamin Henrion told me, "there is a chapter in Confessions of a Necromancer [PDF] on AllisBlue patent troll" (mentioned here 7 years ago as it attacked many companies).
"When I started to work with him in late 2005, he was firing all the people that were working on the SMS@ gateway project. Search for SMS@ in the PDF, there are other mentions as well."
Here is one of the relevant parts from the PDF:
Around the same time, I got involved in the FFII, fighting software patents in Europe. One of my motivations was that our SMS@ application had been attacked by a patent troll (AllIsBlue). I'd fought back by building an industry association, yet was the only firm willing to take a stance. In the end I shut the app and fired that team, too.

Fighting software patents was easy at that stage. The FFII was in chaos after a long and hard fight in the European Parliament to defeat a law that would have let firms patent software, along the American model. For reasons that aren't exactly clear to me yet, I was elected president. Somewhat out of nowhere, I'd no such ambition.
Sadly, the US continues to have an epidemic of patent trolls, albeit the problem is getting smaller. It is always a very bad sign when company has nothing to show except patents. Here is an example from last night. This is all BOS Global has to show:
Then there is also Microsoft, which totally failed in the mobile market (barely any sales!) and increasingly relies on patent blackmail against Android, ChromeOS, and other operating systems with Linux in them. Last night we found at least a dozen articles in English about the latest Microsoft patent, e.g. [1, 2], including puff pieces from Microsoft boosters. How long before Microsoft uses this patent to extort if not embargo Linux-based products? In the same way it has done for almost a decade…
"If the rumours have a solid basis to them, Trump wants to Make Patent Trolls Great Again."Also based on news from last night, Cisco uses patents to embargo its competition yet again [1, 2, 3]. Background about Cisco's strategy of using patents to virtually embargo Arista's products can be found in [1, 2, 3].
It's going to be interesting to see if later in the year patent aggression and trolling will see a resurgence. If the rumours have a solid basis to them, Trump wants to Make Patent Trolls Great Again. █
Permalink
Send this to a friend