02.19.17
Gemini version available ♊︎
To a carpenter, for example, every problem looks a nail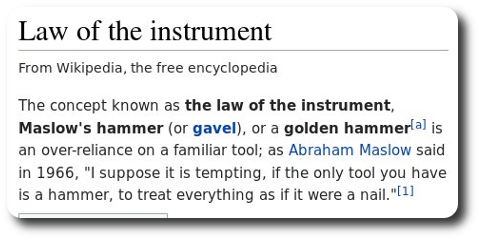 Reference: Law of the instrument
Summary: Cherry-picking one's way into the perception of patent eligibility for software and the misguided belief that without patents there will be no innovation
CHERRY-PICKING is somewhat of an art form in legal blogs. They so often altogether ignore cases/decisions that don't bolster the narrative which they promote and simply act as a megaphone when the exceptions occur.
Such was the case with this CAFC decision — one of those truly unusual cases (happened about 20% of the time last year) where PTAB is sort of 'vetoed' (overruled) by CAFC. This was reported on by Patently-O the other day and now there's more, including from MIP:
A Patent Trial and Appeal Board finding of unpatentability for obviousness based on two prior-art references in Personal Web Technologies v Apple has been remanded because "the Board did not adequately support its findings"
This is about software patents and we wrote about that some days ago, around the same time we highlighted Mintz Levin's bad/misleading advice. People from this firm are still spreading their misinformation, e.g. in another domain or with slight variations in the same domain. They want to make is appear as though software patents are alive and well because of a few, cherry-picked decisions. They just want more business from poorly informed clients whose patents would turn out to be worse than worthless (costly if litigation is even attempted).
Another site, Banana IP (more like banana republic), offers tips for workarounds where software patents are simply disallowed (as a matter of law).
Patents: Understanding Software Inventions in India and US

[...]

The Indian patent law does not provide a proper definition of the term 'software' or 'computer program'. But, under the section 2 of the Copyright Act, 1957 a computer program is defined as "a set of instructions expressed in words, codes, schemes or in any other form, including a machine readable medium, capable of causing a computer to perform a particular task or achieve a particular result". Section 3 of the Indian Patent Act, 1970 summarizes about the inventions that are not patentable. In particular, Section 3(k) of the Patents Act excludes mathematical methods, business methods, computer program per se and algorithms from the patentable subject matter. According to the Computer Related Inventions (CRI) guidelines issued by the Office of the Controller General of Patents, Designs and Trademarks on 19th February, 2016, the computer program in itself is never patentable. The Examiners are advised to deny the claims if the contribution lies only in mathematical method, business method or algorithm. However, software can be patented in India if the software is in conjunction with a new hardware. In other words, the software must be in relation to a specific hardware (a device or apparatus) and the claims will include the device or apparatus used in conjunction with the software. Inventions that are combined with hardware and software features that are inventive, novel and hold industrial applicability are patentable.
Misconceptions around potency of software patents would do a disservice to everyone, including their proponents. What it all boils down to is a lie by omission, much like the lie just published in this article, disseminated under numerous headlines including "America's always had black inventors – even when the patent system explicitly excluded them".
This is a decent article (not much like the propaganda one finds in lawyers' sites who market their services) as it clarifies that inventorship does not require patents. In software we count lines and quality of code rather than assess something silly such as patents. People can invent with or without expensive papers to 'prove' merit. From the article:
One group of prolific innovators, however, has been largely ignored by history: black inventors born or forced into American slavery. Though U.S. patent law was created with color-blind language to foster innovation, the patent system consistently excluded these inventors from recognition.

As a law professor and a licensed patent attorney, I understand both the importance of protecting inventions and the negative impact of being unable to use the law to do so. But despite patents being largely out of reach to them throughout early U.S. history, both slaves and free African-Americans did invent and innovate.
We are often being told by the patent microcosm that patents are necessary for innovation or are a measure (or surrogate) of innovation. Basing one's worldview on such a belief leads to claims that rich nations like Switzerland innovate the most rather than rich nations being able to patent (expensive) the most — a subject which we tackled here last year. █
Permalink
Send this to a friend