12.09.18
Gemini version available ♊︎
They're also not legal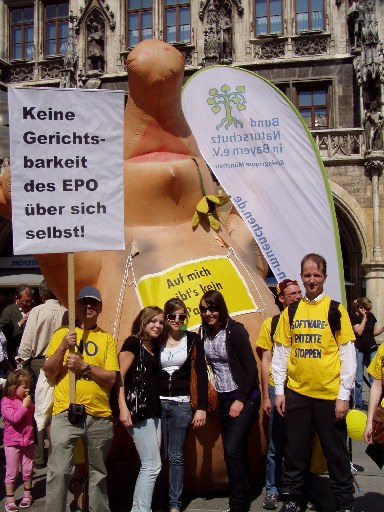 Summary: After Mayo, Myriad and other SCOTUS cases (the basis of 35 U.S.C. § 101) the U.S. Patent and Trademark Office is reluctant to grant patents on life; the European Patent Office (EPO), however, goes in the opposite direction, even in defiance of the European Patent Convention
TECHRIGHTS has long focused on software patents, but sometimes the subject of patents on life was brought up because it's equally if not even more controversial. It's not hard to understand why patents on nature and on life are insane. They're not inventions. The patent system wasn't made for this purpose. You breed some things and then all future generations of these things are 'owned' by you? Based on what? This is just a ploy, a cynical effort to privatise life itself. What next? Oxygen?
"This is just a ploy, a cynical effort to privatise life itself."McKee Voorhees & Sease PLC's Patricia A. Sweeney wrote a few days ago that "The European Patent Office Board holds a rule can no longer be used to Reject Plant and Animal Breeding Inventions" and it's behind a paywall; we wrote about this subject last week, as did many others. There were two main news stories: one about drugs and another about plants.
Médecins Sans Frontières (MSF) International should say more about patents on nature and on life, but in last week's appeal to the Office/public it focused on patents on medicine instead. That is expected considering MSF's goals, assuring access to medicines/medical treatment or removal of barriers that would otherwise — in their absence — have saved lives (many poor people die because of the patent monopoly, never mind if the treatment is cheap to produce). There was relatively late coverage about it here; these patents will certainly end up killing people if this goes ahead. To quote: "Recently, 6 European organizations appealed a European Patent Office (EPO) decision to uphold Gilead Science's patent on the hepatitis C drug sofosbuvir, sold as Sovaldi. In March 2017, organizations from 17 European countries filed a challenge against Gilead's patent that covers the base compound found in sofosbuvir, alleging that it lacked inventiveness. Despite the accusations, the EPO decided to uphold Gilead's patent in September 2018, maintaining its exclusivity in the marketplace."
More press coverage, however, was dedicated to a decision from the EPO's Board of Appeal, potentially contradicting the Biotech Directive as one comment (among many) pointed out:
Well it's an exciting turn of events for patent attorneys also as it's not every day that an EPC rule is declared void.

National courts and the CJEU are bound by the Biotech Directive and so presumably are duty bound to follow the EU's interpretation of this, which is that the products of essentially biological processes are not patentable, and so I suspect claims to them will be declared invalid in any litigation.

Alas, I think this decision brings forward the day when the EU takes control of the EPO on the pretext of harmony, so whilst this little skirmish against the EU Commission has been won, the battle will ultimately be lost.
There are several more comments like this in IP Kat and Kluwer Patent Blog, mostly from patent maximalists with vested interests. It's those sorts of people who openly advocate CRISPR and antibody patents, as did this hours-old advert from a site dedicated to promotion of patents on life. Among their questions: "What are the differences between U.S. requirements and EPO requirements?"
"By aligning itself with some of the most loathed companies on the planet the EPO does itself irreparable damage."The US has long limited the scope of such patents. Likewise, patents on life itself aren't quite permitted in Europe, but the EPO doesn't care what law and practice say. The very founding document of the EPO (the EPC) is now being grossly violated and the EPO sets up events to 'normalise' this violation (as it does when promoting software patents in Europe under the guise of "AI", "blockchains" etc.), reminding us that the EPO is a rogue institution that totally disregards the rule of law.
Kluwer Patent Blog, a site of patent maximalists, wrote on Friday about the EPO's reaction to decision T1063/18 Board of Appeal (the above decision). Champagne at Monsanto (now part of Bayer in Germany), no doubt…
To quote:
The European Patent Office 'will consider possible next actions' together with the EPO Member States after a high-profile decision of a Board of Appeal earlier this week, concerning the patentability of plants. In case T 1063/18, the BoA decided that EPC Rules which were introduced by the EPO Administrative Council in 2017 to exclude plants or animals from patentability, were in conflict with 53(b) of the European Patent Convention and they can therefore be considered void.

The decision opens a new chapter in the debate concerning the patentability of plants or animals exclusively obtained by means of an essentially biological process. Late October the European Patent Office revoked a Bayer patent covering a type of broccoli adapted to make harvesting easier, because of the 2017 amendment of the Rules (27 and 28 EPC) by the EPO's Administrative Council.

[...]

What will happen next is not clear. The organization No Patents On Seeds, which had hailed the revocation of the Bayer broccoli patent as 'an important success for the broad coalition of civil society organizations against patents on plants and animals', said a 'chaotic legal situation' has been created by the BoA decision. It declared: 'This has put the EPO into conflict with its 38 member states that decided to stop these patents, such as those on broccoli and tomatoes derived from conventional breeding.' No Patents On Seeds is clear about what it thinks should be the consequence of the BoA decision: 'The EPO must suspend all pending patent applications on plants and animals until sufficient legal certainty and clarity is achieved.'

The exclusion of plants and animals from patentability was introduced by the EPO's Administrative Council in the EPC two years ago, following a Notice of the European Commission, clarifying that the Directive on Biotechnological Inventions (98/44/EC) intended to exclude these products 'exclusively obtained by means of an essentially biological process'. Earlier, in the decisions G2/12 and G 2/13 of 2015, the Enlarged Board of Appeal had ruled that certain tomatoes and broccoli were patentable.
So while the outcome of this isn't so clear yet, it doesn't look too good. I'm not against patents, I'm just pro-patent sanity and we're not there yet; now that the EPO ponders granting (yet again) patents on animals, life, nature, plants, seeds and so on how can one argue that patents reward actual inventors? These are not inventions. They patent nature itself; it's just as ridiculous as it sounds. We're not oversimplifying it! People should be up in arms and some are (there were EPO protests over it). Reported by Ben Wodecki just before the weekend were some underlying issues:
Pressure group No Patents on Seeds has accused the European Patent Office (EPO) of putting the office "into conflict with its 38 member states", following a ruling on a patent on pepper plants.

Agrochemical company Syngenta attempted to file a European patent for a pepper plant with improved nutritional value. Examiners from the EPO denied the application as the patent's claimed subject matter falls into the EPO's exception to patentability under article 53(b) and rule 28(2) of the European Patent Convention (EPC).

In 2017, the Administrative Council of the EPO adopted a binding rule 28(2) for the interpretation of the EPC, which prohibits patents on process of conventional breeding, as well as on plants an animals derived thereof.
If EPO management wants to give 'ownership' of everything in your vegetable/fruit basket to companies like Monsanto (the very 'concept' of the life), what will the public think? By aligning itself with some of the most loathed companies on the planet the EPO does itself irreparable damage. █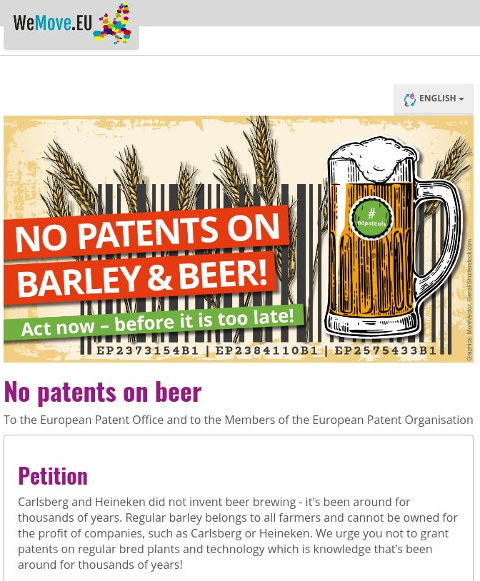 Permalink
Send this to a friend