02.23.19
Gemini version available ♊︎
Battistelli and Bergot got themselves a whole private army of 'Benallas' at an astronomical cost/budget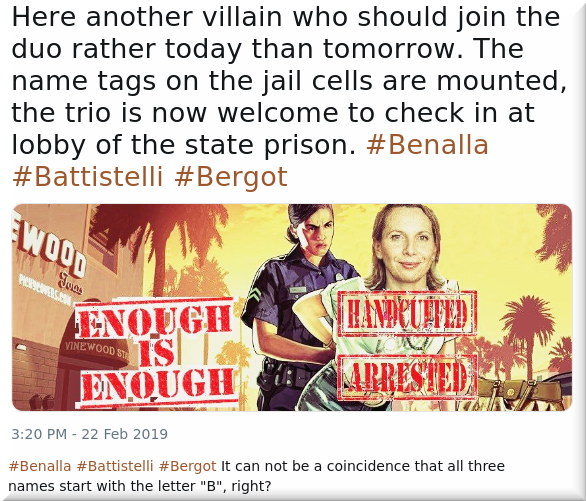 New tweet: "Here another villain who should join the duo rather today than tomorrow. The name tags on the jail cells are mounted, the trio is now welcome to check in at lobby of the state prison." #Benalla #Battistelli #Bergot
Summary: Another new scandal is unearthed in France and the costs associated with the 'Benallagate' at the EPO are as flabbergasting as in the Macron 'Benallagate'
We often wonder what the EPO's President, António Campinos, makes of the fact that his office was filled with illegal weapons, brought there by Team Battistelli rather than a falsely-accused judge. These weapons weren't carried by responsible people either but by a bunch of unauthorised goons with connections to Russia, Blackwater and China. What the heck is going on there in Munich? Will Campinos bother launching an investigation?
Battistelli's special relationship with China notwithstanding (we wrote a lot about it), today's translation of this article follows reports of Benalla's arrest (see part 1). Here it is in English:
Exclusive – New scandal: Benalla has signed a Chinese contract worth €7.2 million

We change contracts, continents and hop, here is again Alexandre Benalla! In any case, it is increasingly clear that Macron has something to do with the contracts signed by his handyman. He could not ignore the considerable sums of money brought up by the simple security guard at the presidential seat.
He expresses himself well, he stands well in front of the media, he looks harmless, almost like an angel, but behind this beautiful face hides a real danger for the Nation, a serial signatory.

After Mediapart's revelations about the Russian and Uzbek contracts for €2.2 million Alexander Benalla got hold of, Valeurs Actuelles is able to reveal that the former deputy head of the Elysée's cabinet signed a two-year security contract worth €7.2 million with a Chinese company listed on the Hong Kong Stock Exchange.

The Chinese group – reputed to be close to the state apparatus – offers solutions for security services, logistics and insurance services for customers in border areas. Until then, it had mainly used American, French and Russian labour to ensure the security of its infrastructure and personnel in Africa. Its leaders want to train their own resources. And according to our information, they turned to Alexandre Benalla, who engaged to carry out "support, training and security" missions. Under this contract, he will be working with former Blackwater people, which was the world's largest private security company with no less than 22,000 men in 2017, whose missions have long been to act for the CIA, particularly in Afghanistan and Iraq. More specifically, the Chinese group wants to set up a "major" training centre for its teams in the Guangzhou region of southern China.
Control Risks is what we dubbed 'British Blackwater', so this is rather interesting (the last paragraph above). Some of our past articles about Control Risks:
Märpel has just said that "It pays to be Mr Benala." [sic] Citing the relevant document, he or she extracted numbers that we noted here before (see above), writing: "Märpel found a reference to a security contract with 6 individuals in document CA/ 6/16, last page. For 6 months and 6 individuals, the office paid €550 000, so about 15278€ per month (if all 6 people were paid the same amount and Mr Benela [sic] did not benefit from a preferential treatment as is usual within "System Battistelli)."
That means they got paid almost €200,000/annum, i.e. roughly the same salary Battistelli claims to have received before receiving a massive bonus (roughly the same as the above total).
They're signing off these ridiculous numbers like military contractors in the Middle East.
Here are some links to past articles about the Battistelli/Benalla affair:
We have a lot more on the way. Might Battistelli, who now hides in CEIPI, finally be held accountable for something? Like his buddy/"padrone" Nicolas Sarkozy about a decade late? █
Permalink
Send this to a friend