12.31.19
Gemini version available ♊︎
It goes well beyond Devuan, systemd and the whole init system dispute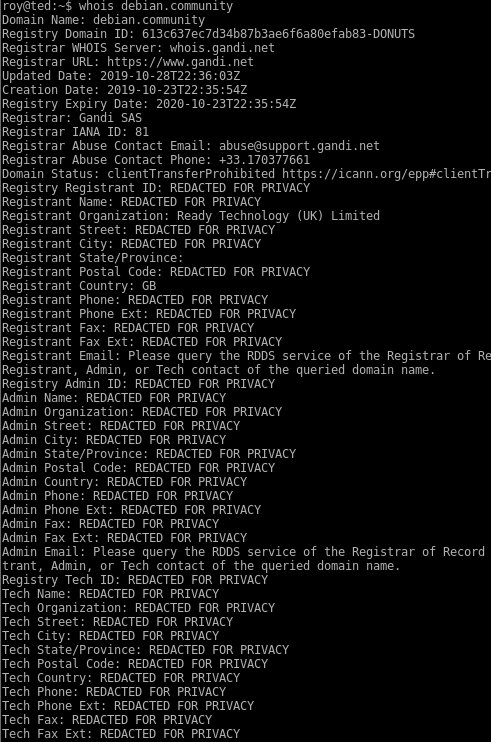 Summary: The Web site called "Debian Community News" provides a rather unique — and likely accurate — take on the state of Debian, where key facts are hidden away for the project's image to be artificially 'sanitised' (and 'pesky' developers ostracised) while taking corporate money, e.g. from Google and Microsoft
"We believe that a free and independent news site helps raise standards of leadership, governance and accountability in Debian and the wider Free Software community," says Debian Community News, a site that recently emerged as a source of news about internal affairs at the Debian camp/project.
"We've long needed independent news sites about GNU/Linux, which include anonymity, especially for sources and sometimes for authors."The site currently contains 16 stories, mostly from this year (except one, which is about the death of Ian Murdock, the "Ian" in "DebIan").
We've long needed independent news sites about GNU/Linux, which include anonymity, especially for sources and sometimes for authors. Free software needs free speech, as secrecy tends to breed suspicion and shelter mischief. This is why we began — or resumed — publishing IRC logs on a daily basis, as we had done until about a decade ago (frequency of publication changed due to the amount of work required). We barely keep secrets other than identity of many sources of ours. In the context of GNU/Linux divulging identity of sources can result in community friction, whereas in the case of European Patent Office (EPO) leaks sources being revealed can result in destruction of lifelong careers.
Speaking of careers being destroyed and even lives ended, here's what the site said of Murdock:
The report talks about somebody (no suggestion that it was even Ian) "trying to break into a residence". Let's translate that from the spin-doctor-speak back to English: it is the silly season, when many people have a couple of extra drinks and do silly things like losing their keys. "a residence", or just their own home perhaps? Maybe some AirBNB guest arriving late to the irritation of annoyed neighbours? Doesn't the choice of words make the motive sound so much more sinister? Nobody knows the full story and nobody knows if this was Ian, so snippets of information like this are inappropriate, especially when somebody is deceased.

Did they really mean to leave people with the impression that one of the greatest visionaries of the Linux world was also a cat burglar? That somebody who spent his life giving selflessly and generously for the benefit of the whole world (his legacy is far greater than Steve Jobs, as Debian comes with no strings attached) spends the Christmas weekend taking things from other people's houses in the dark of the night? The report doesn't mention any evidence of a break-in or any charges for breaking-in.

If having a few drinks and losing your keys in December is such a sorry state to be in, many of us could potentially be framed in the same terms at some point in our lives. That is one of the reasons I feel so compelled to write this: somebody else could be going through exactly the same experience at the moment you are reading this. Any of us could end up facing an assault as unpleasant as the tweets imply at some point in the future. At least I can console myself that as a privileged white male, the risk to myself is much lower than for those with mental illness, the homeless, transgender, Muslim or black people but as the tweets suggest, it could be any of us.

The story reports that officers didn't actually come across Ian breaking in to anything, they encountered him at a nearby street corner. If he had weapons or drugs or he was known to police that would have almost certainly been emphasized. Is it right to rush in and deprive somebody of their liberties without first giving them an opportunity to identify themselves and possibly confirm if they had a reason to be there?

The report goes on, "he was belligerent", "he became violent", "banging his head" all by himself. How often do you see intelligent and successful people like Ian Murdock spontaneously harming themselves in that way? Can you find anything like that in any of the 4,390 Ian Murdock videos on YouTube? How much more frequently do you see reports that somebody "banged their head", all by themselves of course, during some encounter with law enforcement? Do police never make mistakes like other human beings?

When a felon is convicted of a crime, there is always a lot of discussion about whether they apologize and show remorse. What is staggering about police communications, like this one, is that there is never any hint that they may have any responsibility, nobody saying "he was in our care, and we failed", no sign of regret or humility.
I wrote about this episode several times back then. To me, based on all the reports that I saw (virtually all of them were listed and documented carefully in Tux Machines), the police abused him based on rather false or trumped-up pretexts, humiliated him, and later lied about the whole thing. This sort of cover-up was part of a pattern for that particular Police Department, based on press reports that appeared the following year in light of protests.
Like many things in life, Police Departments (PDs) aren't a pretty thing. There's lots of abuse and lots of lying inside them. One more week to go and hopefully the Seattle PD will finally hand over some redacted documents about Bill Gates. To quote the PD, "we anticipate having a response/installment to you on or about 1/8/2020."
They will probably get pressured not to… but we shall see.
A couple of years later Torvalds was silenced and this year Stallman was 'canceled' — in both cases on rather questionable grounds. █
Permalink
Send this to a friend