01.05.20
Gemini version available ♊︎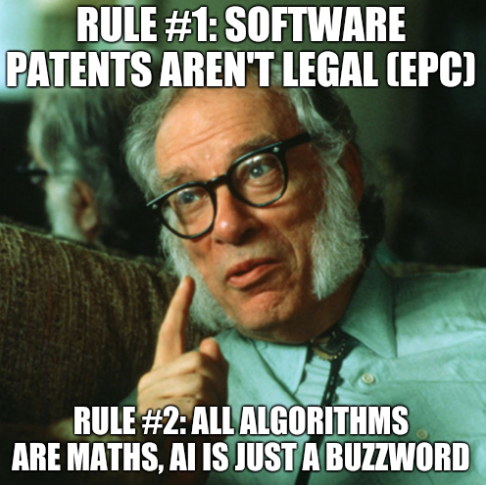 Summary: The EPO is totally losing control of patent quality because of its artificial or faked 'excitement' over "HEY HI" (AI) "innovations" — even so-called 'innovations' which are immoral and detrimental to human rights
THE European Patent Office (EPO) doesn't have any reservations about granting software patents in Europe since Battistelli removed/detached the EPO from the EPC. Anything goes. It's anarchy.
"Anything goes. It's anarchy."A couple of days ago British press took note of this: (based on EPO documents)
Weekend breaks and sunny getaways are ideal ways to relax, let off steam, and perhaps snap a few indulgent selfies in exotic locations.

But holidaymakers may be advised to be on their best behaviour following revelations Airbnb gained technology to judge guests on their personalities, including drinking habits and "narcissism".

The technology is designed to scan the online profiles of would-be bookers to judge whether they will be reliable customers or not, according to European Patent Office (EPO) documents.

Penalising narcissism and alcohol use may not bode well for many in the age of Instagram and stag nights abroad, but the trait analyser also rates more disturbing qualities such as "Machiavellianism, or psychopathy".

[...]

The Air Bnb website states in its information on safety that: Every Airbnb reservation is scored for risk before it's confirmed.

"We use predictive analytics and machine learning to instantly evaluate hundreds of signals that help us flag and investigate suspicious activity before it happens."

Airbnb has been contacted for comment, and is understood to have gained the technology following its acquisition of Trooly.
It seems abundantly clear that it's about algorithms; whether they use buzzwords like "HEY HI" (AI) and speak of "predictive analytics" or "machine learning" should not matter. However, EPO management imposed on staff some new guidelines a couple of months ago, so they might feel pressured to grant.
There's a bunch of new 'reports' (cheerleading from patent maximalists) about "HEY HI" patenting in the sense that so-called "HEY HI" comes up with patent applications (the latest ones are "European Patent Office Rejects World's First AI Inventor", "Machines cannot be inventors rules EPO", and "EPO rejects machine patent applications"); but what about the EPO granting abstract patents? It ought to be denying all patents on software, even if it's all spun — or hyped — up as "HEY HI"; right? █
Permalink
Send this to a friend