01.09.20
Gemini version available ♊︎
If confidentiality or secrecy is the very thing patents were conceived to tackle/discourage…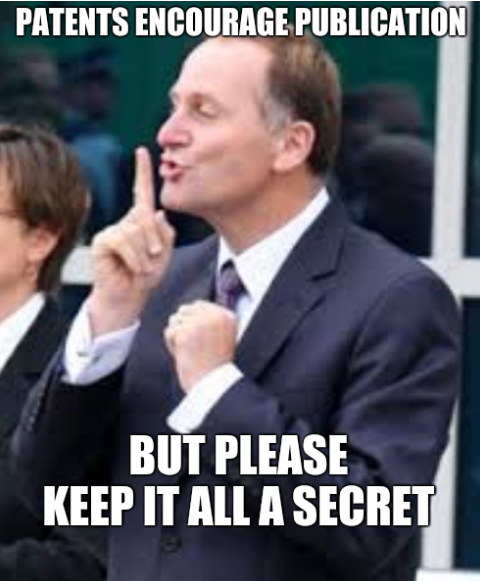 Summary: If transparency through publication is the supposed motivation of patents, then why is the concept of confidentiality so strictly enforced (even when the EPO itself actively violates the confidentiality of applicants and other stakeholders)?
WHEN someone produces a physical invention it is possible to disassemble it and possibly reverse-engineer it thereafter. It doesn't matter if there is or isn't a patent, so in a sense that invention is disclosed as soon as it hits the market/s. The specifications underlying this invention just aren't formally disclosed. In the case of drugs (or chemicals) the production process may not be obvious to the recipient of a drug. However, the ingredients can be determined and sometimes the structural composition as well. In both cases we can see that patents as means of publicising an invention (unlike secrecy or even trade secrets) may be moot; and sure, sometimes patents allude to things that do not exist in the market (yet, if ever) and having some formal description may be valuable for reproduction (in the future or at present by peers/competitors). When it comes to software patents, it all boils down to code. If it is Free software, anyone can study and also copy that code. No point to patents on those…
The American courts, having already grappled with 35 U.S.C. § 101, more or less concluded that patents pertaining to nature and code aren't valid. Alice and Mayo may have put millions of US patents in their graves (or already-expired patents even deeper in the ground). For over 5 years SCOTUS has refused to revisit or reconsider the matter; as for the Federal Circuit (one level below SCOTUS), it rarely deviates from this well-cemented norm…
There are many misconceptions abound regarding patents and it's up to us, non-lawyers, to address and correct those falsehoods.
"The concept of confidentiality in this case is akin to "trade secrets" — a sort of thoughtcrime, with laws enforceable by employers who seek to make the mere 'possession' of some knowledge a 'crime' (somewhat like NDAs)."Recently, the appeal boards in Munich (oh, sorry! Haar, but let's pretend it's part of Munich) dealt with the aspect of secrecy surrounding patent-pending research. This week UDL published an article about it. Sorry to disappoint you, UDL (promotional piece in Lexology, akin to a paid press release), but the European Patent Office (EPO) does not protect confidentiality and barely grasps that very concept. Under the watch of António Campinos it has happened repeatedly after being 'normalised' in the Battistelli era.
Here are some portions from the article:
The confidentiality of patient data is an essential consideration in any clinical trial — but stakeholders must also consider the confidentiality of the invention being trialled. If just one member of the public can access information about the invention before a European patent application is filed — whether this is through writing, oral disclosure or use — the invention may lack novelty.

This is so important due to the sheer number of stakeholders involved in a clinical trial, which can include sponsors, Contract Research Organisations (CROs), investigators and site personnel, healthcare personnel, regulatory agencies and participants.

[...]

While the Boards of Appeal of the EPO found in T598/12 that a trial participant isn't a member of the public in the strict sense, a particularly contentious area of law is whether unused and unreturned trial drugs form a public disclosure.

A general principle of the European Patent Convention, following the Enlarged Board of Appeal's Decision in G1/92, is that the chemical composition of a product is state of the art when the product as such is available to the public and can be analysed and reproduced by the skilled person, irrespective of whether or not particular reasons can be identified for analysing the product.

[...]

The Opposition Division followed T7/07 in agreeing that information given to patients cannot be regarded as prima facie confidential. Indeed, it might be considered unethical to bind trial patients by general explicit or implicit confidentiality obligations, as they should be able to discuss medication with their spouses and doctors. However, it was found that trial participants were under a legal obligation to use the tablets according to a stipulated schedule and return any non-administered drugs. In contrast to T7/07, loss of control over the return of the dispensed drugs hadn't been established, as patients were legally prevented from disposing of the drugs and also from passing on information contained in them to third persons not bound by confidentiality. Any 'breach' therefore didn't allow a conclusion to be made that the tablets were available to a member of the public.
The concept of confidentiality in this case is akin to "trade secrets" — a sort of thoughtcrime, with laws enforceable by employers who seek to make the mere 'possession' of some knowledge a 'crime' (somewhat like NDAs). Do we really wish to steer patent law in such a direction? Isn't that rather antithetical? █
Permalink
Send this to a friend