06.13.20
Gemini version available ♊︎
When will European officials realise that the EPO became somewhat of a money-laundering operation that funnels funds from applicants and workers into the management's pockets (nowadays operating almost indistinguishably from the Mafia)?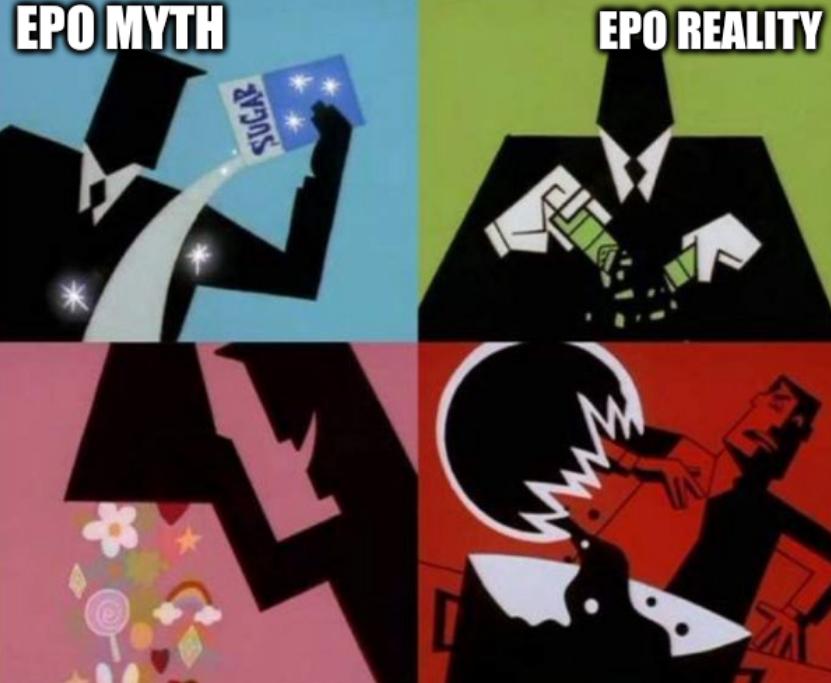 Summary: Junk patents are coming out of the EPO because of its poor recruitment process (no appeal anymore), unrealistic "production" demands ("targets") and disregard for the rule of law (including patent law itself!); workers are being repressed and robbed for money… only for it to land in the accounts/pockets of the 'Mafia' that runs this dangerous, illegal racket/scheme
THE pure fiction and the lies of the management of the European Patent Office (EPO) may seem harmless, but they're not… they provoke staff. The examiners are smart people who know what's going on (they're a lot smarter than António Campinos and Benoît Battistelli, but they're also more honest and honesty isn't compatible with the job requirements of today's EPO managers). Police departments are known (notorious for, not renowned for) similar problems; recruitment tends to reinforce cover-up, not introspection and accountability. This means crimes can be perpetuated, defended, made the new "normal"…
"It's an elaborate scam, a Ponzi scheme, but nobody in the EU has the courage to talk about it or do something to stop it."Today's EPO has put staff under Microsoft and NSA surveillance; stuff does not like this, but non-compliance (with illegal demands) means becoming unemployed at a time of pandemic. So once again the Office gets away with abuse, just like cops can often get away with murder (unless evidence of it is far too compelling and people start rioting).
Noways the EPO is busy plundering (looting may be a strong term) its own staff to hoard money, which management then misuses for gambling it stands to benefit from. It's an elaborate scam, a Ponzi scheme based on a hoax, but nobody in the EU has the courage to talk about it or do something to stop it. Staff is meanwhile complaining (what's left of staff anyway) and recently the situation was outlined as follows:
A brief history of EPO-time

We've been seeing quite some changes in our work package in recent years. For those who thought they were working in an International Organisation, a brief overview:

2009 New Pension Scheme (NPS)
Management split our staff in 2 groups: Old Pension Scheme (OPS) – though taxed, still comparable with pension systems in other International Organisations – and staff starting from 2009 find themselves in the NPS. The NPS is supposed to give a pension comparable to the OPS, but meanwhile we know that our NPS colleagues see their pension benefits melt away year after year (except for some top managers of course).
The NPS colleagues 'benefit' from a pension system that is unheard of in the world of International Organisations – and they are much worse off for it.

2015 New Career System
We used to have a merit-based career system, similar to all other IO's – but suddenly we find ourselves in a career system which we now see is a winner-takes-all system, leaving large groups of staff behind. It triggered a rat race like never before, sent our quality down the drain, facilitated ever-increasing targets and stopped dead more than half of staff in their (career) tracks. On top, it has a compounded negative impact on pension levels – especially for our NPS colleagues.
The NCS is unheard of in the world of IO's.

2018 5-year contracts
Yet another divide: staff is no longer recruited on permanent contracts, severely impacting the potential for the EPO to recruit top candidates – especially for DG1 staff whose skills are much more difficult to transfer into another career.
Though other IO's sometimes also rely on contract staff, they normally don't do so for their core functions – not so at the EPO.

2020 Salary Adjustment Procedure
We used to have a Salary Adjustment Procedure comparable with other IO's, but the newly designed Salary Erosion Procedure is one-of-a-kind in the world of IO's. It will reliably erode our purchasing power year after year, irrespective of the economic circumstances (and especially during a period of economic growth), and have an impressive compounded effect over time, both on salaries and retirement levels.
Once again, especially our younger colleagues are hit the worst.

With each step, the work package has been eroded away from standards applying in the world of IO's, and with each step our younger colleagues are especially targeted. Now, we have the worst pension system, the worst career system, and the worst salary adjustment procedure in the world of IO's.

What's next? We know that the education allowances are in the Social Agenda – again targeting our younger colleagues – but what comes next? Will this be the last straw that breaks the camel's back?
The above is softly spoken in our view; after covering this for 6 years it seems rather apparent that the squeeze is only designed to enrich the management. The EPO's account, which is supposed to be only balanced, is being used for gambling, for bribery, and tactics that would make even the underworld blush. Why are the people who masterminded this illegal operation not arrested or at least investigated? What does that say about Germany and the EU? Yes, the EU. It's getting harder to argue that EPO is "not my department!" to the EU. █
Permalink
Send this to a friend