01.21.21
Summary: As the company once known as 'chipzilla' loses its relevance and dominance in the market it's reaching out to retired people, trying to get them back onboard
THE Intel series has attracted a lot of attention. We suppose many Intel insiders (past and present) are interested in what goes on inside their present or past employer. We've already covered many facets of internal affairs (index here) and according to a former insider, who spoke to us today, Intel "are hiring back the lead architect for Nehalem after hiring Gelsinger as their CEO… someone who retired 3 years ago" (i.e. before the chaos and the leaks).
Here's the message about the return or a screenshot of it (because it's a Microsoft site):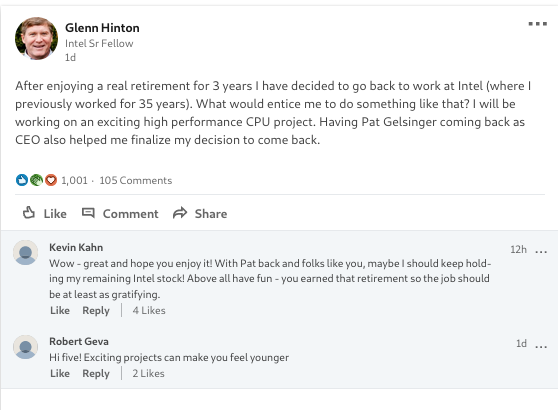 It's interesting that Intel is getting him back from retirement and "they wouldn't have had to," our source says, "if it wasn't for so many hardware engineers leaving for other companies (Apple, Ampere Computing etc.)" (I've personally heard of some people who moved from Intel to Apple and other companies, even though Intel begged them to stay).
How much is Intel paying him to come back from retirement? Even during a pandemic… maybe millions per annum? Who knows… we only know that Intel is becoming ever more desperate (like never before in the company's history).
"How much is Intel paying him to come back from retirement?""After enjoying a real retirement for 3 years," says the above post, "I have decided to go back to work at Intel (where I previously worked for 35 years). What would entice me to do something like that? I will be working on an exciting high performance CPU project. Having Pat Gelsinger coming back as CEO also helped me finalize my decision to come back."
This has also just been mentioned by the hardware-focused media, stating: "Intel could get away with being lazy in the server space as Windows was the most widely used server OS, ran only on x86, and Linux was a non-factor. Those days are long gone."
And "it's many things coming together for Intel at the same time," a source told us, "so it's not just GNU/Linux or Apple, but essentially an entire industry wanting to get rid of the stronghold the company has over it."
But what can Gelsinger actually do? Well, Gelsinger is no God or "Intel Idol". It's just another 'suit'… following the scandals that led to the forced 'resignation' of the last CEO. █
Permalink
Send this to a friend