SUSE is Just Another Black Cat Working for Proprietary Giants/Monopolies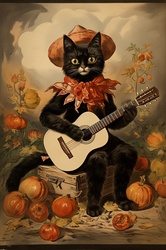 "SUSE has a particularly deep relationship with SAP," SUSE has just said [1]. Not much has changed since the CEO left (marketing rep from SAP) and even before she came to the company SUSE was constantly marketing SAP's proprietary products and Microsoft "clown" (Azure). We wrote many blog posts about it around 2019. Even in 2006 onwards we wrote about SUSE in relation to Novell. Never forget what Novell did to us.
SUSE's relationship with firms such as these generally means that SUSE works for authority, not for community, and when it comes to cryptography it just follows guidelines from the US government (SUSE is German like SAP) and those guidelines may lead to back doors through "weakened" encryption.
Be it SUSE or 'open'SUSE, this isn't your community entity or the true alternative to IBM (Red Hat). Heck, SUSE works closely with IBM too, particularly in supercomputers. █
Related/contextual items from the news:
The future of open source is now and with good reason. More and more organizations, including SAP, are relying on open-source software for innovation and operational excellence, and SUSE is the leader in providing enterprise-grade open-source solutions.

The current FIPS 140-2 and ongoing FIPS 140-3 certification efforts by SUSE cover a wide range of system libraries and its users, and the Linux Kernel. One gap recently closed is the missing FIPS 140 support for applications written in the GO language.