Summary: HP suggests that a tablet with Windows may come before a tablet with WebOS and Microsoft entryism is therefore revisited
IN A COUPLE OF prior posts we warned that Hurd's departure might be bad news to Linux at HP. A few days later HP spoke to the public (conference call) and revealed what we had feared all along. HP has already hired a Vice President from Microsoft to become software head (that was a few months ago) and the 'Microsoft press' keeps talking about possible Hurd (CEO) replacements from Microsoft:
Internal candidates to replace Hurd include Todd Bradley, who turned around the company's once-struggling PC business. Ann Livermore, who runs HP's huge services business is another oft-mentioned possibility. Outside candidates include two Softies: Microsoft COO Kevin Turner and Stephen Elop, president of the company's Business Division.
Another Microsoft-boosting Web site has
other Microsoft candidates in mind
:
Handicapping HP's CEO search



[...]

This is a reach, but one interesting possibility to think about is Robbie Bach, the outgoing Entertainment & Devices Division president at Microsoft. Bach has said he truly plans to retire, but given his history across business computing and mobile devices -- and his impending availability -- he would seem less of a long shot than the Microsoft execs floated by the Seattle Times last week: Kevin Turner, the company's chief operating officer, and Bob Muglia, the Microsoft Server & Tools president.
Tim Bajarin, typically a stern Microsoft booster,
says
that "HP's New CEO Must Embrace Palm," but based on
Murdoch's rags/tabloids
, "HP to Ship Microsoft Tablet This Year, webOS Tablet Next Year" (and notice the bits about Android):
Noticeably absent from Bradley's list: that Android device that was supposed to arrive at market in the fourth quarter of 2010. As I reported in July that tablet has been tabled–at least for the time being.
"HP Officially Delays Tablet until 2011," says
this report
, but at least it's not cancelled [
1
,
2
,
3
,
4
,
5
]. Here is one take on it:
Hewlett-Packard confirmed its tablet plans in a conference call on Thursday.

From a product standpoint, company executives said that a "Microsoft product" would appear in the "near future," with a "WebOS product in early 2011." That appears to confirm both reports of HP's Windows tablet as well as the company's plans to feature WebOS after HP purchased Palm.
It still seems like a step back because HP dumped
Vista 7
, at least when
it comes to Slate
(a form of tablet).
Speaking of potential Microsoft entryism, watch
what goes in at OpenAmplify
:
OpenAmplify, the Semantic Web platform, today announced that Sanjay Parthasarathy has joined its executive board. Parthasarathy brings over two decades of experience to the OpenAmplify team, most recently serving as corporate vice president of the Developer and Platform Evangelism Group (D&PE) and also the Microsoft Startup Business Accelerator.
Also mind
changes at DigitalTown
:
Mark is Director of Strategic Relationships for Microsoft Corp. /quotes/comstock/15*!msft/quotes/nls/msft (MSFT 24.23, -0.21, -0.86%) Media & Entertainment Group and has more than 13 years' experience in developing innovative business and technology solutions for global media companies. He is based in Los Angeles.
Wipro is
growing closer to Microsoft
, which
makes it hard to trust
and Microsoft liars
find a new home at Liar Liar List LLC
:
Liarliarlist.com (http://liarliarlist.com), a brand new website that publishes members reviews of people who lie on their online dating profiles, has just appointed Microsoft Corporation alumni Adesh Desai as Chief Technology Officer and Deepak Sodhi as Chief Operating Officer.
It is possible that Microsoft too will be getting a new CEO. There are
rumours about Ballmer being pushed out
and Microsoft proponents don't want him either (
only 9% say he is doing a great job
based on a recent poll). "Half of Microsoft's (Anonymous) Employees Don't Approve of Steve Ballmer," heralded
the Seattle Weekly blogs
a short while ago, so now we know how even employees feel, despite being indoctrinated.
Half of Microsoft's (Anonymous) Employees Don't Approve of Steve Ballmer



[...]

You've heard of this guy Mark Hurd, right? The Hewlett-Packard CEO forced to resign late last week because of a sexual harassment investigation? Lots of his employees apparently didn't like him very much. At least according to his record-low approval rating of 34-percent on Glassdoor.com, a site that lets employees anonymously dish on their bosses.
It's not impossible for Ballmer to replace Hurd, either. Earlier this year Ballmer was strutting HP's gear (Slate) on stage. It did not
really
have a penguin on it; it had Vista 7.
⬆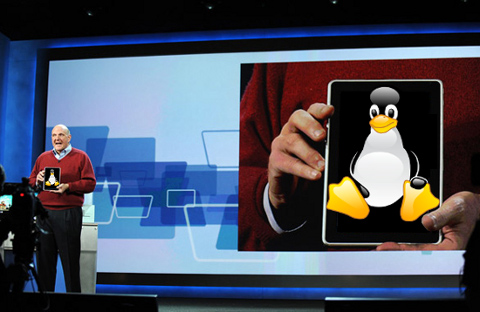 Original photo here, fair use for humour purposes