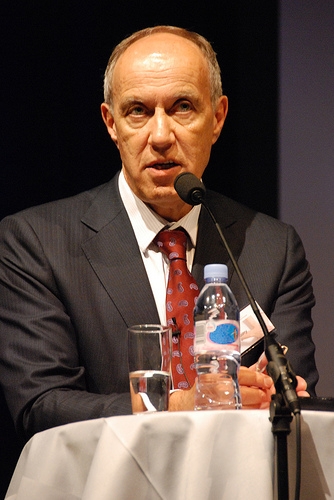 Photo by dkpto @ Flickr, Creative Commons Attribution 2.0 Generic
Summary: China's monopolies office (SIPO) and the EPO sign a new deal and Africa is hurt by moves made with WIPO endorsement
WIPO (wipo.int, where "int" means "international" and the "w" stands for world) is about as international as the World Bank. WTO, where the "w" also stands for world, is about as international as the IMF. Both bodies cover an international scope but their representation is not. Their main function is to ensure the gap is maintained between those already in power and those which are exploited (given barrier obstructions, sanctions, or debt). Glyn Moody suggested quite correctly that intellectual monopolies are "a neo-colonialist plot to ensure the continuing dominance of Western nations" and we covered this several times before, e.g. in WIPO criticisms [1, 2]. WIPO is philosophically if not fundamentally against Free software and thanks to some pointers from the FFII, last week we found further evidence that WIPO is not working for the world, it's working for its founding/funding sources which are concentrated in the Western world.
A few days ago the FFII found evidence of further language symbiosis involving Europe and China, with software patents being a possibility if patent offices overlap more. Last week we saw Russia
doing something similar with the USPTO
.
Anyway, from
the EPO's Web site
:
The EPO and the State Intellectual Property Office of China (SIPO) have taken a step further towards making China's prior art documentation more easily available for patent searching. Signing an agreement related to lexical and terminological data for building English-Chinese and Chinese-English dictionaries to be used for machine translation on 4 September 2010 in Shanghai, EPO President Benoît Battistelli and SIPO Commissioner Tian Lipu also addressed the need to further strengthen IP relations in the partnership between Europe and China.
China is typically a victim of such moves, which also include the
"unconstitutional"
ACTA [
1
,
2
,
3
,
4
,
5
,
6
,
7
,
8
,
9
,
10
,
11
,
12
,
13
,
14
]. ACTA covers more than just patents; it is primarily about copyrights as far as monopolies are concerned and
IP Watch
, a site critical of such monopolies,
writes about injustice in Africa right now
. Watch what WIPO is doing to Africans:
African Traditional Knowledge And Folklore Given IP Protection Despite Warning Of TK Commodification



Some African nations signed a protocol on the protection of traditional knowledge and folklore at the beginning of August gaining the praise of the World Intellectual Property Organization. However, a United Nations report launched in January warned against the application of western legal and economic principles to collectively owned knowledge in traditional communities.

At the African Regional Intellectual Property Organization (ARIPO) diplomatic conference on 9-10 August in Swakopmund, Namibia, the protocol on the Protection of Traditional Knowledge and Expressions of Folklore was signed by nine states.

ARIPO currently has 17 member states. Nine states signed the protocol and "the remaining eight states, including Somalia, will have to accede to the protocol," Emmanuel Sackey, head of Search and Examination at ARIPO told Intellectual Property Watch. Sackey, who coordinates ARIPO's activities on the protection of TK, genetic resources and expressions of folklore, said the nine states "will be required to deposit instruments of ratification." Some states "have initiated the process for the ratification and accession," he added.
The last thing Africa needs to endorse are monopolies on ideas and on art. It's bad enough that the
Gates Foundation
forces these upon Africans, whether they actually like it or not (gullibility and brainwash from Western media helps build support for it).
⬆