Spain co-opted by Eurocrats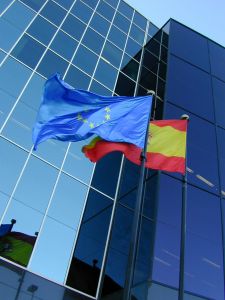 Summary: A company that spreads (in the distribution sense) Linux in Germany and the UK agrees to pay Microsoft for unnamed patents just as the European Parliament opens a potential door to software patents in Europe
H
ERE WE GO again. Patents that have no validity in Europe, at least based on the unclear rules (as such), are being used to harm Linux/Android and Microsoft is behind it, as usual. For those who are new to this site, in 2009 we showed
how Microsoft extorted TomTom
, a Dutch company, after
a nearby German court had validated software patents on FAT
. Microsoft has been pushing hard for
software patents in Europe
, more often not using proxies like
ACT
, which pushed hard for the predecessors of the Unitary Patent. Now that we see patent terrorists like Horacio Gutierrez in the news we are reminded of the great dangers of enabling software patents in Europe.
In recent years, Microsoft managed to find companies which willingly paid extortion money for 'protection', mostly in Japan and the US (or neighbouring countries) where software patents have more legitimacy. Today in the news we see this in action in Europe. The racket is expanding. As a reminder of news we
covered earlier
, Eurocrats let the passage for software patents be, as
covered in the European Union's Web site
:
EU inventors will soon be able to get a unitary patent at last. After over 30 years of talks, a new regime will cut the cost of an EU patent by up to 80%, making it more competitive vis-à-vis the US and Japan. MEPs cut costs for small firms and tailored the regime to their needs, in a compromise deal with the Council endorsed by Parliament on Tuesday,
The BBC has just
covered it as follows
, not mentioning the opposition from Italy and Spain quite clearly, instead saying:
Italy and Spain suggest that as a result "commercial trade in innovative products will be favoured for undertakings which work in German, English or French".

But a senior adviser to the European Court of Justice has advised that it reject their plea. A panel of judges has still to consider the case.



Software patents



Eurochambres - an organisation that represents EU countries' chambers of commerce - called the vote in favour of the scheme a "breakthrough".

"[It] will significantly reduce administrative burdens and boost European innovation," it said in a statement.

However, April - a French free software-advocacy group - has warned the move could open the door to software-patent litigation on a scale recently seen in the US.

It says the European Patent Office (EPO) has shown itself willing to grant thousands of software patents - and worries the EU could end up with a system in which appeals against such judgements are decided according to the EPO's own rules.

"MEPs voted in favour of a legally uncertain system that does not not provide any checks and balances against threats to innovation such as software patents," said spokeswoman Jeanne Tadeusz.

"The European Patent Office will gain amazing powers, even though its governance has been highly criticised, especially with regard to its practice of granting software patents, against the letter and the spirit of European patent law."
On the very same day we find
this report
about a European company paying Microsoft for unnamed software patents, too. To quote:
Microsoft has reached more patent licensing agreements with Android device manufacturers, closing a deal with Hoeft & Wessel, an IT and engineering technology group that specializes in ticketing, parking and mobile solutions in Germany and UK, and Cat brand owner EINS.

As usual, the exact terms of the agreements were not disclosed, but it provides Hoeft & Wessel and EINS with 'broad coverage' under Microsoft's patent portfolio for the companies' devices running the Android platform.

More specifically, Hoeft & Wessel builds and sells Android-powered handheld devices and terminals for the public transportation, logistics and retail industries across Europe, and will henceforth have to pay Microsoft royalties for the privilege. As will EINS, which manufactures Android tablets under the Cat brand in Germany.
Hoeft & Wessel and EINS have been added to our list of
companies to avoid
for their participation in the Microsoft racket. Novell was the first such company, which is also the company that helped legitimise and kick off the practice.
⬆