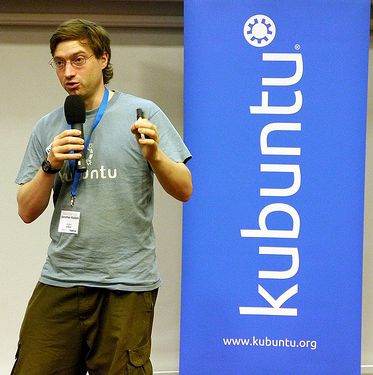 Image from jriddell.org
Summary: UEFI abuses continue, but Microsoft PR, lies, and attempts to silence the media go a long way, ensuring evidence gets insufficient coverage
A few days ago we wrote about UEFI, stressing that it offers no real security and that Debian should issue a complaint to improve the antitrust complaint already filed in Europe. This has not got sufficient coverage; a lot was done to legitimise UEFI in the press. Power-hungry companies love it because it takes control away from computer users.
Microsoft engages in patent racketeering and anticompetitive sabotage, so Microsoft's arrogant manager should quit
telling the press to stop criticising Microsoft
. If journalists whom Microsoft has not given gifts and bribes seem unwilling to self-censor, then it's because Microsoft is worse than a technical failure. It's an abusive, anti-social, manipulative, corrupt, deceitful and despite all of this highly vain movement. Microsoft treats its domination as a right, not a
status quo
. And it acts accordingly.
Dr. Garrett, who has since his
Microsoft apologism
for
UEFI
left Red Hat (assuming he was not pushed out), tried to make Secure (Restricted) Boot sound benign and now he
does the same for Treacherous Computing
. His latest long post concludes with: "TPMs are useful for some very domain-specific applications, drive encryption and random number generation. The current state of technology doesn't make them useful for practical limitations of end-user freedom."
"Microsoft is probably going to drop the RT version of Surface..."
--Christine HallBut they will almost certainly be used for that, in due course. Every war starts with the claims of 'national security' and UEFI restricted boot got marketed similarly before it got sort of cracked. Is Dr. Garrett not reading history books, only biology or technology book? Security has almost a monopoly on being used as pretext and excuse for control over people.

Microsoft would love to see UEFI lock-in creeping into more hardware (one where restricted boot cannot be disabled) and Christine Hall writes: "Our bet is that it'll be a long, loinng time before we see a 64-bit version of RT made available to consumers. Microsoft is probably going to drop the RT version of Surface, and OEMs aren't going to want to touch it until there's a decent list of apps available for it–which will probably be never.

"If you don't believe us, you might want to read what Toshiba had to say about RT at a product launch in Sydney, Australia this week."

Thankfully, she is probably right, but Microsoft should never be tying hardware to software like this. It's what Apple used to do. Well, even Apple suns Windows RT, so we know Microsoft's copycat will go extinct.

Anyway, this brings us to the core of this post. A prominent KDE developer writes: "We installed Kubuntu but it didn't set up Grub and we couldn't do much useful at the Grub command line."

KDE/Kubuntu is my choice for the main workstation, so Jonathan Riddell's post is relevant to me. Last month I upgraded to the latest LTS and found myself struggling with the Grub command line. The system would not even start. Fortunately, on my Debian box, I was able to search the Web for a complicated solution that required chrooting the installation from a live CD. Nobody without a dose of Linux skills would manage to achieve this. It's demoralising. Even I nearly gave up and resorted to a clean Debian install on my main workstation, abandoning Kubuntu after 4 years (I had used Mandriva before that).

The post from Riddell reveals a Microsoft riddle. The monopolist has made it very difficult to install GNU/Linux, and it is not a coincidence or side effect. "If you go to ubuntu.com," writes Riddell, "to download it points Windows 8 users to this scary UEFI wiki page with scary headings like "Installing Ubuntu Quickly and Easily via Trial and Error".


"Kubuntu is slightly more broken then Ubuntu but not much."
--Jonathan RiddellHere is his conclusion: "UEFI is a giant MS conspiracy to make installing Linux more faffy [implies hassle] than it already is. Kubuntu is slightly more broken then Ubuntu but not much. Only silver lining is that Windows 8 is rubbish and when we tried it there genuinely was a notification saying "Warning: your children might not be protected". Think of the children and don't use Windows 8!

"Oh well, here's some pretty pictures to keep you amused."

Vista 8 is a pile of garbage, just like its logo, which looks like a rotated garbage can. Microsoft has been releasing lies about "sales" and sending out trolls to deceive the public. These are all lies wrapped in a riddle. And unless we appeal to regulators Microsoft will continue to warp the market, the press, and computer users' rights.

Microsoft is hardly a victim of negative press. It reserves a lot more negative press. Some turncoats in the FOSS world helped prevent negative coverage regarding anticompetitive aspects of UEFI. And now they suffer the consequences. Remember that Kubuntu is no longer run by Canonical (the project was hardly warped by Canonical/Mark's ego, so Canonical abandoned it). I strongly endorse Kubuntu. ⬆