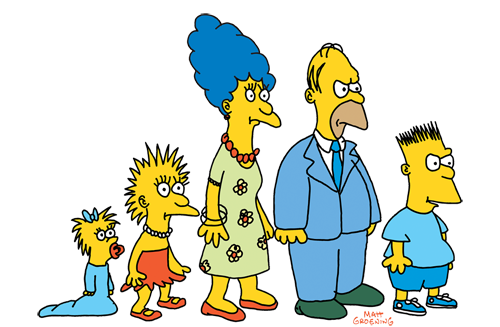 The Simpson family as they first appeared in The Tracey Ullman Show. (via Wikipedia)
Summary: Revisiting the stance of FOSS proponents on software patents and patent trolls; Mozilla, IBM, Red Hat, and Nokia (also before Microsoft takeover) discussed
A former (maybe present, still) Microsoft booster, Nancy Gohring, writes about the former chief of innovation at Mozilla. She makes Mozilla look bad by describing former staff as though it is still tied to Mozilla. She writes: "Todd Simpson, formerly chief of innovation at Mozilla, just made an intriguing job change. From working at the community-driven organization on open source projects, Simpson has joined InterDigital, a company commonly accused of being a patent troll."
Mr. Simpson lacks ethics. The company he joined is unethical and he should have known this. InterDigital was already covered here under posts such as [
1
,
2
,
3
]. Mozilla itself is unequivocally against software patents, so why do this type of demonisation by attribution to Mozilla in the headline? Here are some relevant articles we published:
You want to pick on a FOSS proponent which is strongly in favour of software patents? Then
pick on IBM
. The company's staff has been trying to
shift the debate to trolls
, replacing legitimate grassroots movements with corporate-controlled agenda that dilutes efforts and weakens real progress (the way USAID, for example, does it). Watch
the following new statement
: "Software is thriving and highly innovative - do not eliminate patents for software, instead address those that abuse them"
"You want to pick on a FOSS proponent which is strongly in favour of software patents? Then pick on IBM."Who said it? The Chief Patent Counsel of IBM (we mentioned similar statements from him before). So this rogue policy comes from the very top, still. Chastise IBM, not Mozilla. As for Red Hat, which is a close ally of IBM, it manages to keep a mind of its own. The other day its CEO said: "I think I speak for the entire software industry that software patents are a bad thing. The entire software industry has been aggressively promoting a position that says software shouldn't be patentable. It gets tied up with, obviously, the pharmaceutical industry, which believes patents are necessary to drive innovation in pharmaceuticals, and it continues to go around and around and we make some progress here and there. Hopefully it gets solved someday, but I don't think we're close to it."

Lastly, former Linux proponent Nokia has been a strange animal for a long time, promoting both software patents and Linux at a later stage (along with FOSS). After Microsoft had taken over things, Nokia started feeding trolls more than before (Nokia's use of MPEG-LA against Ogg involved staff that had come from Microsoft to Nokia about half a decade ago) and not much has changed on the patents front. An excellent new article (no longer behind paywall) says: "Of course, Google already knows if Nokia was the mysterious twelfth member of the defunct MPEG LA patent pool, and, if it was, then Google has known about its patents for quite some time. But either way, nothing stops any other company from springing a similar attack on VP8 or any other codec. In the battle to make VP8 an MTI standard in any web specification, the parties that benefit from license sales of rival codecs have no incentive to cooperate. That goes for H.264 as well as for the next generation, and it is not merely a hypothetical problem. Apple's Maciej Stachowiak has already voiced his objection to making VP8 an MTI standard in HTML5. The agreement between MPEG LA and Google has smoothed over the issue of VP8's patent status, but it cannot perfectly resolve it, simply because nothing can."

We covered this before, back when it was news. ⬆