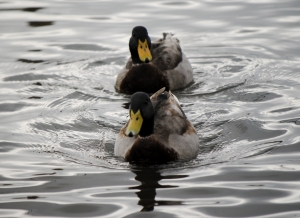 Summary: Another reminder of what Black Duck is really doing and why entities in the FOSS world, including the Linux Foundation, should be careful
T
HE IRC channels that we run occasionally teach us a thing or two. One person has shown us that, based on
this source
,
Black Duck
"use a lot of M$ technologies... probably a coincidence, right? ;)"
Mark responded by saying that "if Perens is saying Black Duck Software is BSing about the GPL, that's a good reason to be leary about them" (
we covered this before
).
The original source said: "it makes me happy to see how much fear copyleft strikes in the hearts of the software hoarders" (Black Duck hoards more than just software, as Palamida can remind us).
Black Duck articles have been showing up in some news sites again. There is a marketing drive and the Linux Foundation too plays along, having received payments from the parasite. We
mentioned the parasite yesterday
, noting that it was a source of FUD again. Guess who
wrote the marketing piece in the Linux Foundation's site
? "Lou Shipley is the President and Chief Executive Officer of Black Duck Software" it says at the very bottom along with heaps of promotional text. Why is this firm being legitimised in this site? This CEO placement helps create the illusion that Black Duck is an ally of Linux.
In some ways, Black Duck can almost be treated as a Microsoft Trojan horse. Not only was it founded by a Microsoft guy but over the years it also absorbed staff that had come from Microsoft, such as Ohloh. Black Duck is potentially very dangerous because it also tries to portray (in public) Microsoft as some kind of "Open Source" champion. We are reminded of this propaganda in light of the
CBS/CNET puff piece from the other day
. Here is
one response to it
, going back just hours ago:
Okay, I hate to be a Negative Ned here, but I'm firmly in the "trust but verify" camp when it comes to Microsoft and open source. Yes, a new CEO and other changes may be helping Microsoft to adjust to living in an open source world. But change never comes easy or fast in such a large organization, so I think the jury is still out on whether or not Microsoft has really changed for the better when it comes to open source software.

Also, I've never forgotten the company's "embrace, extend, extinguish" strategy that they used in the past to destroy competitive software products. That alone is reason enough to keep a wary eye on Microsoft's involvement with any open source project. Perhaps the company really has changed, but maybe it hasn't. I think it bears watching for at least another few years to see if enduring change has really set in or not.
This is a good enough assessment, but we ought to be less optimistic about Microsoft changing its ways. He gives them too much a benefit of the doubt, despite decades of criminal activities, infiltrations, and systematic deception. How much sabotage will it take before Microsoft is just treated as a pariah or gets widely boycotted? Well, in China things are changing and we shall cover this in the next post.
⬆