A Look at the Latest Gross Deletionism at the EPO's 'Media Partner', French Newspaper Les Échos
Dr. Roy Schestowitz

2015-11-23 09:53:46 UTC
Modified: 2015-11-23 09:53:46 UTC
A followup article about censorship at Les Échos, complete with new information about its latest censorship and its odious EPO ties
The article on Thursday (with the following text)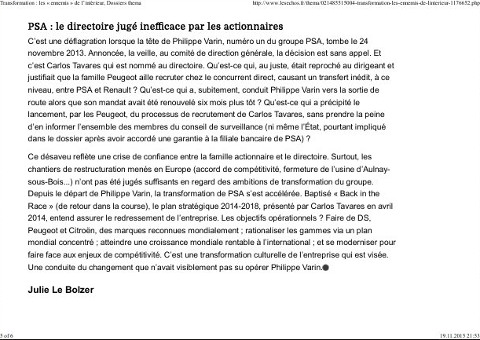 The article soon thereafter (after all the above got silently deleted)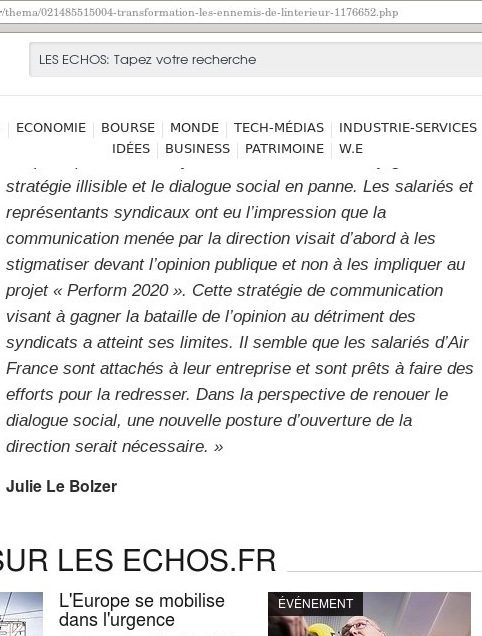 Summary: The EPO's bogus 'journal of record, which Team Battistelli likes to cite in order to bolster its warped version of events at the EPO while maintaining a close secret relationship with the publisher, keeps censoring its own reporters (spiked paragraphs, silently self-censored or censored after publications)
T
ECHRIGHTS
was never a big fan of corporate media, even well before the
EPO scandals
. Ever since the Novell days we have seen systematic abuse in such media, which seems to care more about what brings income (e.g. advertisements) than what informs readers. History is being rewritten (revisionism) in the interests of various sponsors or potential sponsors.
"This really necessitated further investigation and we decided to do a followup story in order to show just how much of a farce Les Échos can be."Les Échos was mentioned here a few days ago after it had censored itself once again (it previously censored paragraphs critical of the EPO). Not many people know this, not even those who watch the EPO closely. This really necessitated further investigation and we decided to do a followup story in order to show just how much of a farce Les Échos can be. We patiently waited for more information before that; we got several messages about that and found some feedback on the Web rather helpful.

In the excerpt below we highlight added text and deleted text. We are still waiting for a translation of the part about the EPO.


Accueil > Dossiers thema > Transformation : mettre de l'agilité dans son organisation

Transformation : les €«ennemis€» de l'intérieur

Julie Le Bolzer | Le 19/11 à 11:39

Collaborateurs, syndicats et même patrons sont parfois si réfractaires au changement que le processus de transformation de l'entreprise s'en trouve contrarié. Les exemples de l'Office européen des brevets (OEB), Air France et KLM et de PSA.

[...]

PSA : le directoire jugé inefficace par les actionnaires

C'est une déflagration lorsque la tête de Philippe Varin, numéro un du groupe PSA, tombe le 24 novembre 2013. Annoncée, la veille, au comité de direction générale, la décision est sans appel. Et c'est Carlos Tavares qui est nommé au directoire. Qu'est-ce qui, au juste, était reproché au dirigeant et justifiait que la famille Peugeot aille recruter chez le concurrent direct, causant un transfert inédit, à ce niveau, entre PSA et Renault ? Qu'est-ce qui a, subitement, conduit Philippe Varin vers la sortie de route alors que son mandat avait été renouvelé six mois plus tôt ? Qu'est-ce qui a précipité le lancement, par les Peugeot, du processus de recrutement de Carlos Tavares, sans prendre la peine d'en informer l'ensemble des membres du conseil de surveillance (ni même l'État, pourtant impliqué dans le dossier après avoir accordé une garantie à la filiale bancaire de PSA) ?

Ce désaveu reflète une crise de confiance entre la famille actionnaire et le directoire. Surtout, les chantiers de restructuration menés en Europe (accord de compétitivité, fermeture de l'usine d'Aulnay-sous-Bois...) n'ont pas été jugés suffisants en regard des ambitions de transformation du groupe. Depuis le départ de Philippe Varin, la transformation de PSA s'est accélérée. Baptisé €« Back in the Race €» (de retour dans la course), le plan stratégique 2014-2018, présenté par Carlos Tavares en avril 2014, entend assurer le redressement de l'entreprise. Les objectifs opérationnels ? Faire de DS, Peugeot et Citroën, des marques reconnues mondialement ; rationaliser les gammes via un plan mondial concentré ; atteindre une croissance mondiale rentable à l'international ; et se moderniser pour faire face aux enjeux de compétitivité. C'est une transformation culturelle de l'entreprise qui est visée. Une conduite du changement que n'avait visiblement pas su opérer Philippe Varin.


We don't know if Julie Le Bolzer or her editor removed it. We also don't know why. All we know is, when you read something on this 'news' paper, be sure to make a snapshot because entire chunks of articles can magically vanish without prior notice. We also know, based on experience, that criticism of the EPO is not permitted there. History is being recorded
selectively
, and there is a
monopoly
on media coverage.
⬆