Unified Patents is a very prolific challenger, but there need to be more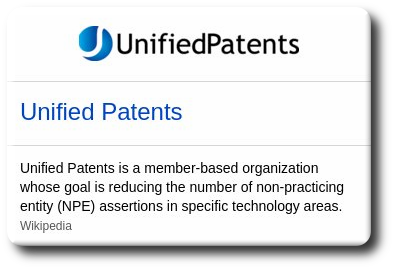 Summary: Challenges to US patents at the Patent Trial and Appeal Board (PTAB) are helping to raise the bar for litigators; those who value the quality of patents should welcome rather than condemn PTAB and PTAB ought to be expanded to facilitate more scrutiny of granted patents
OUR earlier post about the Federal Circuit took note of the low quality of patents it deals with; the USPTO spent several decades granting low-quality patents which are nowadays less likely to be used in litigation; those that do end up in court often get invalidated at the end.
"Not everybody loves PTAB. In fact, PTAB is loathed by patent bullies, their law firms and pretty much all patent trolls."What about the Patent Trial and Appeal Board (PTAB), whose inter partes reviews (IPRs) often end up being assessed by the Federal Circuit (affirming rejections of reviewed patents)? Well, Ex parte Dong-Shin Jung et al was mentioned here last month and was covered by Christopher Francis. It's "Designated as Informative by PTAB," according to Francis, which means it will set the tone for future decisions.

PTAB is widely supported by technology firms. John Thorne, who represents many such firms (like the CCIA does), published this article last week on behalf of HTIA. "Today's patent system is the product of nearly a decade of reform," he explained, "thanks to which the quality of U.S.-issued patents has gone up and American innovation is flowering. Now a bill is before Congress — H.R. 6264, the Restoring America's Leadership in Innovation Act of 2018 — to undo the reforms. It must not happen.

"The reforms were a response to a crisis in the U.S. patent system, but a crisis that did not hit all inventors equally."

The rest is behind paywall and it's promoted by United For Patent Reform, another pro-PTAB and anti-trolls front.

Not everybody loves PTAB. In fact, PTAB is loathed by patent bullies, their law firms and pretty much all patent trolls. Sanjana Kapila, a London-based writer for a patent maximalism site, has just said that Uniloc, a very notorious patent troll, "has slipped down the plaintiff rankings" (they're ranking them like it's a competition). To quote:


Managing IP reveals the top plaintiffs, defendants and law firms in US patent cases in the first half of 2018, as well as the district breakdown. Uniloc has slipped down the plaintiff rankings, Apple is the top defendant and Stamoulis & Weinblatt has risen to the top of the plaintiff firm rankings
"Apple tops,"
according to Kapila
, when it comes to IPRs. To quote:
Apple tops – while Google, LG Electronics and Intel climb – the petitioner rankings in the first half. Fundamental Innovation Systems is most targeted patent owner, Fish & Richardson is the top petitioner law firm and Irell & Manella is the top patent owner law firm
There's also money in IPRs (both sides). So why can't they learn to coexist with it and accept things have changed? Sure, there's a lot less money (for lawyers) in IPRs; they prefer lawsuits, but if they care about innovation and patent quality, then they will openly embrace PTAB and stop whining about it. The USPTO seems to be defending PTAB again, based on
this upcoming webinar series
, which has just been described as follows: "The U.S. Patent and Trademark Office will be offering the next webinar in its Patent Quality Chat webinar series from 12:00 to 1:00 pm (ET) on August 14, 2018. In the latest webinar, entitled "AIA Trial Statistics from PTAB and Using AIA Trials to Enhance Patent Examination," Janet Gongola, Vice Chief Judge for Engagement, Patent Trial and Appeal Board; and Jack Harvey, Assistant Deputy Commissioner for Patent Operations, will discuss performance benchmarks of the Patent Trial and Appeal Board (PTAB) for America Invents Act (AIA) trials highlighting inter partes reviews (IPRs), and present how programs such as the Post Grant Outcomes program work together to improve patent quality."
The Intellectual Property Owners Association (IPO), which opposes patent quality (PTAB, Section 101 and so on), is also
planning a webinar
; it's a malicious lobbying group of patent maximalists.
People now have the last chance to tell Iancu to halt his agenda of bringing back software patents (or watering down Section 101), which
he had supported and promoted before Trump gave him the job
. His words are often spun and he is being manipulated, as we last demonstrated yesterday. Here's Donald Zuhn
providing some background
to the
Berkheimer
memo: "In April, the U.S. Patent and Trademark Office issued a memorandum to its Patent Examining Corps discussing changes in examination procedure pertaining to subject matter eligibility in view of the Federal Circuit's decision in Berkheimer v. HP, Inc. (see "USPTO Updates Patent Eligibility Guidance in View of Berkheimer"). Following the issuance of the memorandum, the Office also published a notice of the Federal Register seeking public comment on the Office's subject matter eligibility guidance, and particularly on its guidance in the Berkheimer memorandum.
"The notice, entitled "Request for Comments on Determining Whether a Claim Element Is Well- Understood, Routine, Conventional for Purposes of Subject Matter Eligibility" (83 Fed. Reg. 17536), discusses the Berkheimer decision as well as the Office's Berkheimer memorandum and sets an August 20, 2018 deadline for the submission of written comments. Those wishing to submit comments can do so by sending them by e-mail to Eligibility2018@uspto.gov. Submitted comments can be viewed here -- to date, comments have been submitted by one law firm and five individuals."
That's very little. Surprisingly few.
Louis Carbonneau has just published something patently false. He
says
that
"New Guidelines Suggest a Return to Strong Patent Rights"
(alluding to something which is still in progress actually). This is false however. Mr. Iancu
cannot ignore court rulings
. But watch how they exploit his presence (like a brand):
Enter Andrei Iancu, newly appointed director of the United States Patent and Trademark Office, who wasted no time attacking this pivotal issue head-on. In his first (and highly anticipated) public speech at the U.S. Chamber of Commerce on April 11, he left no doubt that he thought the pendulum had swung too far against patent owners and that his priority going forward was to "1. create a new pro-innovation, pro-IP dialogue, and 2. increase the reliability of the patent grant."
Yesterday Dennis Crouch
wrote about an IPR
and grounds for rejection thereof:
Standing is an oddball with IPRs. Anyone can file an IPR request and the USPTO will consider that request. The Patent Act directly states that a losing petitioner has a right to appeal if it loses the IPR. (A party "who is dissatisfied with the final written decision of the Patent Trial and Appeal Board . . . may appeal the Board's decision . . . to the United States Court of Appeals for the Federal Circuit." 35 U.S.C. €§ 141(c).) Still, the Supreme Court has repeatedly held that the Constitution requires an actual controversy between the parties — and that the Article III courts cannot offer advisory opinions. A particular element in question for appellate IPR standing is injury-in-fact — "an injury that is both 'concrete and particularized.'" Spokeo, Inc. v. Robins, 136 S. Ct. 1540 (2016)(non-IPR case).
We hope that anyone -- not just competitors or groups like Unified Patents -- will be able to file an IPR. There should be no barrier to scrutiny of granted patents. The more challenges, the better. If the patents are valid, then those who were awarded these patents have nothing to fear, right?
⬆