Microsoft does not need to sue GNU/Linux (and hasn't done so in quite a while); there are 'tentacles' for enforcement...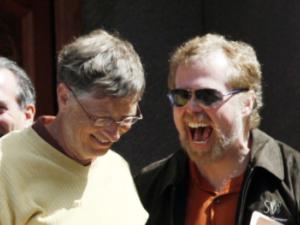 The "Microsoft spinoff" Intellectual Ventures is still managed by the same man. Credit: Reuters
Summary: OIN continues to miss the key point (or intentionally avoid speaking about it); Microsoft is still selling 'protection' from the very same patent trolls that it is funding, arming, and sometimes even instructing (who to pass patents to and sue)
WE HAD been writing about Microsoft's attacks -- especially by means of patents -- and 'defensive' aggregators (DPAs) long before the Open Invention Network (OIN) added Microsoft as a member (or even LOT Network). We wrote many articles about why OIN wasn't the solution, except perhaps to large companies such as Red Hat and IBM (which already cross-licenses with Microsoft anyway). We foresaw Microsoft joining as a member and clarified that it would not mean very much. OIN cannot really tackle some of the key problems. Even if Microsoft threw away all of its patents (voiding everything) -- however unlikely that is -- that would still leave many patents out there that it gave to patent trolls such as MOSAID (now known as Conversant). For well over a decade Microsoft has 'polluted' several spaces/domains with trolls, flooding them with risks that help Microsoft sell "Azure IP Advantage" [1, 2, 3, 4, 5, 6, 7, 8, 9, 10, 11, 12, 13, 14, 15, 16, 17, 18, 19, 20, 21] (or previously Novell/SUSE Linux with the 'Microsoft tax' for what they back them marketed as "intellectual property peace of mind").
"For well over a decade Microsoft has 'polluted' several spaces/domains with trolls, flooding them with risks that help Microsoft sell "Azure IP Advantage"..."OIN's response to my views (just mentioned in Hall's new article with the words "Peace Treaty" in the headline) dodges the issue of patent trolls, including Microsoft-connected ones. There's nothing they can do about these and occasionally they admit so, too. With lots of USPTO-granted software patents out there (OIN expresses no interest in actually challenging those) there's going to be trouble.

I must say that not a single person has yet pointed out inaccuracies or errors in my articles/views on this matter. Nobody. I saw a lot of people agreeing; curiously enough, some key Microsoft employees blocked me in Twitter pro-actively (even though I never even spoke to them or about them). How curious. It's like they're afraid of actually dealing with the facts and debate matters. Ears wide shut.

Mitchel Lewis, who blogs about technology [1, 2], recently approached me for "a chat about Microsoft [...] Specifically with regard to patent trolling. I'm writing an article about the influence of Bill Gates Sr. and his law firm KL Gates with regard to the predatory design and nature of Microsoft..."

"I'm an open book man," he said. "Another project that I have on the back-burner is focused on how Microsoft influences and suppresses the media."

Here is what we wrote to me about OIN and patent trolls:


Truth be told, I just stumbled upon that site today so I will be spending a bit of time there over the next few weeks. Based on what I've read so far though, thanks for pointing out how Microsoft funds patent trolls; this was news to me. But it also seems like an eerily similar tactic leveraged by Peter Thiel, and presumably others, when he enacted his revenge on Gawker by funding Hulk Hogan's lawsuit. In turn, this makes me wonder if media outlets dance around topics that make Microsoft and other large entities look bad for fear of indirect retaliation such as this.

I've been so focused on other crude aspects of Microsoft that I seem to have neglected to realize just how potent of a troll they are in the realm of patent law, among other things. Only after realizing that they've been trolling the Linux world for years, to the point of being one of necessitating factors of OIN's formation, did I begin to consider just how much of their business is dependent on subverting their competition, Linux or otherwise, through their patents.

Needless to say, please feel free to use and re-appropriate anything that I've written to use as well as cite at your discretion. I maintain the stance that there are not enough people writing about how destructive Microsoft is in this day and am just glad to see others writing about it.
OIN may never be able to explain how it intends to tackle Microsoft's satellites, such as
Intellectual Ventures
,
Finjan
, and
Acacia
, which as
noted only earlier this week
still attacks other OIN members for their products that compete with Microsoft's.
⬆