Summary: The Linux Foundation (LF) still outsources everything to Microsoft; if it cannot see what's wrong with it, then it ought to at least drop "Linux" from its name because it's utterly misleading
THIS is getting almost depressing. Today's Linux, the kernel, has a steward that hardly has anything to do with Linux (except in name). Yesterday the publication of a press release (original) by the Linux Foundation reaffirmed our observations (from recent months).
The Foundation has paid to spread it widely (e.g.
Yahoo Finance
and
PRNewswire
) and it shows that this 'Linux' [sic] Foundation has just outsourced yet another thing to Microsoft. Today's 'Linux' [sic] Foundation is openwashing and outsourcing just about everything to Microsoft. Almost nobody talks about it!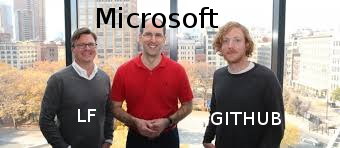 It's as gross as it sounds. The Foundation pockets Microsoft money for doing so. What on Earth is going on? Why the silence? The openwashing here is the term "Open Glossary" and here's the part about choice of host (Microsoft): "The Open Glossary 2.0 is available in a publicly-accessible GitHub repo, and the new versions will be included in the State of the Edge 2019 report, to be released later this fall."

A site close to the Foundation has just issued this article to say: "Open Glossary 2.0 is available in a publicly-accessible GitHub repo."

Great. So Microsoft controls yet another branch of the Foundation. It can censor projects, words, people, and groups (as it habitually does).

We've meanwhile noticed Swapnil, a close affiliate of the Foundation, with "(Kait Thornhill contributed to this story)," writing about the Open Mobility Foundation, which also outsourced its operations to Microsoft:


Reynolds and the LA DOT created the Mobility Data Specification (MDS) as a set of data specifications and data sharing requirements for dockless e-scooters and bicycles, which it shared on GitHub. Today, about 80 cities worldwide are using the MDS.
By giving it to Microsoft's GitHub they let this one company control something that should have been in the Commons. Is the Foundation really a collaboration platform or a
Microsoft feeding frenzy
(The above isn't LF but similar)? As we explained last week, it's more of the latter. Jim Turley's
new article about it
is a symptom of the problem because outsourcing to Microsoft and openwashing has been cast as "IBM Gives Away PowerPC; Goes Open Source" (this headline is wrong for several reasons, with at least two errors in it).
We've sadly come to the point where the Foundation is the "Ministry of Truth" of proprietary software cabals looking for open-themed marketing opportunities. The Linux Foundation (LF) should rename if it carries on along this trajectory. If the LF still outsources everything to Microsoft, what exactly is "Linux" about it? Just because it pays about 3 salaries to core kernel staff? It's about 1% of the Foundation's budget. A lot of the money goes into inappropriate spendings on media
*
and this includes PR services for Microsoft.
⬆
_____
*
DevClass, the Web (or "news") site
would have us believe
that the whole of "Open Source" now revolves around Microsoft with its proprietary software, GitHub, which facilitates censorship.