Judges have also been demoted to 'yes men' of the President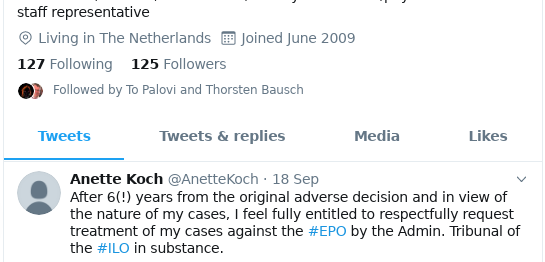 Summary: The bullying tactics of the EPO and of patent trolls have so much in common; in the interim whatever remained of a legal system inside the EPO has been diminished or reduced to symbolism with a massive (and growing) backlog of over 10,000 cases and ILO-AT can take half a decade to examine staff grievances (sometimes more than half a decade, see screenshot above)
There's no justice at the European Patent Office (EPO); nowadays it is just a patent-granting 'machine' with an illusion of checks and balances (recall Carl Josefsson's worrying past). Battistelli and then Campinos openly promote software patents in Europe "as AI" or "as 4IR" or "as "IoT", unlike Brimelow with "as such" (whatever that even meant). Does anyone seriously think that Josefsson's people will put an end to it? They cannot, they're still controlled by Campinos, like Battistelli before him. Josefsson got the job partly from Battistelli and he too understands that they're incapable of/can't quite do the job, based on this new interview. There's already a backlog of over 10,000 cases and it'll get worse. From the interview:
he president of the EPO's Boards of Appeal says he is not certain whether the boards' revised rules of procedure will result in a "front-loading of requests" but has insisted that they should make proceedings more predictable.

Speaking to Managing IP, Carl Josefsson says the revised rules will reduce a party's options to amend its case as appeal proceedings progress and make it more difficult to withhold submissions for tactical reasons.

However, he confirms the views of some regular users of the system that there will be an increased workload for first instance departments.

"Whether these [the rules] will, in the end, really lead to a 'precautionary front-loading' of numerous different lines of argument remains to be seen. After all, procedural economy is in the interests of the parties too," Josefsson says.
As expected, the person who represents an attack on judges' independence (he himself is a symptom of the problem) downplays the issue at hand. Even if more people were employed by the board, that still would not resolve the principal issue, which is lack of independence (not capacity).
In the eyes of patent maximalists, this isn't a problem anymore.
IP Kat
used to write about this problem routinely, but key people have left; it became an amplifier of patent extremists at
Watchtroll
(
most patent links this week are to that blog
), so rhetorics of judge- and court-bashing are fine with them. It's just those 'perky' judges who keep turning patents down. How
dare
they? That interferes with rubber-stamping efforts by profit-motivated offices.
The EPO's management is more or less 'in the pockets' of the litigation 'industry'. They're a loose cannon. It's litigation, litigation, litigation...
"The EPO's management is more or less 'in the pockets' of the litigation 'industry'. They're a loose cannon."Every day for well over a week now, sometimes by amplifying EUIPO "tweets" and sometimes directly, the EPO promoted a new 'study' (actually not new but repetition of prior years). This so-called 'study' is a paid-for lie, part of the EPO's programme that bribes scholars to bolster patent trolls' lies. Here's the latest such "tweet": "IPR-intensive industries have become even more integral to GDP, employment and trade in Europe."

Those industries do a lot more than this "IPR" thing, which is a propaganda term anyway (patents are not rights and they're not property). The other EPO "tweets" aren't much better; retweeted by EPO PR people was the Research and Innovation Department of Enterprise Ireland, which said: "The High-Growth Business Conference invites a variety of speakers to discuss IP and the values of patenting. This includes Yann Ménière, Chief Economist at @EPOorg who is an IP expert..."


"...this isn't about startups but about trolls."He's not an "IP" expert and there's no such thing as "IP" (it's not property). Why does the Irish government associate with that disgraced bunch of Battistelli? Possibly because of this: "Join us in Dublin where Jürgen Graner, Founder & CEO, Globalator, will share his expertise in transactions powered by intellectual assets. If you are a #startup, don't miss this event..."

It doesn't say so in the tweet, but this isn't about startups but about trolls. It's an event in which the EPO is working for patent trolls (the litigation 'industry' has taken over what used to exist for science and technology). There are more LESI tweets, in effect promoting a front group of patent trolls. Over in Law360 there's now this new article about patent trolls that prey on the British market, partly enabled by the EPO's fake patents and the intentional lie known as "FRAND" (Law360 is always eager to repeat this propaganda term). To quote:


For four days beginning Oct. 21, the U.K. Supreme Court will hear arguments in the joined cases of Unwired Planet International Ltd. v. Huawei Technologies Co. Ltd., Huawei Technologies v. Conversant Wireless Licensing SARL, and ZTE Corp. v. Conversant Wireless Licensing.[1] Among the questions presented is whether an English court — specifically, the Patents Court for England and Wales — is a proper forum for determining the terms of a global license for the use of fair, reasonable and nondiscriminatory-committed standard-essential patents.[2]
We wrote about this case many times before. It serves as a timely warning about the real beneficiaries. Those are patent trolls. They don't actually make anything; they just sue and threaten to sue.
⬆