The latest in the news (today) and it is indirectly related to Bill Gates, a close friend of Jeffrey Epstein (he also visited him in prison):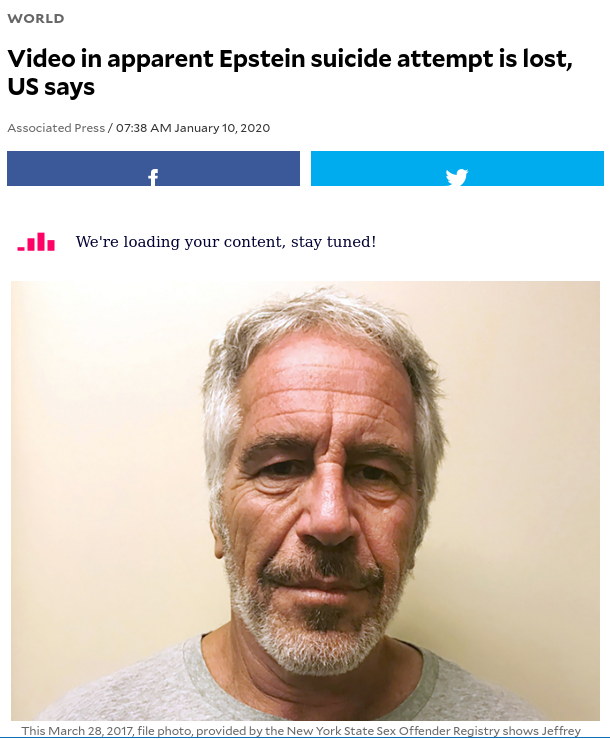 Associated Press (widely syndicated): "Video footage of the area around Jeffrey Epstein's jail cell on a day he survived an apparent suicide attempt "no longer exists," federal prosecutors told a judge Thursday."
Summary: Police evidence is still being denied access to (or 'lost') while people who work for Microsoft inside large publishers apparently attempt to pro-actively control the narrative
IN part one, part two, part three and part four we've covered sufficient background to explain why it's a legitimate issue. "This report is over 2000 plus pages," the police said. Yes, there's police record about an arrest at the mansion of Bill Gates and this concerns pedophilia (the Seattle PD dealt with it). In the fifth part we wrote about apparent media cover-ups. We'll get back to that in parts VII or VIII. We expect to have at least 10 parts in total. We should politely mention that it has already taken more than 4 months for the Seattle PD to divulge information that it has. What we call "mansion of pedophilia" isn't merely an allegation. As we noted recently, Gates has quite some history with the police. But we give them the benefit of the doubt and wait patiently for disclosure. They have an obligation to the public -- to uphold and enforce the law, not offer immunity (oversight and overlook aren't the same) to law-breakers who have 'connections'.
So what can we disclose at this point?
"We prefer not to say much about the Seattle PD at this point; we need to be patient and diplomatic, but they're really stretching it."A reader has just informed us of this puff piece from a familiar person, whose close relationship with Microsoft is thoroughly documented here. It's Dina Bass, who is certainly helping Microsoft and Bill Gates distract from very serious questions about pedophilia and ephebophiles. Is she once again so eager to prove that Bloomberg is full of Microsoft 'operatives' disguised as journalists? Her repertoire has been covered here over the years, including disclosed private E-mails that showed how she had collaborated with the company.

Published hours ago by Mike Bloomberg's site, where Microsoft nowadays chooses to 'seed' its puff pieces (Vance on 'Arctic vault', Bass on GitHub and so on), was an article entitled "Microsoft releases chat scanner to detect child sex predators" (to detect the very same thing Microsoft Peter, for example, was for many years while acting as Microsoft's 'operative' at Ars Technica, 'planting' their puff pieces).

An associate of ours has meanwhile said that "the SDPD [Seattle PD] delays are allowing Microsoft to have time to spin the situation..."

We prefer not to say much about the Seattle PD at this point; we need to be patient and diplomatic, but they're really stretching it. They apparently use Microsoft software and have struggled for four months to hand over documents because this software isn't functioning properly. As our associate put it, "Bill's own software, if that's what they are trying to use, is not going to help testify against him. They need to do this work on GNU/Linux, it is much easier to use and more powerful and, in this case, less likely to get stuck for "unknown" reasons. That goes also for Bill's pretend e-mail system."


"Stonewalling, doxxing and possibly bribery are being leveraged."More and more suspicious things are happening every day in light of our efforts to get to the documents. We will report all these things one day... we cannot disclose everything at once because it may jeopardise progress.

Stonewalling, doxxing and possibly bribery are being leveraged. Classic tactics used to cover things up or at least discourage/scare interested parties, including petitioners. The downside of all these things is that they only make us even more curious. We'll get down to the bottom of it... hopefully before the press is totally flooded with articles about how Microsoft "protects children..." ⬆