Summary: Managing IP is still behaving like little but a booster of Team UPC's selfish agenda; the same is true for other blogs controlled by litigation firms whilst actual journalism is nowhere to be seen (or a single UPC antagonist quoted)
THE state of journalism when it comes to patent law is worse than pathetic. A decade ago we still saw an occasional article about software patents and up until half a decade ago there were plenty of press articles about patent trolls.
Today?
Almost nothing.
Former
Managing IP
writer James Nurton has just published in Watchrtoll
"UK Rules Out Participation in Unified Patent Court, Defines Priorities for FTAs"
and his articles there are always pro-EPO (management), pro-UPC and supportive of patent trolls (just like the site itself). This article is no exception. It's understating the fact that without such participation ("UK Rules Out Participation") the UPC is officially dead.
He wrote some more about it in Twitter, as we noted
days ago
.
Could we expect better from people who did puff pieces with and for
Battistelli
?
Meanwhile, "Kluwer Patent blogger" (UPC boosters hiding behind a pseudonym)
calls
the British stance "just tactics", quoting Team UPC for 'supporting' 'evidence'...
"UK backs out of the Unitary Patent system – a blow, the end of it, or just tactics?"
Just tactics?
Seriously?
Based on Wouter Pors? the 'Trump of Team UPC'? That's quoting another slanted publication that's in the EPO's pocket:
Bird & Bird partner Wouter Pors, a long-time supporter of the UP and UPC, told WIPR he thinks the EU and the participating member states are still determined to continue with the project: "Of course, the UPC will be less attractive without the UK, but it will still cover all the major EU member states and will, therefore, have considerable added value compared to national litigation."
These Team UPC vendor-captured platforms just quote one another to give readers false impressions and false expectations.
What caught our attention is the EPO's first response to it -- an item that was 'exclusively' 'broken' by
Managing IP
. Guess where...
Yes,
Managing IP
's own event.
The EPO President who's
lying to his own staff this week
, along with his team that's
basically friends of his whom he hired
(corruption of the highest order) is doing an
"everything's under control"
routine.
Here he is, an EPO President who is not only a disgusting liar but also a major crook.
His track record
speaks for itself.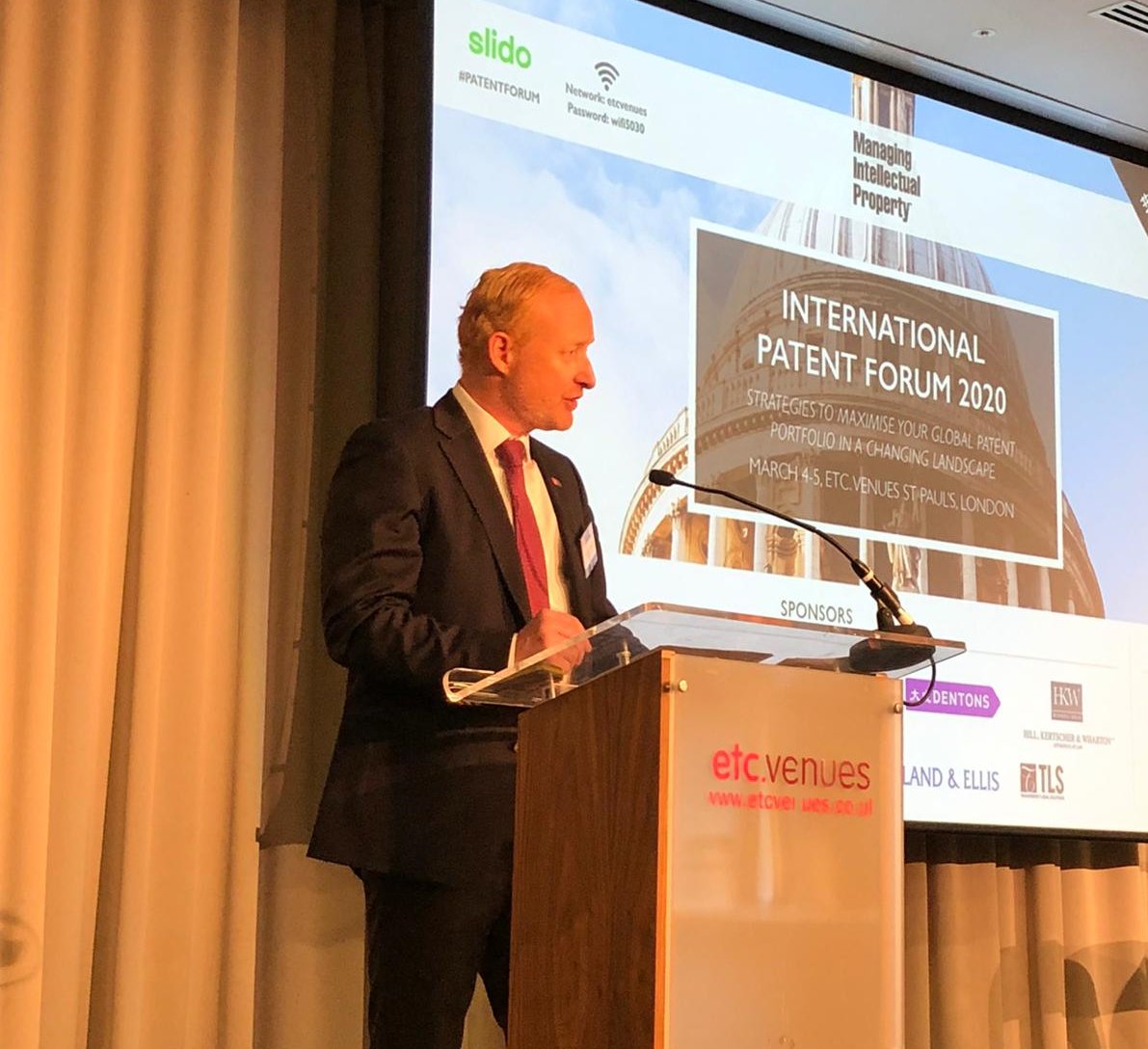 Max Walters said "Campinos was speaking at Managing IP's International Patent Forum in London today."
Walters works for
Managing IP
and
Managing IP
is once again revealing its incestuous relationship with crooks who cover up
crimes of the EPO's management
. And yes, it's the same
Managing IP
that's pushing judges [
1
,
2
] like it's a
lobbyist of Team UPC and management of the EPO
.
Speaking of their entrapment of judges, remember what Huber said. If what they said was true, there would be a decision in Germany by month's end (not that it matters because Berlin won't ratify regardless, as it indicated before, saying it's due to Brexit). The article says this:
EPO president Antonio Campinos has conceded that the proposed unitary patent may appear less attractive without the UK, but has insisted that with the political will to make it happen the project can still be a success.

Describing the UK government's decision to no longer seek membership of the unitary patent and the Unified Patent Court (UPC) as a "great pity", Campinos said: "Some will say the decision is a blow to the whole system, but is it a decisive blow? No."

He added: "Yes, no longer having the UK as a member may make it less attractive but it still has huge benefits to offer, especially when you consider the economic benefits and the potential reach. Whether it has 25, 22 or 20 member states, the UPC makes sense."


The EPO has
already tweeted about it
: "EPO President António Campinos at @ManagingIP's International #PatentForum: "When there is a political will, there is always a legal way -and that applies to the UP/UPC too. Industry have said that they want the UP, so the question now is whether their needs will indeed be met""
Notice
this comment
which said: "Want = need?"
There's more in there. The EPO receives public criticism for this.
The funny thing is that even some law firms don't share the enthusiasm expressed by Campinos.
Brownstein Hyatt Farber Schreck LLP's Andrew J. Freyer and S. Craig Hemenway, for instance, have just
stated
that "enforcement of an EPO patent classified as having unitary effect will likely require adjudication through both a British court and the UPC, substantially increasing complexity and expense for litigants, frustrating the entire purpose of the UPC."
Apart from Lexology they've used their
own blog
and framed it as advice to clients:
As noted in previous client alerts, the Unified Patent Court Agreement (UPCA) is an agreement between member states of the European Union (EU) that fundamentally changes the European patent landscape for both applicants and litigants. Broadly, the UPCA seeks to "improve the enforcement of patents and the defence against unfounded claims … and to enhance legal certainty … for litigation relating to the infringement and validity of patents" across the world's largest trading block. (UPCA, pg. 4). The UPCA is not yet in force.

More specifically, the UPCA, once ratified and in force, affords owners of a patent granted by the European Patent Office (EPO) an option to classify that patent as one having "unitary effect" throughout substantially all EU member states. Disputes arising from unitary patents will be heard by a single court, namely the Unified Patent Court (UPC), and decisions relating to those disputes, including infringement and invalidity decisions, will be binding throughout the EU.

[...]

In view of this statement, it appears clear that Europe's second-largest economy will not seek to advance ratification of the UPCA in any manner. As a result, if the UPCA comes into force, enforcement of an EPO patent classified as having unitary effect will likely require adjudication through both a British court and the UPC, substantially increasing complexity and expense for litigants, frustrating the entire purpose of the UPC.


Read as: it ain't happening.
⬆