The deeply corrupt Linux Foundation's projects are already, with few exceptions, being outsourced to this Microsoft trap/monopoly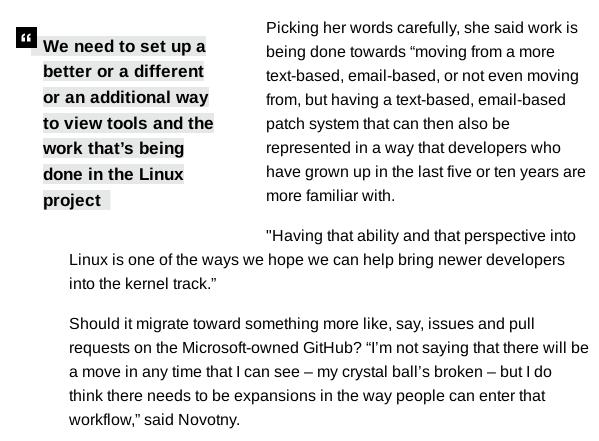 Those seats at the Linux Foundation are on sale; Microsoft already bought several so as to influence decision-making (GitHub's COO is also there)
Summary: As shown above, based on a new article (entitled "Relying on plain-text email is a 'barrier to entry' for kernel development, says Linux Foundation [Microsoft employee] board member") from Microsoft Tim, there's a push to piss off geeks/longtime developers and move things towards GAFAM/monopoly (and especially Microsoft) in the name of 'modernisation' and 'entry barrier' ("inclusion")
As Ryan has just put it: "Linus Torvalds fostered his own eventual overthrow. Remember BitKeeper? He was angry at Andrew Tridgell for reversing it and causing them to lose their freeware license."
The whole "make is easier" line is crypto-wording for "send it all to Microsoft" (yes, Linux itself). The coup is almost complete now -- a takeover by proprietary software that is. It's aided by Microsoft operatives inside the media.
Ryan adds: "Remember [Jim] Zemlin compared criticism of Microsoft to animal torture. "Kicking a puppy." What a role reversal. Microsoft has destroyed entire companies. Many companies that made better products than them, with illegal actions. Netscape was fairly reliable until 4 came out. It was rushed so they'd have something. EEE led to those ridiculous Web/Windows tie-ins. Active Desktop was so horrible that the only reason to have it would be to further the claim that IE was integrated. It was a very crude attempt to solve a legality problem with bundling IE, obviously there to confuse judges and jurors.
"They had an entire KB article called "How to remove Linux and install Windows XP." at one point. They're sure to only mention Linux negatively for 2 decades now, and it's an ongoing problem. It's not over. They're the source of all of these fake Linux malware articles. It's a coordinated attack to sling mud through seemingly independent media sources who are just throwing misinformation out there, missing facts, for no reason really. It's very naked and obvious and crude, but if you talk about it, you get banned from the Linux subreddit and other places.
"Once you Get The Facts about
Drovorub
, it becomes almost comical, because you probably couldn't even install it if you tried, but these pinheads are like "LINUX VIRUS ALERT!!!1111". It really highlights a good point about Linux when you read about how it gets fixed so fast that there's hardly a point in writing malware to try to exploit the vulnerability. Maybe part of Drovorub could resurface, as many many Windows worms have, and target something else, but then that gets fixed immediately and on and on. If proprietary software hides security holes so well, then Windows wouldn't have millions of pieces of malware. You can't write about it except to say it's pervasive and never-ending."