Reasons EPO Staff Decided to Go on Strike This Year (Before or Until Coronavirus Prevented It)
Dr. Roy Schestowitz

2020-11-29 10:52:53 UTC
Modified: 2020-11-29 10:52:53 UTC
May 2019
:
António Campinos Has Run Out of Time and EPO Staff is Going on Strike (Skipping Mere Protests)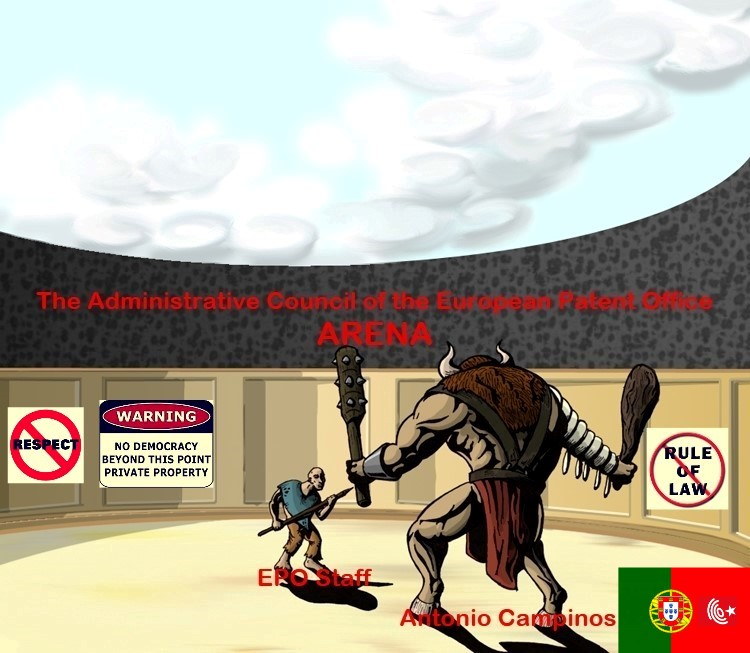 Summary: An year-old letter from the Staff Union of the European Patent Office (SUEPO) to the President of the EPO; 7 reasons for going on strike are enumerated
DAYS ago we mentioned how COVID-19 helped the EPO's management (Team Battistelli/Campinos) prevent a strike. "There are many reasons for discontent in the Office," the staff union (SUEPO) explained, "including, but not limited to, Mr Campinos' 17 measures. On Friday 8 November, SUEPO therefore filed a call for strike according to the circular on strikes (C347)."
"At the end, staff voted for a strike, but then came COVID-19."There are already many severe restrictions against strikes (made even stricter by Battistelli). "As you may recall," SUEPO continued, "the current (unlawful) regulations on strike are so stringent that organising a strike may take more than a month. The call for strike of 8 November ensures that a ballot can be organised before the next Administrative Council. SUEPO will of course turn in due time to its members, who will eventually decide on the actions. It is now up to the administration to enter into negotiations with SUEPO and organise the ballot before 9 December."

At the end, staff voted for a strike, but then came COVID-19. Here's the letter from SUEPO as HTML:


8 November 2019 su19043cl

To Mr Campinos, President of the EPO

Call for strike

Dear Mr Campinos,

SUEPO Central calls for a strike in all EPO sites in accordance with Circular 347.

Reasons for strike

Sixteen months after your arrival as President of the EPO, we note with regret that none of the root causes of the many issues that trouble our organisation have been addressed satisfactorily. Genuine social dialogue is simply non-existing. The Battistelli administration and its anti-staff policies are still in place. The situation in the Office is more toxic than ever, as also shown by the recent disastrous staff survey results and the worsening of staff health. There are many reasons for discontent. Therefore we claim:

1. Fair settlement for all SUEPO Officials/Staff representatives abusively sanctioned by the Battistelli administration; 2. Review by independent experts of the financial situation of the Office; no unnecessary measures based on the heavily biased Financial Study (also criticised by the EPO Pensioners Association), its ensuing phase II (CA/83/19) and management's comments (CA/84/19); 3. Using the "seventeen measures for staff and the EPO" published by SUEPO on 2 October 2019 (su19040cp) as guidance to solve the issues listed above and below; 4. Fair career progression for everyone, no managerial arbitrariness; 5. Respect for staff; decrease of work pressure and production demands; 6. Fair reporting, no artificial underrating of colleagues and threats of incompetence procedures; 7. People-oriented management, instead of management by fear.

These issues must be solved to avoid irreparable damage to our organisation and its staff, and to restore respect and trust. This requires a change not only of certain regulations, but also in the attitude of the administration towards staff.

Yours sincerely,

SUEPO Central
As they rightly note, even the EPO Pensioners Association is upset, but pensioners cannot go on strike (they no longer work). Even past (retired) EPO staff suffers from the current policies. This
assures brain drain
and harms Europe.
⬆