Less than a year after he came to the Office, only to unmask himself as another Battistelli (while bringing him back, adding insult to injury)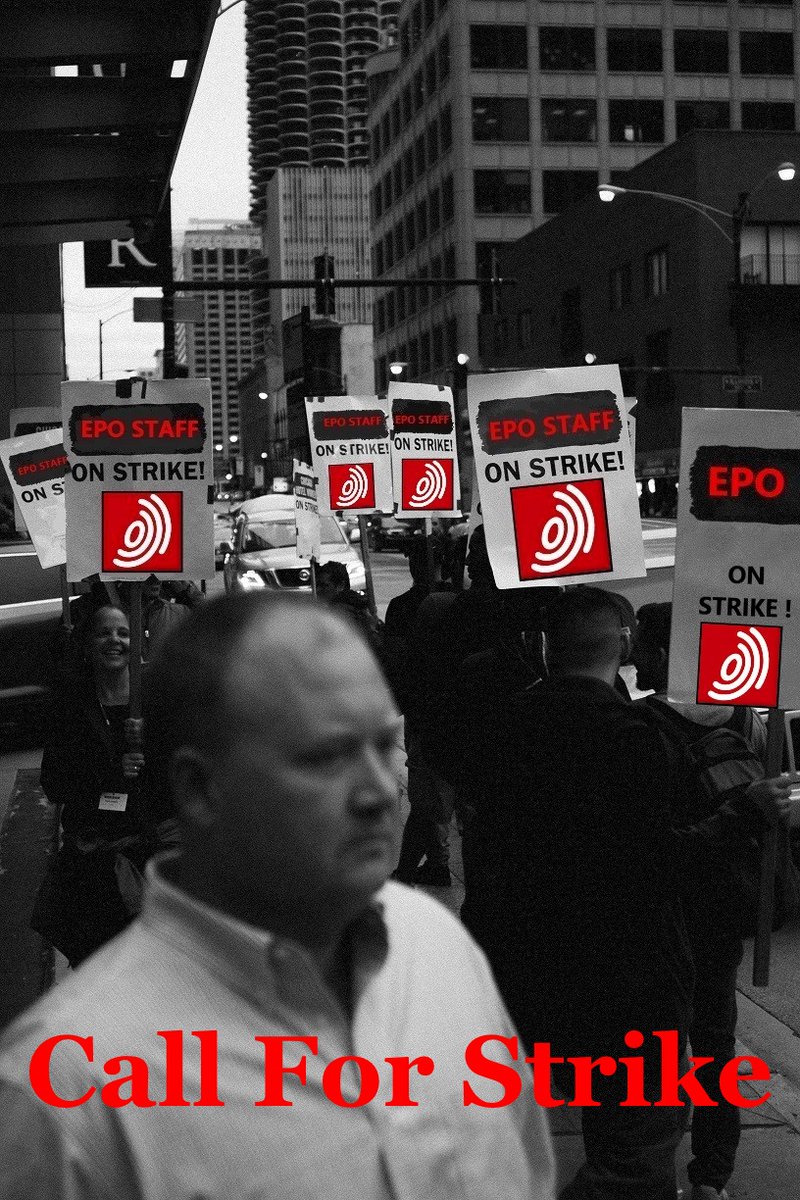 Credit: MSServices Global
Summary: European Patent Office strikes are to resume; as SUEPO recently put it, people have come to accept that EPO leadership has not really changed and none of the underlying issues is being tackled
SO EPO President António Campinos has run down the clock. The only thing he managed to deliver in 9 months is a monster. People have come up with all sorts of nicknames for him, some of which we named here before (António the Unready, the Silent Cricket and so on) because his behaviour was reducible mostly to a PR exercise and stonewalling. Talk, no action. Promises, no delivery. How long can one wait? How long can the grace period last?
For about a month now we
said (and had heard) it was about to boil over
. Yesterday
IPPro Magazine
finally spelled it out: "SUEPO calls for strike after 'disappointing' Campinos meeting" (
article by Barney Dixon, their only real reporter
). To quote:
The Staff Union of the European Patent Office (SUEPO) has called for a strike in all EPO sites around the European Patent Organisation's next Administrative Council meeting.

This comes following a meeting between SUEPO and the office's president, António Campinos, on 16 May.

This is the first call for action under Campinos, who has been in the role since 1 July 2018.

Campinos initially organised this meeting to discuss a framework for a memorandum of understanding between the office and SUEPO.

But SUEPO said that the meeting was "disappointing" and, in the absence of progress in the discussion, handed out a call for strike to the president.

The staff union purposely delayed the publication of the call for strike to give time for Campinos to reconsider his position.

[...]

"These issues must be solved to avoid irreparable damage to our organisation and its staff, and to restore respect and trust", SUEPO concluded, "This requires a change not only of certain regulations, but also in the attitude of the administration towards staff".
Credit again to Mr. Dixon for stepping out of the usual
IPPro Magazine
echo chamber (he's not just copying EPO PR as his colleagues habitually do).
Other sites that
claim
to be covering patent news won't be covering something like these strikes. They won't be highlighting
calls
for strikes (the EPO's PR machine sure is well-funded and effective). For instance, just watch
World Intellectual Property Review
reduced to a supine parrot,
repeating talking points from EUIPO and EPO earlier this week
. The usual since
years
ago. They ought to know paid-for 'studies' should not be a source of news because the payer pays for PR. Any journalists who participate in this are themselves just PR operatives.
How about
this
from an IAM 'sister site'? They might as well just copy and paste the whole press release from the EPO, accompanied by
this tweet
which said: "SMEs that have filed at least one IP right are 21% more likely to experience a growth period afterwards & are 10% more likely to become a high growth firm (HGF)."
They all repeat the very same talking points uncritically.
Will EUIPO and EPO merge one day? The top-level staff and the corruption are similar (
already more or less the same
). The EPO even
retweets things like this
: "Joint EPO-EUIPO study looks at the use of #IPR by high-growth #SMEs and analyses how these firms shape their IPR strategies prior to experiencing high growth."
But can they be trusted? It's the same old "SME" propaganda, which helps distract from evidence to the contrary. And still, weeks down the line, every day the EPO advertises grants to scholars who say what EPO management likes to hear.
Who's behind all the noise? Does the EPO still employ external PR agencies? As one person pointed out this week [
1
,
2
,
3
,
4
], it seems like the fracking (and EPO-hired) PR agency FTI Consulting is right about now meddling in EU elections on behalf of clients. The question is,
which
clients?
Where's the real journalism about EPO issues? Why is nobody covering actual news? As further reaffirmed by some recent comments in Kluwer Patent Blog (people who saw or heard about it), it sure seems like European Patents granted today will have expired after the EPO is already bankrupt, based on an internal EPO report. Can someone send a copy of this report to us?
Right now patent quality is in a freefall. It gives an illusion of growing revenue (at great longterm expense) and the EPO offers
rewards for invalid software patents
(it not only awards patents for these). Consider
this new tweet
which says: "Norwegian inventor Esben Beck at @stingraynews used image recognition, #AI and lasers to keep salmon safe from marine parasites."
"There are many reasons for a strike; patent quality should be one of them because it guarantees many frivolous lawsuits across Europe, causing billions in damages (waste on legal bills) and making a lot of Europeans miserable for decades to come."What the EPO means by "AI" is algorithms and "image recognition" is basically mathematics (I know because it's my research area). These patents are not legal in Europe. But the EPO not only grants these but also offers special awards for these. The EPO is also granting abstract patents if you ride hype waves like "Blockchain". Earlier this week it wrote: "Blockchain-based patent applications can only be granted if the invention provides a technical solution to a technical problem. More on the EPO's approach to blockchain here..."

It's an approach not compatible with the EPC, but does the EPO care? There are many reasons for a strike; patent quality should be one of them because it guarantees many frivolous lawsuits across Europe, causing billions in damages (waste on legal bills) and making a lot of Europeans miserable for decades to come. Europe should support striking EPO staff. ⬆