EPO Call for Strike in 2019
Dr. Roy Schestowitz

2020-12-05 13:37:32 UTC
Modified: 2020-12-05 13:37:32 UTC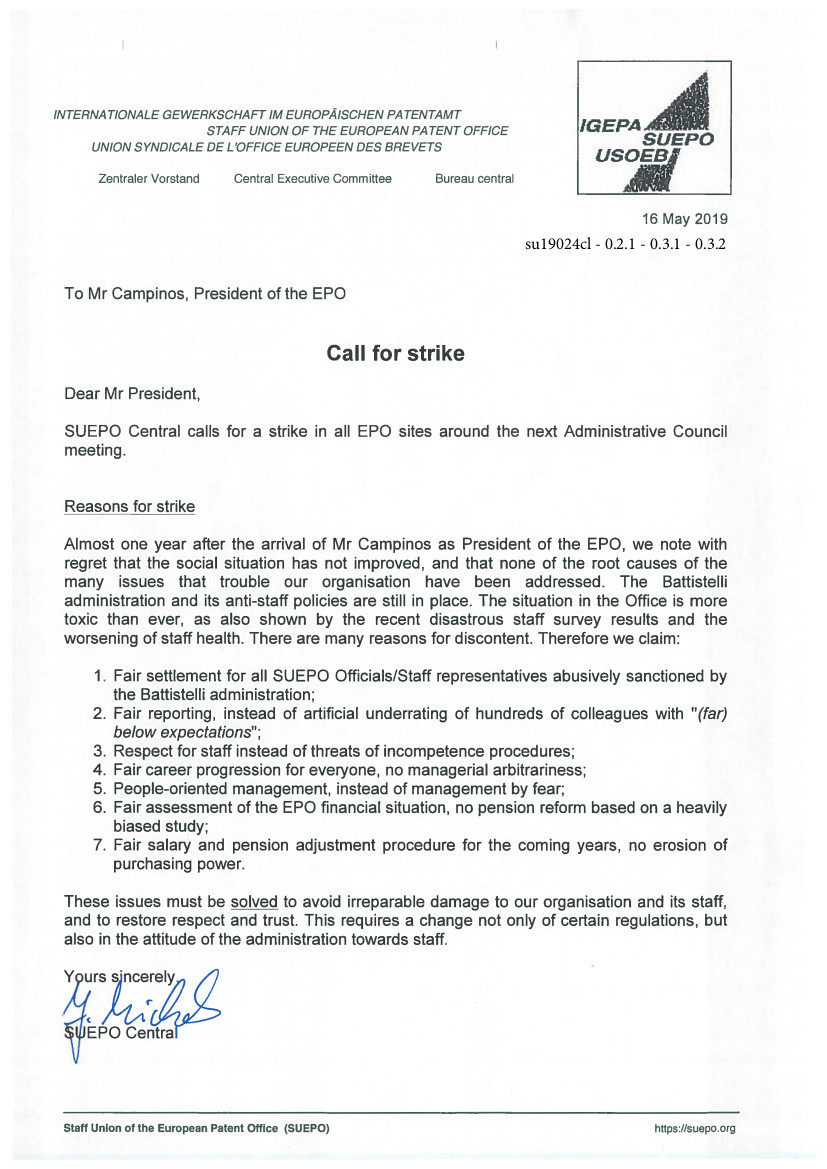 Summary: Staff of the EPO was fed up and extremely annoyed by the "new" and "nicer" President less than a year after he took Battistelli's chair
AS we noted yesterday and last year as well, "it's like Benoît Battistelli still controls the Office in absentia" because nothing really changed. Nobody was held accountable and policies have arguably gotten even worse, based on staff representatives (some actually said that).
A year and a half ago
this publication
was circulated among EPO staff, stating upfront:
Call for strike



EPO Staff and SUEPO have been very patient since Mr Campinos took office, almost a year ago. It seems now clear that our new President does not intend to fix the problems created by his predecessor. Worse still, Mr Campinos intends to continue the catastrophic Battistelli's HR policies. We have already seen the implementation of 5-year contracts policy for all newcomers, a worst-ever reporting round and no fundamental change to the career system. The latest Financial Study is designed to make the EPO look poor and points at further reducing staff's benefits (salaries, pensions, allowances, …) in order to cope with this "misfortune". . . A first CSC paper on the Financial Study ("Yet another Hoax") is available on the SUEPO website here.

SUEPO Central met the President on 16 May, as previously announced here. The meeting was disappointing. In the absence of progress in the discussion, we finally handed out a Call for Strike to the President, also considering the unrest within the EPO. We made clear that we would be ready to withdraw it, should tangible results be booked within the timeframe imposed by the (unlawful) regulations on strike.

We purposely delayed the publication of the call for strike to give time to the President to reconsider his position. Recent feedback has unfortunately made clear that Mr Campinos is not likely to make concessions – for now.

As you may recall the current (unlawful) regulations on strike are so stringent that organising a strike may take more than a month. The call for strike of 16 May ensures that a strike could take place around the next AC meeting (26/27 June). Any strike action remains, however, subject to a staff ballot. According to the absurd EPO strike regulations, it is now to the administration to organise the ballot before 16 June.
It seems safe to publish this now. It has been a long time since then. As we noted at the end of last month, collective/industrial action is being ramped up at the moment, so expect some digital activism at a time of lock-downs/remote-working conditions.
⬆