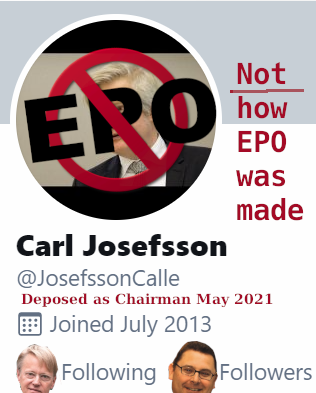 Summary: Europe's largest patent office continues to be "Shambles Defined" in terms of quality and in terms of justice; why doesn't the mainstream media raise awareness of this? (Likely political reasons and heavy lobbying, not to mention bribery of large publishers like the Financial Times)
THE EPO's staff union, SUEPO, has just highlighted this new article. "The EPO met again with in-house counsel who are concerned that patent quality standards are slipping in favour of speedy grants," says the introduction, but it's behind a paywall. Benoît Battistelli and António Campinos have done great damage to promote European software patents and inflate a bubble. A source has meanwhile shared with us the way patent attorneys leverage the "Hey Hi" (AI) hype to push software patents. Bastian Best sent a message yesterday, full of tracking inside the message, entitled "Software patents in Europe (presentation slides)" (he's shamelessly promoting such patents for 15+ years already). He says: "It's all about the technical contribution, but what exactly is "technical" at the European Patent Office? Is it "technical" when engineers solve hard industrial problems with AI?"
Totally meaningless junk. The rest speaks of "Statistics on AI patent filings in Europe". This also mentions "A checklist for structuring software patent claims" and "A checklist for structuring software patent claims"...
So the EPO has opened itself to such abuse, bolstered further by buzzwords.
Where do the Boards of Appeal stand on the matter? Well, they clearly have no independence or a mind of their own. Not
anymore
...
This happens to have been the subject of discussion in
blog comments
lately. "The damage has been done," the latest comment says. Right next to it we have this new rant about Calle Josefsson [
1
,
2
,
3
,
4
,
5
], the notorious judge who is a "yes man" of corrupt EPO managers. These people make a career out of sucking up to the most corrupt establishment. Prepare for Klaus Grabinsky, another opportunist who grabbed the chance to serve the abuses. Although there are plenty of comments there (we've archives most of them in IRC), some better than others, here's the latest one on
"BREAKING: In-person proceedings are still the "Gold Standard" - Boards of Appeal start to diverge on ViCo (T 2432/19)"
(post by
IPKat
): "A good question about objections under Article 24 EPC. Indeed, that question is highly pertinent to every petition for review that, at least in part, is based upon the imposition of VICO as the format for oral proceedings. And yet the President of the Boards has no problem appointing himself to the EBA in respect of such petitions. For example, see
the composition of the EBA for R12/22
, which has not changed since it was first set almost 1 year ago [...] Arguably, the participation of the President as a member of the EBA for cases concerning the validity and/or interpretation of Art 15a RPBA falls foul of Article 24(1) EPC. It is a shame that the EBA in G 1/21 failed to consider that point. However, given that the President was excluded under Article 24(3) EPC from EBA for G 1/21, there is no doubt that, for the same reasons, he MUST be excluded from all other cases concerning Art 15a RPBA. Any other outcome would cause (yet more) serious damage to the perception of independence of the EBA."
The European Patent Register is cited above. One can see that the patent microcosm itself is openly admitting that this system is out of control. Will they go a step further and suggest that the UPC would be a disaster for the EU's reputation unless it was stopped in its tracks? SUEPO ought to speak a lot more often against the UPC. FFII seems a little upset that SUEPO isn't doing enough in that area. The UPC is, among other things, a Trojan horse for software patents. The appointment of Grabinski is a shining clue to that effect.
⬆