04.30.10
Gemini version available ♊︎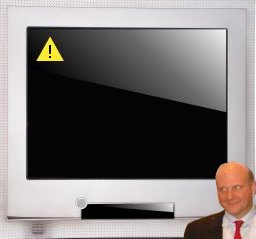 Summary: What Samsung's rumoured entry into the market of 'Google TVs' (running Android) actually means to Microsoft
IT is no longer a secret that Microsoft pressures companies to pay Microsoft for Android. One of those companies is Samsung, the company which is said to be working on Android-based TVs. [via]
Samsung Electronics, the world's top TV maker, is considering developing "Google TVs" which run Google's Android operating system, its executive told The Korea Herald yesterday.

The move came as Samsung's rival, Sony, is reportedly working with Google and Intel to offer Internet-connected, Android-based TVs, seeking to allow viewers to download and enjoy a wealth of Web content and software as they do on computers and smartphones.

Apple and Google are seeking to take a bite out of the TV market, hoping to expand their influence beyond the mobile arena. Such moves herald a repetition of a race over operating systems and applications, as is currently seen in the smartphone market, analysts said.
LG is the other Korean company which must already be paying Microsoft for Linux and with new LG phones running Android, this cannot be good news.
The Android TVs being speculated above are not to be confused with Sony's. Sony too is reported to be on the case and in Sony's case it's even confirmed with certainty. [via]
Sony Corp., trying to reverse sales declines in its TV division, will announce home-entertainment devices next month that use Intel Corp. chips and Google Inc. software, said two people familiar with the matter.

The companies plan to discuss the new products at a conference sponsored by Google in San Francisco on May 19 and May 20, said the people, who asked not to be identified because details are still being worked out. Intel is contributing a customized version of its Atom chip that will run a new version of Google's Android operating system called Dragonpoint.
TechDirt points out that Microsoft is being very cheeky by taxing Google products without any details given and without Google's consent.
Seems a bit strange, right? Why should Microsoft have any say in whether or not HTC can put Google's Android operating system on its phones. The whole thing seems even odder when you realize that HTC was, for a long time, one of the major makers of smartphones running Windows Mobile operating system. But, the complicating factor here might be Apple. Apple, of course, famously went on the patent offensive and sued HTC over its Android phones a couple months ago. So now, with Microsoft doing this deal, it seems to very publicly be entering the patent fight between Apple and Google, which for bizarre reasons is playing out with HTC as the pawn getting bounced around between them all.
Someone in this comment thread shrewdly points out a "solution: make the software free to download and sell the phones with no operating system installed. would this work?"
HTC is bringing out more new phones running Android, despite Microsoft's pressure to tax Android or simply discourage Android use as means of promoting Windows/Kin.
Why, hello there, little HTC Android phone with a nice, fat keyboard.
We strongly encourage readers to avoid HTC products. HTC lets Microsoft harm Android and Linux without even putting up a fight. In Apple's case, HTC expects to at least fight. This will partly be the subject of the next post. █
Permalink

Send this to a friend