02.29.16
Gemini version available ♊︎
While patent lawyers try to create "confusion" about the law in India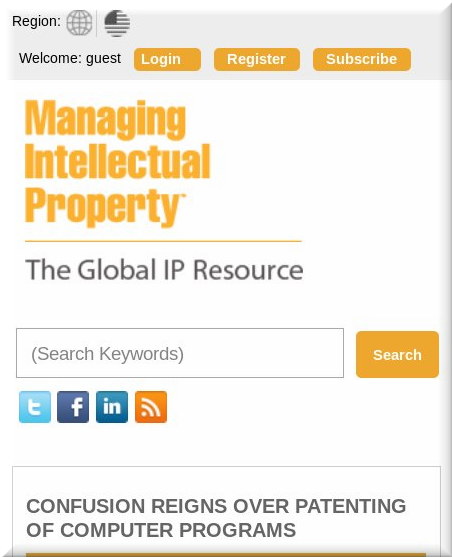 Confusion? Not at all. No software patents.
Summary: One final post about India's ban on software patents and patent lawyers' denial or obfuscation of this simple fact (along the same lines of US patent lawyers post-Alice)
THE decade-long (at least) fight over software patents in India recently came to an end again. The foreign lobbyists lost again. It's mostly a multinational thing (Microsoft, IBM…) and the resistance comes from the Indian population, as was the case with "free basics" (neocolonialism). Look how upset IBM is, time after time.
As The Wire put it the other day: "Multinational software companies are naturally displeased with the Indian patent office's new guidelines disallowing patents for computer programs."
"There's no confusion about it. It's the law."IBM's latest response is quite telling. We wrote a great deal about IBM's role in the patenting of software in the US and efforts to make it so in Europe and New Zealand too. The above article is one of about two dozen English articles we've found about the latest news (here are a couple more which we didn't cite before [1, 2]). There are of course also some articles from patent lawyers and their biased media. MIP, for example, said in its headline that "Confusion reigns over patenting of computer programs". Actually, "patenting of computer programs" is not allowed in India. There's no confusion about it. It's the law.
Watch how patent lawyers in India (probably working for foreign companies such as IBM or Microsoft) worry and express concerns out in public, even though it's clear that the Indian population does not agree with them.
"People in India sure need to know who's who and thereafter discern between innovators and parasites."We recently saw Singh & Associates writing: "What is the date of grant of patent or in other words on which date the patent is deemed to be granted. This seems to be a simple question with the simple answer, but that is not the case. In this regard, Hon'ble Delhi High Court heard a bunch of petitions where all of the petitions had this common question of ascertaining date of grant of patent. In general sense patent is said to be granted when it is approved by the Controller of Patents and no further objections are in its way. The said petitions raised the question of date of Patent in context to validity of a pre-grant opposition as introduced by the Patent Amendment Act, 2005."
Well, patent lawyers in India are always looking for business. The more patents get filed, the more money they make. The more patent litigation, the better (for them).
People in India sure need to know who's who and thereafter discern between innovators and parasites. █
Permalink

Send this to a friend