05.10.16
Gemini version available ♊︎
Cross section of Team Battistelli: Željko Topić, Benoît Battistelli, and Elodie Bergot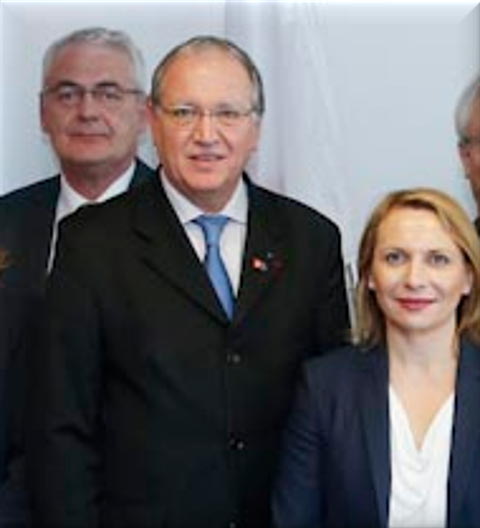 Summary: A look at the ill aspects of EPO mistreatment of staff representatives, who are viewed as enemies (for saying the truth) rather than partners and are punished severely for exercising their rights
THERE IS an EPO protest tomorrow and we hope that thousands will attend to send out a strong message a month ahead of the next Administrative Council meeting, which would end the Battistelli reign if it actually wanted to end the crisis.
Staff is sick of the management and sometimes literally sick. This one new comment says: "Indeed in TH [The Hague] in particular one SUEPO official and central staff rep is currently being hit very hard with a cut of 100% of his remuneration since beginning 2016 by decision of PD 43 (Mrs Bergot the spouse of Battistelli right-arm Requena) who decided to disregard the from his physician duly established medical certificates. After having abolished occupational disease, Bergot is now abolishing sickness altogether…. Let us hope this will not generate a new drama (eg suicide)" (sixth in recent years).
"The "disciplinary sanctions and proceedings against staff or trade union representatives" in the above resolution," Merpel wrote earlier tonight, "refers to the fact that three of the 10 staff representatives have been singled out for disciplinary proceedings, resulting in the sacking of two and the downgrading of another in January 2016. Merpel understands that two others are also facing disciplinary proceedings. One of the staff representatives who was dismissed, Elizabeth Hardon who is the chair of SUEPO Munich, additionally had her pension docked; however this further sanction was removed following an internal appeal."
Well, we covered this before, also in Spanish. But the interesting bit there is the disciplinary proceeding against "10 staff representatives" (this is similar to the figure we're aware of). Bergot must be rather afraid of any of the staff representatives (not from the yellow union that reportedly hangs out with her) because she probably got her job only because of nepotism and if outside scrutiny was to be applied, not only she would risk her job but also her husband and his old buddy, Battistelli, who put them there in the first place (building his circle of loyal drones).
Bergot was also mentioned in an internal communication not too long ago, in relation to how she put her paws on everyone's medical records (as unbelievable as it may seem in a civilised country):
Confidentiality of staff medical data

In the January Gazette (page 20-21) the Office announced a restructuring of the medical departments, bringing the Medical Advisory Unit and Occupational Health Department under a common director, within the HR Department, i.e. under Ms Bergot. The Gazette article hails the restructuring as a "prescription for clarity and best duty of care". As usual with the Battistelli administration, the reality is just the opposite:

(a) Because of their very different roles, having the Medical Advisory Unit (advising the administration in medical decisions) and the Occupational Health Services (meant to support staff) in a single unit is anything but best practice.

(b) The Occupational Health Physician is supposed to be independent. Having the Occupational Health Physician within the Personnel Department with Ms Bergot as his/her reporting officer is not to best way to guarantee independence.

(c) Since Dr Koopman left in summer 2014, the Medical Advisory Unit (MAU) is headed by a non-medical person originally recruited to VP4's office and who is now reporting to Ms Bergot. This construct means that the confidentiality of medical data stored in the Medical Advisory Unit, in particular vis-à-vis the Personnel Department (Ms Bergot), is no longer guaranteed.

(d) Under the new structure, the same will apply for the Occupational Health Department. It seems highly likely that the current interim manager will become director of the newly created medical unit. The EPO's current medical doctors will no longer have a managerial role but will be reporting to the Director and merely advising him/her as "medical experts".

Such a structure would not seem legal in any of our host states. We suppose that this does not bother Mr Battistelli. But it should bother our medical doctors who – according to our understanding – are precluded from entering data in medical files held by the department if confidentiality cannot be guaranteed.
We already knew that some French people were getting their hands on confidential staff details, but not medical records. As a reminder see:
In our humble assessment, Bergot and her confidants (who are afraid of SUEPO) may be using "illness" selectively as a weapon against dissidents among staff or against 'unwanted' staff (not for technical but for purely political reasons), where illness itself can be induced by chronic abuse (cause for depression, breakdowns and so on).
Don't make up with the management. It's only getting a lot worse over time. A massive protest is needed tomorrow to reassure the Administrative Council that nothing has changed for the better and to also attract media attention, French (political) interventions, etc. █
Permalink

Send this to a friend