09.24.16
Gemini version available ♊︎
On the same night as this, maybe for similar reasons:
FBI dumps 189 pages of heavily redacted Clinton witness interviews under the cover of Friday evening #FBIFriday https://t.co/w4zA0IKBl5

— WikiLeaks (@wikileaks) September 24, 2016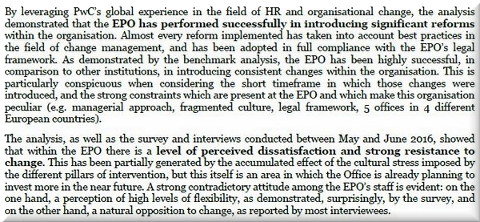 Summary: The longstanding propaganda campaign (framing staff as happy or framing unhappy staff as a disgruntled minority) is out and the timing of the release is suspicious to say the least
THE ABOVE SCREENSHOTS, taken from the first phase of a propaganda campaign (to culminate with a so-called 'conference' intended to influence the Administrative Council), would not be exactly shocking to EPO staff. It's part of an effort by Battistelli to dismiss and discredit any claims that he abuses staff, strategically at a point when the Administrative Council brings up the subject. It is an infamous politician's trick (see what the US government did on the very same day as the debut of the film "Snowden" and simultaneous calls for Presidential pardon).
"The quick summary: Blame the staff for all the problems."Lots of EPO coverage is planned for this weekend and we decided to begin by getting this propaganda out of the way. It wasn't — as far as we are aware — expected to come out last night, which makes one wonder. If this propaganda about the social climate was released prematurely late on a Friday, then maybe they try to bury or distract from something. Are they trying to suppress discussion about it? Has Team Battistelli lost its mind again? Why did the social study appear on the intranet at such strategic timing (when few would even notice the release)? Why has nobody covered it yet? Journalists are obviously away for the weekend (see what the FBI has just done, as Wikileaks pointed out 19 hours ago). It's a big document, no doubt, and staff might be taking it home for the weekend. The Financial Study and Occupational Health and Safety Risk Assessment have appeared also.
The quick summary: Blame the staff for all the problems. Expect us to say more about it in the near future. The above is just somewhat of a preview. █
Permalink

Send this to a friend