08.27.17
Gemini version available ♊︎
Trying to paint as "criminals" those who expose criminality is not a novel trick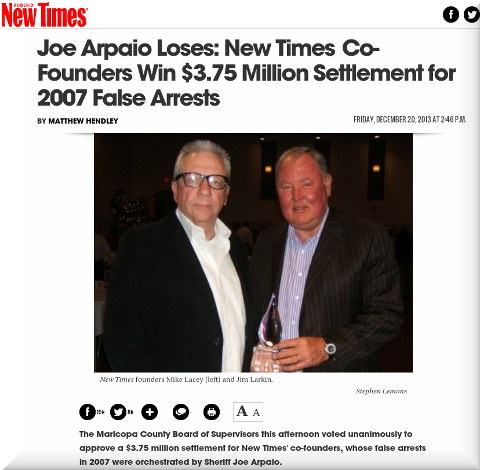 Source: Joe Arpaio Loses: New Times Co-Founders Win $3.75 Million Settlement for 2007 False Arrests
Summary: Željko Topić (EPO Vice-President) and his campaign against the media shows how EPO money/resources (and immunity) are misused against reporters, in an effort to suppress the truth and protect wrongdoing
OUR LONG SERIES OF LUFTHANSA articles (and EPO role in the scandals) has led us down a rabbit hole. Having gone through all the notes and the leads, we now have a lot more to say (not necessarily about the Lufthansa case). Asking for more documents, in order to support the allegations we were making, means access to additional information, including from court hearings.
Before we proceed, here is the full series about Lufthansa, which we recommend reading for background information:
As a recap, Lufthansa documents showed that in Croatia what matters more than law and justice is who you know and what you're connected to (see the letters from W&W, a legal firm). Queries about Lufthansa documents yielded a lot of evidence to that effect. It's also alleged (in Croatian media) that Croatia Airlines is covertly owned by Lufthansa. Consider some of the interventions from Andrej Matijević and the newspaper articles about Matijević and his conflict of interest. He has since then been promoted.
"They have plenty to hide there."We are less interested right now in the Lufthansa affair not because Lufthansa is off the hook but because it helped expose a court case between an EPO Vice-President and tjedno.hr, a popular news portal in Croatia. We have attempted to obtain copies of the court's decision/s and transcripts relating to this case because it wouldn't be the first time that the EPO chiefs gag media in Croatia (or even judges in Munich). They have plenty to hide there. We discussed the matter with people who could help reaffirm some facts and eventually got copies of documents. Translations did not take long to arrive, either. Most articles about this are in Croatian, but English is spoken by more people (at least outside Croatia).
As quite a few people have a stake in the outcome, a sort of collaboration came into being. "We are just curious to learn more about the case and whether it is still ongoing or whether it has been concluded," said one party.
"When the EPO does not corrupt the media by paying it a lot of money the EPO's budget is being used to drag media to court, or even threaten bloggers like myself."It would not be the first time we point out that skeletons are to be found inside some closets in Zagreb and the Croatian EPO Vice-President has many enemies in his home country. By "enemies" we mean victims; we also mean concerned Croatian citizens, who are sick and tired of corruption being a recurring theme in their country.
In the next part we are going to give an outline of the case against tjedno.hr. As one party put it, "more information about the tjedno.hr defamation lawsuit might be interesting as it could help to shed a light on Topić's SLAPP activities." We used to think he did this only once or twice, but we were wrong. The money the EPO keeps giving him (plus controversial bonuses) gets used to attack the media. When the EPO does not corrupt the media by paying it a lot of money the EPO's budget is being used to drag media to court, or even threaten bloggers like myself. █
Permalink

Send this to a friend