02.21.18
Gemini version available ♊︎
"The draft "reform" proposal CA/3/18 will, if it is allowed to enter into force, put an end to permanent employment at the EPO." –EPO insiders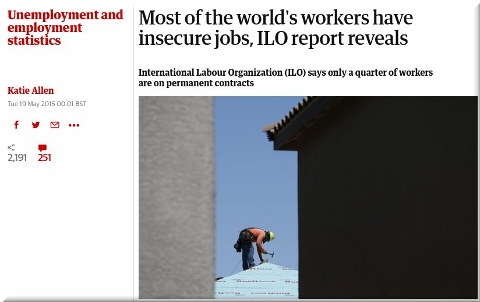 Reference: Most of the world's workers have insecure jobs, ILO report reveals
Summary: The latest plot twist, as odd as that may seem, is that the attack on the rights of thousands of workers (many of whom are rumoured to be on their way out) is curtailed somewhat, at least for the time being
The European Patent Office's (EPO) demise is worrying. It's inevitable, but it's still worrying (layoffs are probably coming very soon, based on insiders). CA/3/18 was covered here yesterday, based on the words of insiders.
World Intellectual Property Review has just written about this: [via SUEPO]
The European Patent Office's (EPO) supervisory body, the Administrative Council (AC), will deliberate an employment proposal put forward by EPO president Benoît Battistelli to recruit staff on renewable contracts of five years in March.

Battistelli and Elodie Bergot, principal director of human resources, added the motion to discuss permanent employment at the EPO during a budget and finance committee meeting in October last year.

At the time, a spokesperson for the EPO said that the office is in a "unique situation" with 97% of its staff hired on a permanent basis.

A first discussion of the proposal, which is called the "Modernisation of the employment framework of the EPO", took place during the AC's meeting in December.

The proposal has since been amended.
The latest on this suggests further amendments. An EPO insider wrote:
Breaking news: during Board 28 today the proposed Article 53 in CA/3/18 is dropped (withdrawn) – a revised version of CA/3/18 (without Article 53) will be published at the latest tomorrow. Rumor has it that the King himself withdraw the document. Yes, you read that correctly!
What is going on? Are rumours and panic influencing the plan? Will the management potentially rethink its utterly destructive actions?
"I was reading an article about the corruption ranking by Transparency International when I came across this short video," one reader told us. "This reminds me of something, a kind of deja vu at the EPO…"
Transparency International's connections to the EPO scandals [1, 2] are noteworthy. It's like there's nobody left to properly investigate and then press for actual enforcement against the EPO. Certainly not ILO (UN), the EU/EC, the German authorities, or even the Dutch government. █
Permalink

Send this to a friend