11.07.19
Gemini version available ♊︎
"Fighting patents one by one will never eliminate the danger of software patents, any more than swatting mosquitoes will eliminate malaria."
–Richard Stallman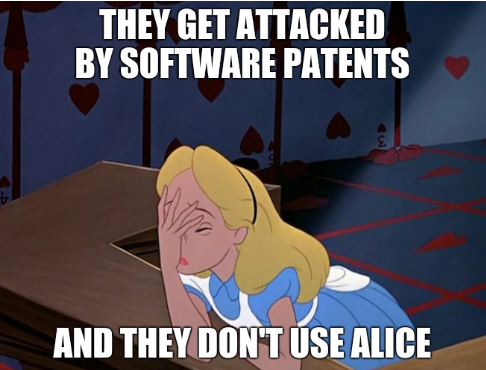 Summary: The anti-Stallman club known as 'GNOME Foundation' is not interested in tackling software patents as a whole. What does that tell us about the situation we're in?
THE short series about the defamation of Richard Stallman (RMS) isn't over yet. The media defamed him repeatedly for about a month (yet again earlier this week) and Stallman was in contact with us. Whether he wants to make further comment/s on the subject will depend on him.
"We're not bashing McGovern, but we worry about his predecessors at this prestigious position; they're are from SFC (also anti-RMS), Peters (now Microsoft), and de Icaza (also Microsoft)."One thing we continue to research is the controversial announcement or media statement from GNOME Foundation, signed by Neil McGovern, who has called himself "Politico and geek, GNOME Executive Director, Cambridge CAMRA press officer, Ex-Debian Project Leader. Views are own etc." (His personal Web site is nowhere as active.)
We're not bashing McGovern, but we worry about his predecessors at this prestigious position; they're are from SFC (also anti-RMS), Peters (now Microsoft), and de Icaza (also Microsoft). Neil McGovern, known better for his anti-RMS rant, is a credible person, but the context he's in requires him to adopt particular positions.
His media statement, which is two months old (and put a lot of pressure on RMS), has caused a bit of controversy within GNOME itself. Some GNOME people have distanced themselves from it, even in the open. There are blog posts to that effect. Even in GNOME's own Web site!
As we recently noted (in relation to OIN and IBM), there's an element in this 'community' that does not want software patents to go away. Instead it wants pertinent patents to be challenged based on something like prior art. A reader has just pointed out to us "Free software [sic] is under attack. How you can help. (w/ Neil McGovern) from @TheLinuxGamer on LBRY.tv" (a new video interview).
Our reader adds that it's about "software patents versus Shotwell, though they are mistakenly referred to only as "patents" there; strategy might be a bit misguided since it is not going after software patents in general but instead choosing to play whac-a-mole against one single troll at a time; they also naively plan to recover costs from the troll, which is probably just a shell company anyway; perhaps you could correspond with them…"
I personally will not bother, but I invite readers to do so. I've criticised the 'GNOME Foundation' in the distant past, so its chief is not likely to talk to me. Well, seeing what he wrote and with predecessors like these, McGovern merely continues a decade-long pattern of trying to overthrow or at least discredit RMS. His employment history in the UK and his work for Debian isn't something to be mocked or belittled. He's not a bad person. But his employer and the people who now surround him may be bad influence. The Foundation isn't so credible; we wrote many articles about this back in 2009. They're even close to Microsoft (and they will never point out the troll's connections to Microsoft [1, 2, 3]). The Foundation raises other concerns. It is also deeply connected to IBM through Red Hat (many GNOME developers are salaried by Red Hat), probably the foremost influence source — one which as we noted before wishes 35 U.S.C. § 101/Alice to go away, and for the U.S. Patent and Trademark Office (USPTO) to issue IBM with tens of thousands of software patents, not to be overturned and invalidated in Patent Trial and Appeal Board (PTAB) inter partes reviews (IPRs) with Federal Circuit affirmation of these invalidations. This is the biggest downside of IBM's acquisition/takeover and it has been our main concern regarding Red Hat (the reasonable patent policy being cast aside).
This approach from the GNOME Foundation must be pleasing not just for IBM but also Microsoft, now an OIN member. Days ago Microsoft Tim belatedly expressed satisfaction about OIN getting involved. OIN is in the 'business' of teaching FOSS people to tolerate rather than eliminate software patents and days ago it added another high-profile Japanese member (in our Daily Links). █
Permalink

Send this to a friend