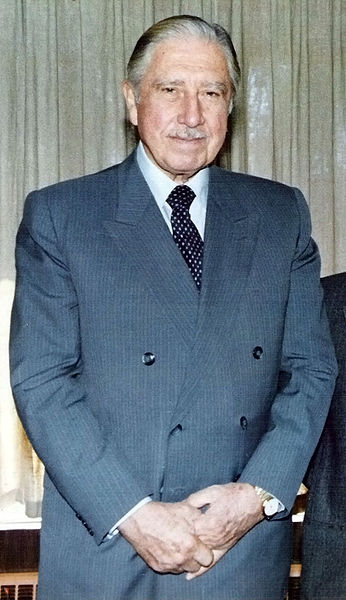 Augusto Pinochet is a well-known example of coup d'état
Summary: By means of entryism, Microsoft increases influence inside HP, thus reducing the chance of Slate and Windows Home Server joining the list of dead products from Microsoft
IN THE PREVIOUS post we showed how HP was preparing to dump Vista 7, apparently only to replace it with a newly-acquired Linux-based operating system. It's all just a rumour at the moment.
Mary Jo Foley
asks the question
, is "Microsoft and HP['s] Love on the rocks?"
Well, hardly.
Microsoft and HP collaborate in many ways and we have given many examples to that effect.
Vista 7
, which is a hyped-up Vista with few improvements here and there, does not fulfill HP's needs for tablets. Vista 7 is just not competitive enough and HP really hated Vista, based on E-mails from its management (unsealed around the
Steve Ballmer deposition
).
We are saddened but not surprised that HP has announced in a press release [
1
,
2
] that it takes Microsoft staff to lead "Software and Solutions Business" -- whatever that practically means.
This news was mostly covered by enthusiastic Microsoft boosters (for obvious reasons) and we found:
From the point of view of Free software and GNU/Linux, this is bad news. Microsoft's Veghte very recently
left
the abusive company
, right after
meeting privately with Steve Ballmer
.
Amazon
ought to serve as a cautionary lesson here. Amazon added Microsoft patent tax to Red Hat and Kindle's implementation of Linux after hiring many executives from Microsoft, including one who joined the Kindle team just weeks before that notorious patent deal. Veghte could potentially put a Microsoft tax on WebOS just like in those
predatory attempts against Android
, which is also Linux based.
Veghte is not merely an innocent guy who spent a couple of years at Microsoft (like employees of companies that get acquired by Microsoft). He
really grew up in this culture
and in previous posts we gave examples of his role in antitrust violations:
Hewlett-Packard's hiring of former Windows executive Bill Veghte, announced today, is another example of the computer maker's potential to compete with its longtime partner, Microsoft, in the software business. The 20-year Microsoft veteran will lead HP's software and services unit in his new role as an HP executive vice president.
Vice President, eh?
Speaking of seats being swapped, one reader told us that "[i]t's time for the annual re-org to keep Nokia from getting competitive:
Nokia has yet another corporate reorganization, this time they've put Anssi Vanjoki back in charge
"
"It's time for the annual re-org to keep Nokia from getting competitive..."
--Anonymous readerSee this page about Mary T. McDowell and recall how Nokia got 'poisoned' by Microsoft influence, later to sign Microsoft deals and play ball for software patents in Europe. A leopard like Veghte won't change his spots overnight and not within a month, either. He spent two decades working alongside people like Steve Ballmer.

Now, lo and behold; in the past 2 weeks' news we found this press release, titled "AMD Works with Microsoft and HP to Raise the Bar for 2P Price/Performance with Windows Server€® 2008 R2"

Okay...

Let's look further at the news.

How about "HP and Microsoft on Sex and the City 2"?


In the upcoming "Sex and the City" sequel, Carrie Bradshaw and her friends will carry Hewlett-Packard (HP) laptops that run Microsoft Windows.
Classy.
HP's Debian-based home servers will hopefully not be neglected. Over the past week or two Microsoft has generated many headlines about Windows "home servers" (here is just
one example
), which are a technical disaster that falls short of Linux [
1
,
2
] and usually relies on bundling from HP. Will HP call this bad product off and concentrate on Debian now that its "Software and Solutions Business" VP is a hardcore Microsoft executive?
Microsoft has seen
many of its products dying recently
,
Forefront being one of the latest
. It was only
days beforehand that Microsoft still recommended it
, so just because Microsoft raves about a beta of Home Server doesn't mean it won't be cancelled like
Windows Essential Business Server
for example. But with Veghte in charge? Not likely.
⬆