Signs That .NET is Suffering, Not Java
Dr. Roy Schestowitz

2010-08-14 16:43:40 UTC
Modified: 2010-08-14 16:43:40 UTC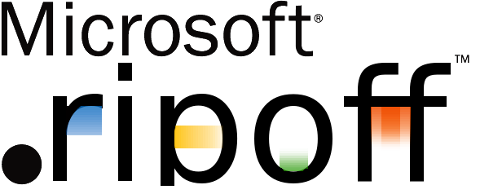 Summary: .NET, which was sued by Salesforce for patent violations (and can also be sued by Oracle), is losing its direction and teams are cut too
SEVERAL DAYS ago we wrote about Microsoft's IronRuby and IronPython going down the drain [1, 2, 3]. This can be viewed as a further sign that the vision of .NET never quite materialised.
To quote
the headline from IBTimes
(
The International Business Times
), "Microsoft may back off of .NET languages" [
via
]
Though Microsoft had initially made a commitment to creating versions of dynamic languages that are customized for .NET, recent reports make it clear that the company may be stepping back from this plan. Microsoft

The Microsoft logo hangs from a window during the grand opening of Microsoft's first retail store in Scottsdale, Arizona October 22, 2009.

Much early speculation on this change in focus comes from Jim Schementi, previously the program manager in charge of Microsoft's implementation of the Ruby software known as IronRuby. Schmenti reports on his blog that the team dedicated to working on IronRuby has decreased to one employee.

According to Schementi, his departure from the company came as Microsoft began to display a "serious lack of commitment" to any .NETized dymanic languages, including IronRuby.
Dana Blankenhorn wrote about this too. He
says that "Microsoft has not invented here syndrome,"
but let's remember that .NET was not invented at Microsoft, either. It's a ripoff of Java.
The story of how Microsoft killed its chances in mobile telephony by strangling Danger, a company it had bought only a few years ago, turns out to be a symptom of a much larger problem.

Not Invented Here Syndrome (NIHS).

Further evidence is emerging in the demise of its "Iron" projects, IronRuby and IronPython.

[...]

Sure, projects like this could go to Codeplex, but they should have been there long ago. Had the move been made say, in 2009, with Microsoft employees like Schementi as commiters, a serious team from several companies might be in place now. As it is, the move looks like a code dump.
Many people say that Java is in trouble because of Oracle's aggression [
1
,
2
,
3
,
4
,
5
], but it's easy to forget that Python, Perl, PHP, Ruby on Rails and other such frameworks are some of the fastest-growing at least as phenomena or paradigms. It's not as though the only substitute for Java is .NET, which has already been
sued for patent violations
(by Salesforce).
⬆